Zucchini Bread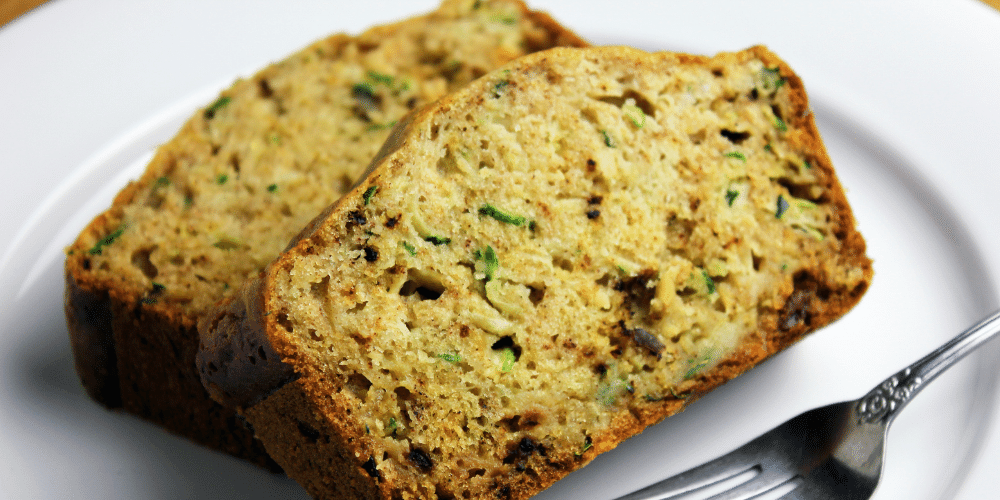 Zucchini Bread is a fantastic way to add vegetables and whole grains to your daily diet. And using whole wheat flour gives this quick bread a warm nutty flavor. Serve a slice with a glass of low-fat or non-fat milk to make a hearty breakfast or snack.
Serves 12
1 cup all-purpose flour
1 cup whole wheat flour
1/2 teaspoon baking soda
1/4 teaspoon salt
1/2 teaspoon cinnamon
1/4 teaspoon ground nutmeg
1/2 cup sugar
4 tablespoons canola oil
1/2 cup unsweetened applesauce
2 large eggs
1 teaspoon vanilla extract
1 ½ teaspoon lemon juice
1 cup grated zucchini
1/4 cup chopped walnuts (optional)
Preheat oven to 350-degrees F. Spray a loaf pan with non-stick spray and set aside.
In a large bowl whisk together flours, baking soda, salt, cinnamon, and nutmeg and set aside.
In a separate bowl, combine sugar and oil. Add applesauce, eggs, vanilla extract, lemon juice and mix until well combined.
Slowly add flour mixture and mix until just combined.
Gently mix in zucchini and walnuts (if using).
Transfer to prepared pan and bake 45 minutes or until an inserted toothpick comes out clean.
Cool in pan for 15 minutes. Serve warm or at room temperature.
Calories 180
Fat 8g
Protein 4g
Fiber 2g
Sodium 105mg
Carbohydrate 26g