Black Eyed Peas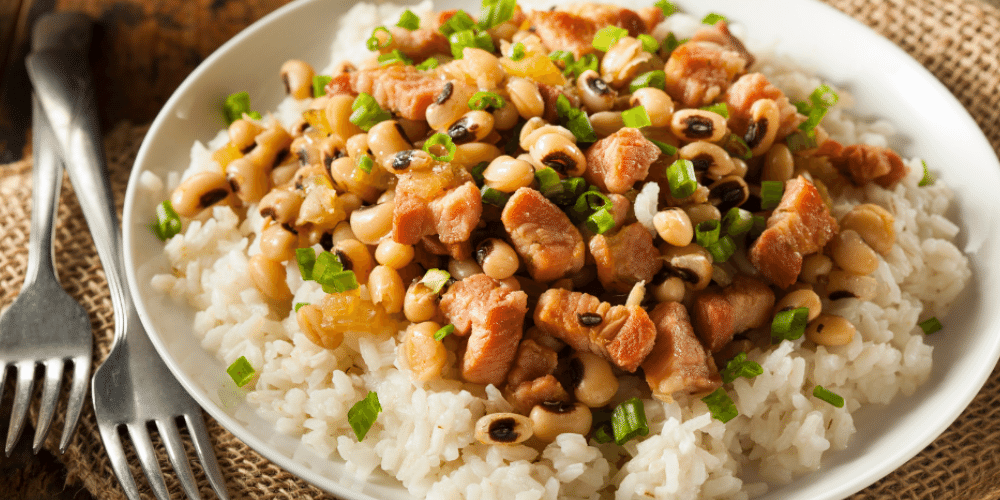 Packed with fiber and protein, black eyed peas can be served with rice and flavored with pork or turkey sausage for a lighter yet filling meal.
Serves 4
½ cup rice, uncooked (follow package directions)
1 teaspoon canola oil (or corn oil)
3 ounces smoked turkey sausage or ham, cut into ¼ -inch pieces
½ bell pepper, medium, chopped
1 jalapeño pepper, medium, seeded and finely chopped – optional
1 can black eyed peas, no salt added, rinsed and drained
½ cup water
1 teaspoon salt
Mix all ingredients together in a small bowl and set aside.
Prepare the rice using the package directions, omitting the salt and butter/margarine.
Meanwhile, in a medium non-stick skillet, heat the oil over medium-high heat, swirling to coat the bottom. Cook the sausage for 3 minutes or until richly browned, stirring frequently.
Stir in the bell pepper and jalapeño pepper (optional). Cook for 1 minute.
Stir in the peas, water, and salt. Cook for 2 minutes, or until the mixture is thickened slightly but some liquid remains. Remove from the heat.
Let stand, covered, for 5 minutes so the flavors blend. Stir in the rice. Transfer to a serving bowl.
Calories 190
Fat 4.5g
Protein 9g
Fiber 4g
Sodium 340mg
Carbohydrate 30g