Chocolate Chip Zucchini Bread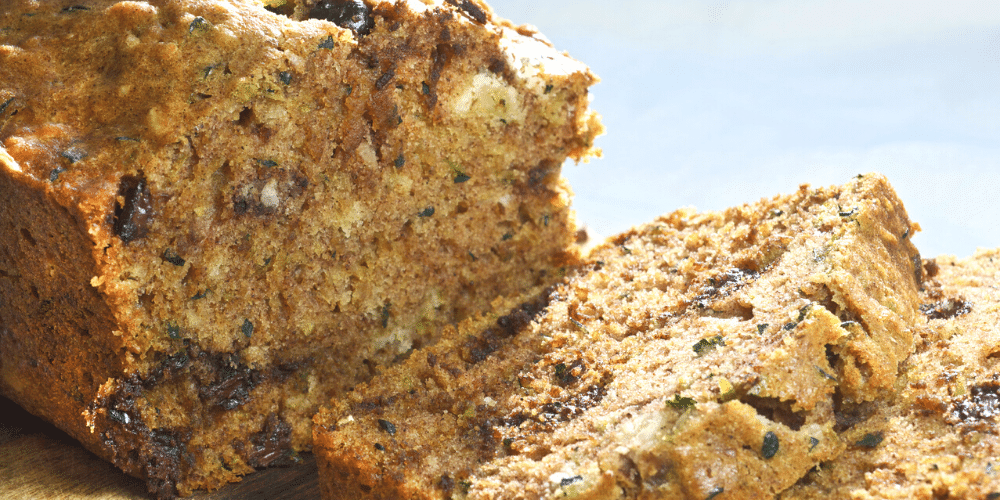 Filled with zucchini and whole wheat flour, this super moist Chocolate Chip Zucchini Bread offers chocolate chips in every bite. Pair with a glass of low-fat or fat-free milk for a rich and complete snack.
Serves 16
1 cup all-purpose flour
1 cup whole wheat flour
½ cup brown sugar
1⅛ teaspoon baking soda
1 tsp vanilla
½ teaspoon salt
½ cup semi-sweet chocolate chips
1 large egg, beaten
2 tablespoons butter, melted
1 cup apple sauce
1 ½ cups zucchini, shredded
Preheat oven to 325°F. Spray a 9x5-inch loaf pan with cooking spray.
Combine flour, sugar, baking soda, and salt in a large bowl. Mix well.

In a medium bowl, mix egg, vanilla, melted butter, apple sauce and zucchini. Add to the flour mixture and stir until just blended.

Add chocolate chips and gently mix to combine.
Pour batter into the prepared 9x5-inch loaf pan. Bake 45-55 minutes, or until a toothpick inserted in the center comes out clean.

Cool for 10 minutes then remove loaf from pan and continue to cool about 5 more minutes before slicing.
Calories 148
Fat 4g
Protein 2g
Fiber 2g
Sodium 186mg
Carbohydrate 30g