Vegetable Quiche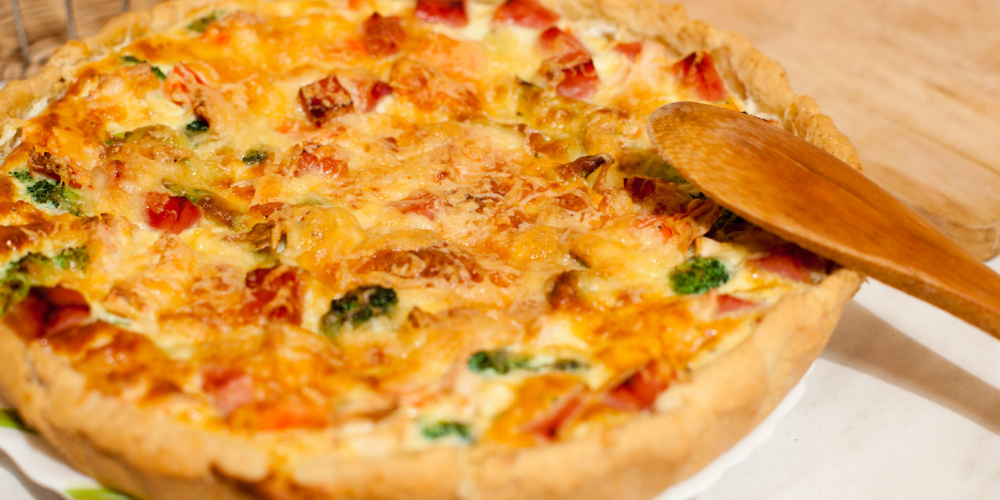 A quiche is a great way to use up any fresh, frozen, or canned vegetables you have on hand. Have your peppers begun to wilt? No worries! Once they are washed, chopped, and sautéed, you'll not be able to taste a difference.
Serves 6
1 pie crust (baked, 9-inch)
1 cup vegetables, chopped (broccoli, zucchini, or mushrooms)*
½ cup cheese, shredded
3 eggs, beaten
1 cup nonfat milk
½ teaspoon salt
½ teaspoon pepper
½ teaspoon garlic powder
Preheat the oven to 375

°

F.
Chop the vegetables.
Spray a skillet with non-stick cooking spray. Cook the vegetables in the skillet until crisp tender.
Put the cooked vegetables and shredded cheese into prebaked pie crust.
Mix the eggs, milk, salt, pepper, and garlic powder in a bowl. Pour the egg mix over the cheese and vegetables.
Bake for 30-40 minutes, or until a knife inserted near the center comes out clean.
Let the quiche cool for 5 minutes before serving.
Calories 133
Fat 7g
Protein 8g
Fiber 2g
Sodium 338mg
Carbohydrate 9g