Easy Pesto Pasta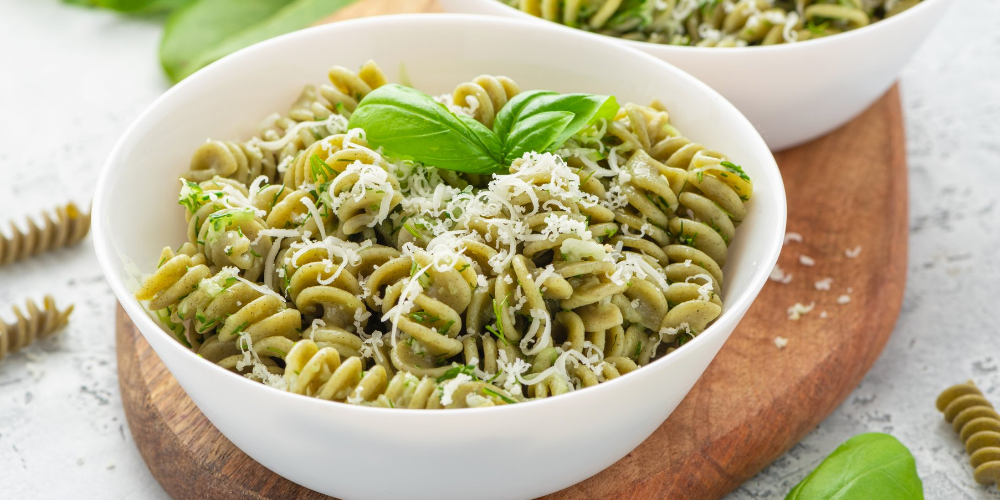 Try this hearty Pesto Pasta when you're craving fat and carbs. Pair it with a salad and some grilled meat or poultry and you've got a full meal!
Serves 8
1 pound whole wheat pasta, uncooked
1 package 10-oz frozen spinach, thawed, well drained
2 tablespoons cooking oil
1/4 cup grated Parmesan cheese
2 tablespoons chopped parsley, optional
2 cloves garlic or 1/2 teaspoon
1/2 teaspoon salt
1/2 teaspoon dried basil
2 tablespoons tub margarine
1/3 cup water
2 ounces crumbled cheese
In a blender (or food processor), combine spinach, oil, Parmesan cheese, parsley, garlic, salt and basil. Pulse at

medium speed until finely chopped.

Melt margarine in water. With blender or processor running, gradually pour in melted margarine mixture until blended.

Cook pasta according to package directions.

Toss pesto with cooked pasta.

Sprinkle cheese on top and serve.
Calories 294
Fat 9g
Protein 12g
Fiber 8g
Sodium 417mg
Carbohydrate 45g