At Home with UAEX
Learn from the best Extension Educators on being at home with UAEX!
Cooking with Extension: Arkansas Fresh Series-Apples

by JoAnn Vann | Adapted for Blog by Katie Frizzell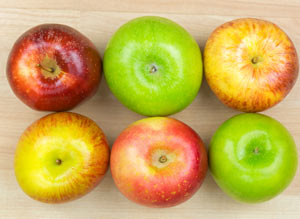 Apples ripen and are available fresh August through October in Arkansas. Apples are a versatile fruit that can be used in pies, muffins, cakes, salads, or eaten fresh.
Peeled and/or cored apples brown quickly, so to prevent this, dip apples in 1 quart of water with 3 tablespoons of bottled lemon juice or 3 crushed 500 mg vitamin C tablets or use a commercial ascorbic acid mixture. Apples treated by this method will retain their color for about 3 hours at room temperature without affecting the flavor.
Apples varieties come in multiple colors from streaked red to yellow to green. Each has its own characteristics and is better suited for some applications than others. If you are trying to decide which variety to select, here are some tips:
Multi

-

purpose

apple varieties include Gala, Fuji, Golden Delicious, and

Honeycrisp. These varieties are good for baking, drying, and fresh eating.

Baking apple varieties

include Golden Delicious, Granny Smith, Honeycrisp,

Fuji, Braeburn, Cortland, Jonathan, and Rome Beauty. These apples have a

firm texture that can withstand the cooking process.

Fresh eating varieties include Red Delicious, Golden Delicious, Gala, Fuji,

H

oneycrisp, and Empire. Although the most widely available apple, Red

Delicious truly is a fresh eating apple and does not hold up well to cooking.
Select apples that are blemish fresh with no cuts, breaks or bruising of the skin. Apples with blemishes will deteriorate quickly. As a general rule, unrefrigerated apples will retain their quality for about 1 week. Apples stored in the humidifier compartment of the refrigerator in an unsealed plastic bag may retain their quality for one month.
Download the AR Fresh Apples fact sheet for recipes and more information.
Check out our Quarantine Kitchen recipe featuring apples.
Want to learn which varieties grow well in Arkansas and start your own orchard? Check out our home fruit production resources.