At Home with UAEX
Learn from the best Extension Educators on being at home with UAEX!
4 Tricks to Enjoy Your Halloween Treats

by Torrie Smith, Carroll County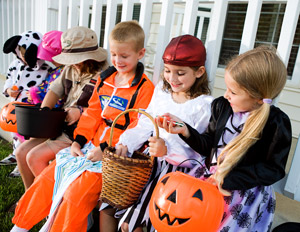 Halloween is quickly approaching which means your kids will be trick-or-treating, gathering lots of candy and yummy treats. While trick-or-treating has changed a lot since we were kids there are still a few things to think about when out scouting for the good stuff. Here are a few tips so you can limit the tricks and you can enjoy more treats.
#1 Trick-or-Treat at houses you know.
Trick-or-treating in general is a rarity across towns in the state, but there still may be a few neighborhoods you visit with your kids in hopes of obtaining full sized treasures. When you do go door to door, only go to homes you know. You are far less likely to receive tainted goods from someone you know than the stranger with the neat décor.
#2 Don't eat loose or opened candy.
It should go without saying but we are gonna say it anyway, don't eat candy that isn't in its original packaging. This also means not eating homemade treats you receive. Even though you are trick-or-treating at houses you know, this doesn't mean they follow safe food practices when preparing their goodies.
#3 Monitor your child's sugar in-take.
Candy is not one of the major food groups that should make up someone's diet but depriving you or your child of candy seems like a pretty sad life. It's not something you want to eat every day, and you also don't want to eat all your candy in one sitting. Allow candy on occasion. Spread the candy out and make it last!
#4 Know what allergens are in the candy your child is eating.
If your child has allergies, please know what candy is safe for them to eat and what isn't. If your child receives candy they can't eat, consider trading their candy out for small trinkets or foods they can have so they don't feel left out. If you are handing out candy, keep allergen free goodies, like stickers and pencils, separate from other candy. Don't forget to put out a teal pumpkin so parents know you are handing out allergy friendly goodies.
Follow this simple guide for your treats so you can spend more time watching out for witches and ghouls and not worrying about unsafe candy.
Happy SpoooOOoooky Season, y'all!