At Home with UAEX
Learn from the best Extension Educators on being at home with UAEX!
Meatless Monday: Marinated Vegetable Salad

by Original Author: Kylie Harris, Searcy County | Adapted for Blog: Torrie Smith, Van Buren County
Summer is getting here and that means fresh produce! Farmer's Markets, grocery stores and friends will be getting those garden-fresh vegetables, and this is the perfect recipe to take advantage of it! This is a great side or main dish! Don't be afraid to add some beans if it is your main course to increase the protein in your meal.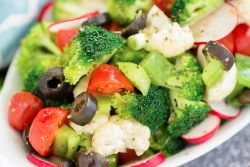 To make sure you are getting the very best veggies and handling them safely follow these guidelines:
Look that produce isn't bruised or broken.
Purchase pre-cut produce ONLY if it is refrigerated or on ice.
Wash hands with warm water and soap for 20 minutes before handling produce.
Rinse produce with running water even if you plan to peel it.
After cutting or peeling produce refrigerate within two hours.
For more information on food safety check out https://www.fightbac.org/.
¼ cup sugar
½ cup red wine vinegar
¼ tsp. salt
½ tsp. celery seed
¼ TBS ground mustard
½ cup olive or canola oil
¼ tsp. Italian season
4 cups cauliflower, cut into florets
4 cups broccoli, cut into florets
2 cups celery, slice
½ pint cherry tomatoes, halved
½ cup radishes, sliced
½ green bell pepper, sliced
1 can (6 oz) pitted ripe olives, drained and sliced
In saucepan, bring the sugar, vinegar, salt, and mustard to a boil. Cook for 1 minute. Let stand until cooled.
Add oil, celery seed, and Italian seasoning; mix well. Cover and refrigerate.
Combine all vegetables in a large bowl; add dressing and toss.
Cover and refrigerate several hours, stirring occasionally.
Yield: 8 Servings, Serving Size: 1 cup
Calories 210, Fat 16g, Protein 3g, Sodium 280mg, Carbohydrate 15g
USDA is an equal opportunity provider and employer. This material was funded by USDA's Supplemental Nutrition Assistance Program (SNAP). SNAP provides nutrition assistance to people with low income. It can help you buy nutritious foods for a better diet. To find out more, contact https://access.arkansas.gov/
For more information, contact your Family and Consumer Sciences Agent at your County Extension Office.