At Home with UAEX
Learn from the best Extension Educators on being at home with UAEX!
Zucchini Lasagna, A Healthy Take on an Old Classic

Original Author: Kylie Harris, Searcy County | Adapted for Blog: Torrie Smith, Van Buren County
Lasagna is the ultimate comfort food with the yummy sauce and gooey cheese. Well, you can have all that deliciousness without the guilt! Use zucchini in place of your lasagna noodles to feel good about eating something that tastes so good. This recipe is healthy and kid approved!


2 medium zucchini, sliced very thin
1 1/2 cups shredded mozzarella cheese
1 cup reduced-fat ricotta cheese
1/2 cup grated parmesan cheese
2 tablespoons dried parsley
2 tablespoons fresh basil Salt Pepper
1 Batch Homemade Italian Meat Sauce

½ small onion
2 cloves garlic
1 can (15 oz) petite diced tomatoes
6 oz tomato paste
1 cup low sodium chicken broth
1 cup frozen spinach
1 lb lean ground beef
2 tbs Italian seasoning
Sauce: Cook ground beef, drain fat and set aside. Sauté onion, garlic, and spinach with Italian seasoning. Cook tomato paste down with vegetables. Add petite diced tomatoes and chicken broth. Simmer for 15 minutes. Add cooked ground beef.
Zucchini: Slice zucchini into thin slices and bake for ten minutes on an oven rack over a baking pan. Spray 8x8 pan with oil. Start with a scoop of sauce. Place single layer of zucchini over sauce. Cover with 1/3 of the ricotta cheese. Sprinkle ½ cup of mozzarella. Continue until all zucchini is used (mine was three layers). Top with ½ cup Parmesan cheese.
Bake for 30 minutes at 400 degrees. Bake 10 more minutes at 450 degrees. Let cool, then enjoy!
10 Servings per Recipe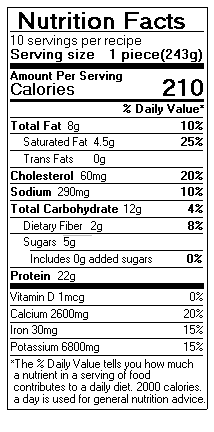 Calories 210, Total Fat 8 grams, Saturated Fat 4.5 grams, Protein 22 grams, Sodium 290 milligrams, Total Carbohydrate 12 grams, Dietary Fiber 2 grams, Sugar 5 grams
For more adapted recipe ideas, contact your local County Extension Agent.