At Home with UAEX
Learn from the best Extension Educators on being at home with UAEX!
Meatless Monday: Southwestern Lentil Soup

by Original Author: Kylie Harris, Searcy County | Adapted for Blog: Torrie Smith, Van Buren County
The weather is heating up and so is the flavor in this recipe! Bring some extra "yum" to dinner with this Southwestern Lentil Soup. Simple, cheap, and delicious, means this meal couldn't be more perfect!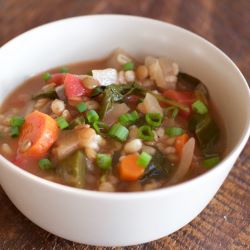 Lentils are a food that doesn't get nearly enough attention. They are in the legume family with beans and peas and come in a variety of colors. Just like beans they provide an excellent source of protein, carbohydrates, dietary fiber, and many vitamins and minerals.
Not only are lentils nutrient dense they are also very cost effective. Just like beans, a 15 – 16 oz can (rinsed and drained) can be enough for three servings but buying them dry can lead to more savings. A one-pound bag is about 13 servings of lentils.
Dry lentils are easy to cook too and don't even require soaking! Before cooking rinse lentils and pick out any small stones, dirt pieces, or withered lentils. One cup of lentils with three cups of water only needs to simmer for 15 – 20 minutes and will result in about 2 ½ cup of cooked lentils. Season after cooking to your liking. Substitute them for meat in chili, tacos, and meatloaf or just be add to vegetables, salad, and pasta.
After cooking, lentils can be stored in a covered container for 4-5 days. They can also be frozen and used within three months. Dry lentils can be stored in an air-tight container for up to a year or to the expiration date on the original package. After that time quality decreases and length of cooking time could increase.
4 cups low-sodium chicken broth
4 cups water
1-pound dried lentils
1 bag frozen carrots, onion, and celery blend (about 12 ounces)
2 cans chili ready tomatoes (do not drain)
1 tablespoon ground cumin
1 tablespoon chili powder
In a large soup pot with a lid, add all ingredients. Bring to a boil.
Once boiling, reduce heat to a simmer and cover.
Stir occasionally to prevent sticking. If soup becomes too thick, add more water as needed.
Cook 30 minutes, or until lentils are tender.
Optional toppings: shredded cheese, chopped cilantro, diced fresh onions, and jalapenos.
Yield: 8 servings
Serving size: 1 ½ cups
Nutrition Information per Serving: Calories 255, Fat 2g, Protein 18g, Sodium 570mg, Carbohydrate 45g, Fiber 7g
USDA is an equal opportunity provider and employer. This material was funded by USDA's Supplemental Nutrition Assistance Program (SNAP). SNAP provides nutrition assistance to people with low income. It can help you buy nutritious foods for a better diet. To find out more, contact https://access.arkansas.gov/
For more information, contact your Family and Consumer Sciences Agent at your County Extension Office.