How to Use Your Arkansas Fresh Tomatoes
by Original content: JoAnn Vann, Clark County | Adapted for blog: Katie Cullum, White County
Learn interesting tomato trivia, how to select, and prepare three variations of Caprese Salad.
Arkansas Fresh Tomatoes Download
Need help growing your own tomatoes? Check out our webpage here for specific tomato gardening tips. Or check out this publication on Home Gardening.
Watch the video below for all the details!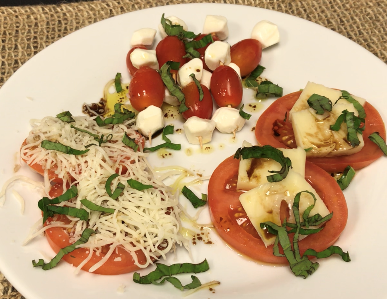 6 medium-ripe tomatoes
4 ounces fresh mozzarella cheese
6 large basil leaves
2 tablespoons extra-virgin olive oil
1 tablespoon balsamic or red wine vinegar
salt & pepper to taste
Cut tomatoes and mozzarella into bite­-sized pieces.
Stack basil leaves and roll into a cylinder. Cut into thin ribbons with kitchen shears or sharp knife. Sprinkle ribbons over the salad.
Whisk together olive oil and vinegar. Drizzle dressing over the salad and sprinkle with salt and fresh ground pepper. Serve immediately.
Makes 6 servings.
Calories: 112; Protein: 6 g; Fat: 8 g; Carbohydrates: 6 g; Saturated fat: 3 g; Fiber: 1g; Cholesterol: 12 mg; Sodium: 124 mg;