Mediterranean Made Easy: Shakshuka

by Torrie Smith, Van Buren County
Shakshuka is a great breakfast recipe you can find as part of Extension's Mediterranean Cooking Curriculum Torrie is currently teaching in the Facebook group, "Mediterranean Made Easy." You can request to join and learn about the Mediterranean Diet.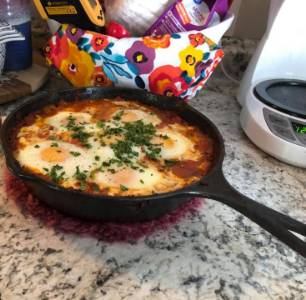 The Mediterranean diet is a lifestyle approach to good health that includes a balanced variety of foods and daily exercise. The diet is based on the foods and beverages traditionally consumed by people living in countries along the Mediterranean Sea.
The great thing I love about this dish, shakshuka, is that it uses fresh vegetables that are soon to be abundant in Arkansas. It is a hardy dish that will help you start your day on the right note. In the recipe, it does say to bake the eggs on top of the dish, but you can pre-make the sauce and serve it hot with eggs cooked to your liking.
3 T

ablespoons

canola oil

1 large yellow onion, thinly sliced

1

large red bell pepper, seeded, thinly sliced

3 cloves garlic, thinly sliced

1 tsp ground cumin

1 tsp paprika, sweet

1/8 tsp (or to taste) Cayenne

1-28 oz can whole skinless tomato, coarse chop

¾ teaspoon kosher salt

¼ teaspoon black pepper

6 oz feta cheese, crumbled

6 large

eggs

Cilantro, chopped

Hot Sauce
Preheat oven to 375 ̊F. Heat oil in a 12 inch cast-iron skillet over medium-low heat. Add onion and bell pepper. Cook gently until very soft, about 20 minutes. Add garlic and cook until tender, 1 to 2 minutes. Stir in cumin, paprika and cayenne, and cook 1 minute. Add tomatoes and season with 3/4 teaspoon salt and 1/4 teaspoon pepper; simmer until tomatoes have thickened, about 10 minutes, and add feta. Using a spoon, make 6 depressions in mixture and crack a shell egg into each depression. Season with salt and pepper. Transfer skillet to oven and bake until eggs are just set, 8 to 12 minutes. Sprinkle with cilantro and serve with hot sauce.
Makes 6 Servings
250 Calories, 170 Calories from Fat, 18g Total fat, 6g Saturated Fat, 11g Total Carbohydrates, 4g Fiber, 7g Sugar, 12g Protein, 640mg Sodium, 210mg Cholesterol