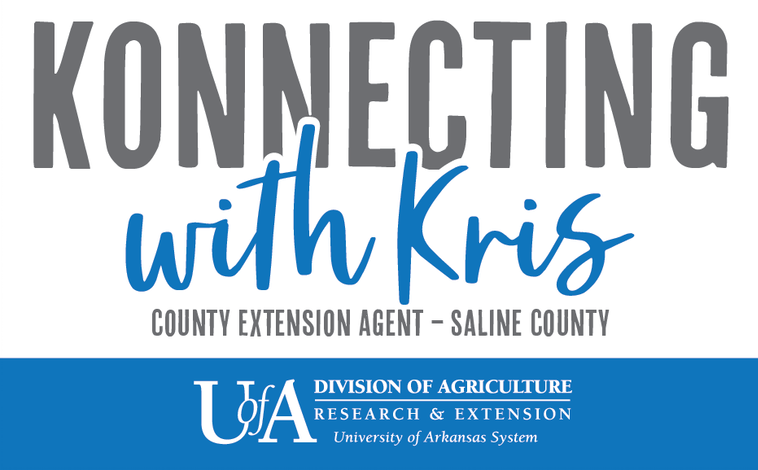 Konnecting with Kris Blog
Connect with Saline County FCS agent Kris Boulton.
Tips to Reduce Holiday Financial Stress
It has started at my house and chances are it has your house too! Shopping for Christmas gift giving has begun. The stores have been preparing for the past few weeks, holiday commercials are common on most television channels and you may have started thinking about what you plan to give. For many people, this can be a very stressful time of the year.
Here are some tips to help you keep expenses low and have more fun this holiday season.
Discuss and set a budget with your family. Involve all members of the family. Families may comprise of people with varying personalities and values, especially when it comes to money. One person may find it easy to stick to a budget; another may not and may be more likely to be "caught up" in the moment. Address these differences early on.


Match your expenses to your income. Consider having a separate savings account for holiday spending. Track all your expenses this year and plan to save some each month to put into a Christmas savings account for next year.


Make a grocery list before you go to the store. Take it with you!


Make a gift list and stick to it. List all the people that you may buy gifts for and estimate how much you will spend on each gift. If you have someone on your list that wants one big item, you may need to adjust what else they will receive.


Avoid promising to buy a certain item for someone on your list. The holidays are stressful enough. It brings to mind the holiday movie classic where two dads fight over the same gift for their son. Remember the reason for the holidays!


Shop around. Scope out prices online and check out the sales ads before buying on impulse. Many companies are starting sales earlier this year.


Sign up for your favorite retailer's emails to get the latest deals. At the very least, most will offer several discounts and coupons to use.


Use credit cards wisely. A bargain is no longer a bargain when interest is added to the purchase price. If it takes more than a month to pay off the balance, then you probably haven't saved anything, and it could cost you more in the long run.


Offer to share the meal expenses by making holiday meals a potluck affair.


Trade or share decorations with friends instead of buying all new decorations each year.


Meet friends to enjoy a meal together instead of swapping gifts. Enjoy just being with those you love!


Draw names and have a gift exchange if you have a large family and gift giving is a must. With this method, each person only must buy one gift. Let's face it, most of us receive much more than we can ever use at Christmas.


Consider planning a family event to make memories instead of buying each other gifts that you may not need. Start a new tradition!