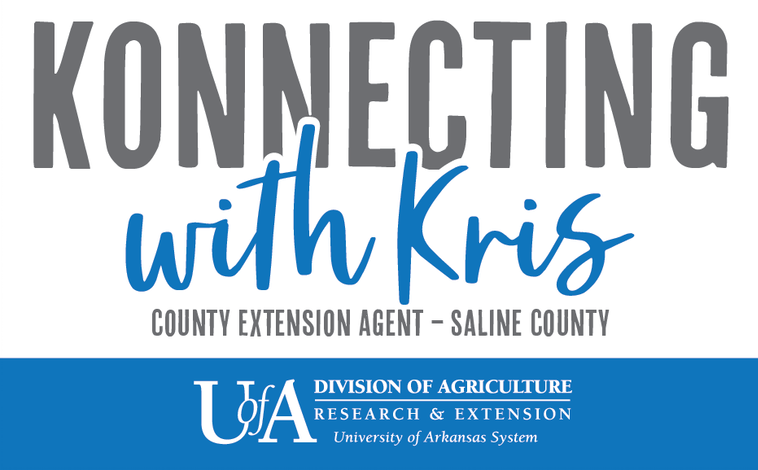 Konnecting with Kris Blog
Connect with Saline County FCS agent Kris Boulton.


Pumpkins Aren't Just for Jack-o-Lanterns
Pumpkins, pumpkins, pumpkins! Everywhere you look right now you see pumpkins in all sizes, shapes and colors. Leaves changing colors, scarecrows and pumpkins signal a change of season even if the weather does not cooperate.
Pumpkins are a staple of fall decorating since they can be used for decorating throughout the fall. Many homes have pumpkins out on display with gourds and mum or carved into Jack-o-Lanterns.
While we are decorating with pumpkins, don't forget to bring some inside to eat!
Pumpkins add a lot to our diet. They are rich in nutrients and low in calories. Only one-half cup of pumpkin provides 4 grams of fiber, no fat or cholesterol, and only 50 calories. It also provides enough vitamin A for the entire day.
Are there types of pumpkin that are better for cooking?
The most common use for pumpkins is for carving, but we can branch out for cooking. If you would like eat your pumpkin look for pie or sweet varieties. These pumpkins are usually smaller and have a sweeter flesh that is less watery. So, when choosing a pumpkin for decorating, look for the larger size to decorate and choose the smaller ones for eating.
Can I cook my Jack-O-Lantern later?
After you have made your Jack-O-Lantern, it is recommended that you do not eat the pumpkin. You can immediately roast the seeds, but once you have cut it and allowed it to sit outside they are no longer safe to eat.
My favorite way to cook pumpkin is to bake the unpeeled, seeded pumpkin halves in a 325 degree oven for about one hour or until tender. Scoop out the flesh and then puree. Use the pumpkin puree for your favorite recipes immediately, or you can freeze it for up to one year in a freezer safe container.
Which type of canned pumpkin works best?
You can also purchase canned pumpkin. The work has been done and it is convenient. It also works well in most recipes. When purchasing canned pumpkin, be sure to buy plain pumpkin and not pumpkin pie filling which has sugar and spices already mixed in that can throw your recipe off. Read the label carefully to make sure you are buying what you think you are buying.
Experiment with using pumpkin!
Pumpkin is a fall favorite! And it is for more than just decorating. Experiment with different recipes containing pumpkins. Muffins, cookies, loaf breads, cakes, dips, made with pumpkin are all delicious!
If you would like more information about pumpkin and nutrition,
Check out this recipe for breakfast pumpkin bread!