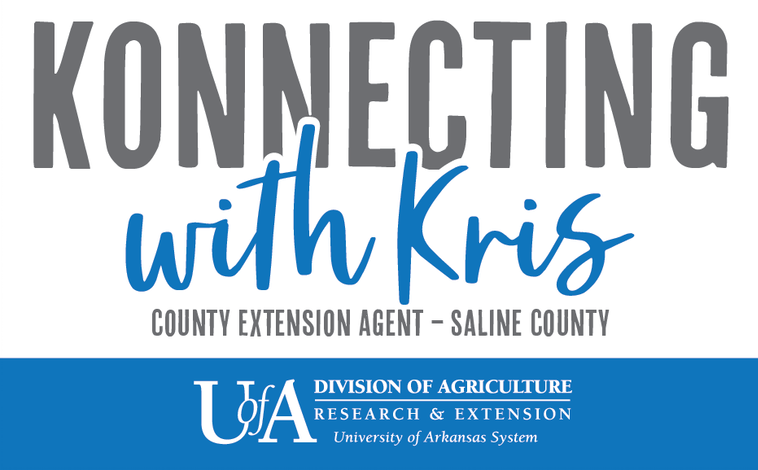 Konnecting with Kris Blog
Connect with Saline County FCS agent Kris Boulton.


Back to School Tax Free Weekend
It's almost to Back to School time on the calendar. This time of year, either causes dancing for joy or moans of sorrow for many.
Arkansas has a wonderful benefit for back-to-schoolers and it's the Arkansas Sales Tax holiday
A back-to-school tax free weekend is a great resource, but you need to shop with knowledge. This year's sales tax holiday begins Saturday, August 7, at 12:01 a.m. and continues through Sunday, August 8, at 11:59 p.m. State and local sales taxes will not be collected on the purchase of certain products. All retailers are required to participate.
There are six groups of purchases tax free eligible. We need to look at the details to ensure we are purchasing tax exempt items since there are restrictions on these purchases. None of us want to be surprised when we checkout.
Group One – Clothing
The most important thing to remember about clothing items is cost. Each item must be less than $100 each and includes all human wearing apparel suitable for general use. There is no limit on the number of items.
Group Two - Clothing Accessories or Equipment
Incidental item worn on the person or in conjunction with "clothing." Each accessory must be less than $50.00 per item.
Group Three – Electronic Devices
Electronic items commonly used by a student in a course of study. The 2021 sales tax holiday now includes electronic devices such as computers, printers, tablets, e-readers and cell phones. There is not a cost limit for electronic devices.
Group Four – School Supplies
An item commonly used by a student in a course of study. These items are limited to 27 items in a list.
· Binders

· Book Bags

· Cellophane Tape

· Blackboard Chalk

· Compasses

· Composition Books

· Crayons

· Erasers

· Folders, expandable, pocket, plastic, manila

· Glue, Paste & Paste Sticks

· Highlighters

· Index Cards

· Index Card Boxes

· Legal Pads

· Lunch Boxes

· Markers

· Notebooks

· Pencil Boxes & School Supply Boxes

· Pencil Sharpeners

· Paper, loose leaf, copy paper, graph, tracing, manila, color, poster board, construction paper

· Pencils

· Pens

· Protractors

· Rulers

· Scissors

· Writing Tablets
Group Five – School Art Supplies
An item commonly used by a student in a course of study for artwork. Limited to items listed below:
· Clay & Glazes

· Paints – acrylic, tempura & oil

· Paintbrushes for artwork

· Sketch & Drawing Pads

· Watercolors
Group Six – School Instructional Material
Written material commonly used by a student in a course of study as a reference and to learn the subject being taught. Limited to items listed below:
· Reference Books

· Reference Maps & Globes

· Textbooks

· Workbooks
What's the Big Deal?
Tax free what's the big deal? Let's look at the possible savings. Arkansas's tax rate is 6.5%, Saline County's tax rate is 0.375%, the City of Benton's tax rate is 2.5% and the City of Bryant's tax rate is 3%. When I add those together it's 9.375% or 9.5% depending on the location in the county. For ease of calculating let's round up to 10%.
If you are spending $200 on items for back to school that qualify for the tax-free holiday you would save close to $20. Now what if you are spending $500 your savings is now $50. Remember if you have someone attending college this applies to their supplies and books also. What would you do with an extra $20-$50 in your wallet? I can think of some good uses.
The Arkansas Tax Free Holiday is a great resource to use while shopping for Back-to-School supplies. Let's make sure we all know the items that qualify and the exemptions before we check out and have a rude surprise.
Although it may be tax-free, it's still not a bargain if it's not something that will not be used. For more information about budgeting contact me or anyone of your County Extension offices across the State of Arkansas.
Find practical financial information