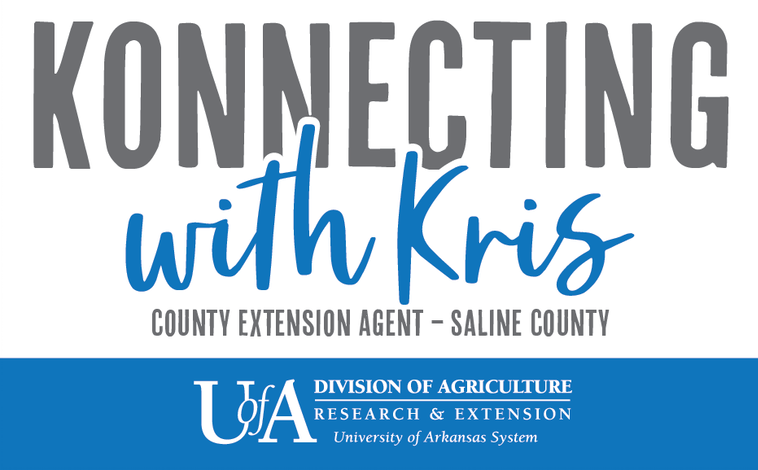 Konnecting with Kris Blog
Connect with Saline County FCS agent Kris Boulton.


Holiday Season Stress and Overeating
It's a fact...stress is going to happen! Here are some healthy techniques for dealing with stress that will not disrupt eating healthy.
Whether we want to admit it or not, the holidays are here. Stores are getting ready, and I have seen holiday commercials on TV! Stress can happen anytime of the year, but it seems we are under much more stress getting ready for a house full of guests, cooking, buying gifts, and everything else associated with the holidays. Yes, stress is going to happen. How you react to it is up to you.
Ask yourself, "How do I handle stressful situations?"
Some people reach for not-so-healthy food choices; such as chips, candy and high calorie drinks. Rather than mindlessly eating your way through a half gallon of ice cream, you may want to calm down and look for other options. Here are some healthy techniques for dealing with stress that will not disrupt your diet plan.
Pause, Breathe, and Think. When a stressful event happens, pause for one breath. It should be a slow, deep breath through the nostrils. Then exhale slowly through the mouth.


Consider your options with an open and calm mind. Is there an activity you can do that might take the place of stress eating? For me, doing housework or mowing the lawn helps me think through things and it makes me feel better once these chores are done.


Do you stress eat? If so, try to push back eating for just 15 minutes. Experts say that hunger triggers can be reduced by waiting 10 to 15 minutes before eating. By that time, you should be able to think of something that has fewer calories than a whole bag of puffed cheese balls to nibble on.


Choose the healthiest food available. If you must eat, then plan for and choose healthy food options. You might not be at home or have access to your kitchen when stress happens. Be prepared with some healthy options such as granola bars, pretzels, etc.


Eat intelligently. Set aside stress when eating. Eat slowly. Pause between bites to let your brain determine when you are full. Find something to admire about the food you are eating. It could be color, flavor, or texture. Mindless eaters just eat and don't taste the food. Keep in mind; you don't have to finish everything on your plate. Stop when you are full.
Be aware that you will still have to face the stress – yes, it is still there, but you have changed how you reacted to it and broken free of stress eating.
When you overeat due to stress, you are doing so as a way to feel less stress by overloading on other senses. While this works to create a distraction, it will not make the stress disappear. Staying focused on the here and now and weighing your options keeps you from overloading on food.
Practice the pause, breathe, and think stress response at various times throughout the day when stress seems to bring you down.
Choose peace and health when faced with a difficult situation.

Recipe of the Week
This recipe is perfect for this time of year. It uses apples and pumpkin, both at their peak during the fall months. Enjoy these for breakfast or as a snack.
Pumpkin Apple Muffins
1 ¼ cups all-purpose flour
1 ¼ cups whole wheat flour
1 ¼ teaspoons baking soda
½ teaspoon salt
1 ½ teaspoons ground cinnamon
½ teaspoon ground ginger
½ teaspoon ground nutmeg
1 ¼ cups honey
2 large eggs
1 ½ cups fresh pureed pumpkin or canned pumpkin
½ cup canola oil
2 cups Granny Smith apples, finely chopped
Preheat oven to 325 degrees F. In a large bowl, combine flours, baking soda, salt and spices. Set aside.


In a small bowl, combine honey, eggs, pumpkin and oil; stir into dry ingredients just until moistened. Fold in apples.


Fill greased or paper lines muffin cups, two-thirds full. Bake 25-30 minutes or until muffins test done. Cool 10 minutes before removing from pan.
Yield 18 muffins
Nutrition information per muffin:
200 calories, 7 g fat, 160 mg sodium, 35 g carbohydrate, 2 g fiber, 3 g protein