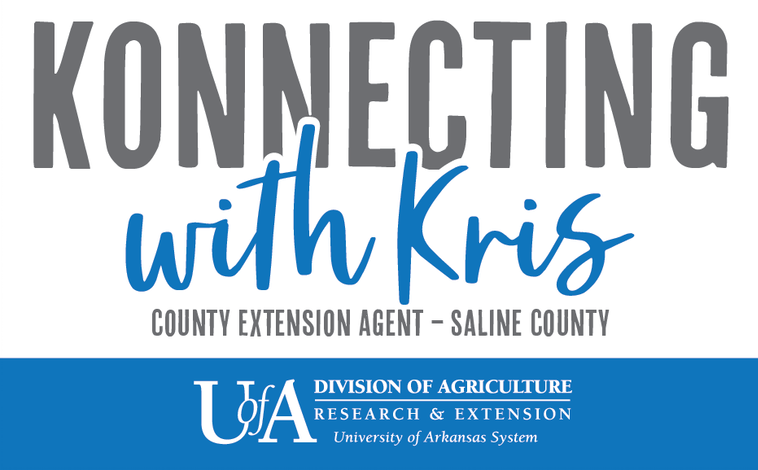 Konnecting with Kris Blog
Connect with Saline County FCS agent Kris Boulton.


Blueberry Tips for the Kitchen
Learn three tips for blueberries and try a surprising Blueberry Salsa Recipe. Do you ever get blue thinking about what you want to eat? What about if we were to talk about blueberries? Does that make a difference? I know it does for me.
I'm going to share three tips with you about blueberries; one about how to choose them, how to store them and the nutritional value of your blueberries. As a bonus, I'm going to share a recipe with you that may challenge all your beliefs about blueberries.
Tip One: How to Choose Them
When you're getting your blueberries, make sure that your blueberries are ripe and plump. Unripe blueberries do not become sweet after they've been picked. Red or green blueberries will not ripen, and they will taste very sour. Ripe blueberries have a light blue to blue black color. The deepness of the color depends on the variety.
Tip Two: How to Store Them
Blueberries should be refrigerated immediately after harvesting and purchasing. Decayed or moldy blueberries should be removed before the blueberries are refrigerated. Also, don't wash your blueberries before storing them because the moisture can allow for mold to grow. Instead wash your blueberries just before you use them.
Gently wash your blueberries in cold water just prior to using them, then drain them in a colander, then place them in a paper towel to dry again. Extra moisture causes moldy growth.
Blueberries can be eaten fresh baked in muffins, pies or cakes, blueberry sauce is also delicious over pancakes and the occasional ice cream.
When you store your blueberries, you want to make sure it's in a container with a loose covering.
Depending on the initial freshness of the berries, they can be stored in the refrigerator from two days to a week before freezing or canning your blueberries.
Tip Three: Nutritional Value of Blueberries
Blueberries are rich in antioxidants and other phytochemicals that may help prevent cancer, heart disease and urinary tract infections. Many people call them one of the super feeds. One cup of blueberries unsweetened contain 82 calories and 4.4 grams of fiber.
I know when I read this recipe, I thought there is no way this is going to taste good. But it surprised me and I hope it surprises you. The blueberry salsa recipe I want to share with you today was originally taken from the farmer's market cookbook from the learning zone
I chose a little bit different way to serve this salsa instead of using chips. I serve it as a side dish with grilled chicken, steamed squash and rice medley. Again, I was very surprised at the tastiness of this recipe. I hope you try it and you enjoy it also.
2 cups fresh blueberries
1/2 small onion
1/4 cup cilantro or 1/8 cup Parsley, dried
1 jalapeno pepper, seeded & minced or to taste
2 Tablespoons Orange Juice
1 Tablespoon Balsamic Vinegar
1 teaspoon Olive Oil
Salt & Pepper to taste
In a small bowl, coarsely mash the blueberries.
Stir in ingredients except salt and pepper.
Taste then season with salt & pepper.
Cover & chill until serving.
Recipe from Farmer's Market Cookbook from the Learning Zone
Serves 6: 46 Calories per serving, 1 g protein , 10 carbohydrates, 1 g fat, 99 g sodium, 1 g fiber