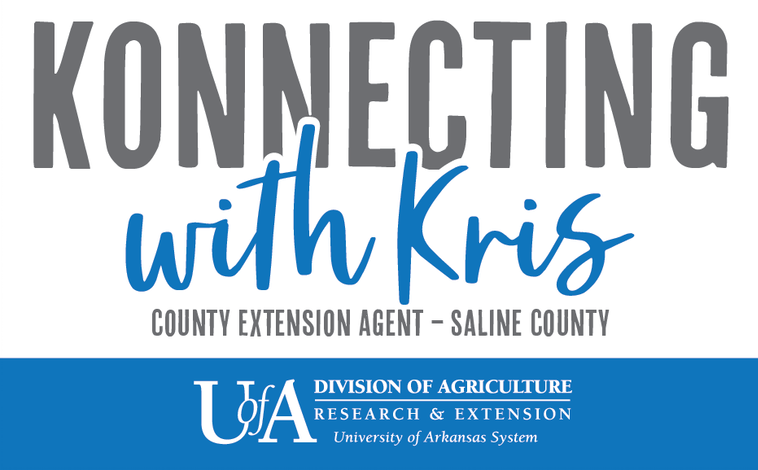 Konnecting with Kris Blog
Connect with Saline County FCS agent Kris Boulton.
Have you heard about the Walk Across Arkansas Contest? Today I'll share some information about the program to answer your questions and lead you to sign up with a team.
Walk Across Arkansas is a free 8-week, team-based, physical activity program. Teams (up to 30 participants) set physical activity goals and support each other to meet them through friendly competition.
You can do any type of physical activity if you increase your heart rate or break a sweat. National physical activity guidelines recommend that adults achieve at least 150 minutes of aerobic activity and two strength training sessions per week.
Why should you participate in Walk Across Arkansas?
31% of adults and 32% of youth in Arkansas are physically inactive. The link between sedentary lifestyles and chronic disease is well established. Physical activity is one of the most important things an individual can do for their health.
The purpose of Walk Across Arkansas is to increase physical activity levels through an eight-week, online, team-based program. Regular physical activity is one of the most effective disease prevention behaviors. Physical activity programs:
Reduce feelings of depression
Improve stamina and strength
Reduce obesity (particularly combined with diet)
Reduces risks of cardiovascular disease (e.g., high blood pressure and cholesterol, stroke, and type 2 diabetes)
Registration for Fall 2021 Walk Across Arkansas is open now. Competition is open 8 weeks from September 13th and ends November 7th.
Who can compete?
Anyone and everyone! The primary goal of Walk Across Arkansas is to help Arkansans meet national physical activity guidelines. Everyone is welcome to join! When you register you will be eligible to receive the Walk Across Arkansas weekly newsletter!
How can you participate in Walk Across Arkansas?
Start by registering for Walk Across Arkansas Fall 2021
A team captain should be selected by the team and the team captain will register to create a team on the website.

Individuals can create their own teams, but it is recommended a team size of 3-8 to encourage teamwork and a team effort. Maximum team size is 30 members.
Team members can NOT be moved from a team!
Sign up using a personal email.

Team members enter minutes of physical activity each week.
All team minutes should be entered by the end of week eight.
The winning teams will be announced in the wrap-up newsletter.

Team scores are determined by taking the total number of team minutes and dividing those by the total number of team members. The higher the score, the higher the rank. This can be viewed on the "Team Leaderboard" under the "Scoreboard" tab on the Walk Across Arkansas website.

All participants will receive a brief follow-up survey to complete after the session.