Start Planning Your Holiday Meal Today

by Katie Cullum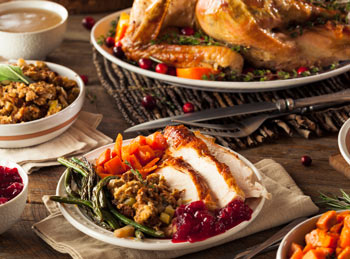 If I were to tell you that Thanksgiving is less than a month away, would you be surprised? What if I tell you that you could start your Thanksgiving cooking today and avoid last-minute stress?
The good news is that with a little planning, you can have a wonderful Thanksgiving meal and still have time to spend with family and friends. You have about 3 weeks until the big event, so start today to avoid the last-minute rush.
Make Your Menu
Start now by making out your menu. Carefully consider what foods you will serve, taking into consideration any special dietary needs of those attending, and think about the quantity you will need to prepare. When planning, limit your menu to a few favorites, so you have less to prepare. This will also help keep your budget down. If you are hosting a gathering, most people don't mind bringing a dish or two, this can help save you time and keep costs reasonable for everyone.
Bake Cookies Ahead of Time
Go ahead and bake your cookies now. Bake them according to recipe directions, cool, wrap in moisture proof packaging and freeze. Then simply remove them from the freezer to thaw, one day before you need them.
Now you have time to clear out the refrigerator and freezer. Using the food in the refrigerator AND freezer now will help your budget and also help you make room for storage!
Prepare Bread for Dressing/Stuffing
Review your menu and prepare your bread for dressing/stuffing. Go over your menu and pare it down if necessary. You probably don't need 10 different desserts. Prepare some healthy options also! Go ahead and bake, cook and crumble your bread. Storing it in freezer quality containers or bags will ease your preparation time.
Prepare Desserts One Week Before
One week before the holiday, start preparing your desserts. Now is the time to bake and freeze your cakes, and pies. These can be done a few days in advance and still taste fresh, or they can be frozen for longer storage. A thawed, freshly baked pie will taste better than a pie that has been baked before freezing. To prevent a soggy crust on your pie, brush pie shells with slightly beaten egg whites. For fruit pies, add one additional tablespoon of flour or one half-tablespoon cornstarch to thicken.
Unfortunately, cream or custard pies and those with a meringue topping will not freeze well and will lose quality quickly. For the best results prepare these the day before the meal. The pie shells can be baked a few days ahead to save time.
Along with your pies, you can also bake your cakes and sweet breads. Place cooled, baked layers in freezer bags, removing as much air as possible, seal well and freeze. Just freeze them unfrosted, then add the frosting or filling when you take the cake layers out of the freezer and allow them to thaw.
What about casseroles?
It's not necessary to assemble and cook grandma's vegetable casserole the day of the meal. Assemble it the day before and refrigerate. Then bake the day of the meal. Be sure to plan 10 to 15 extra minutes cooking time for the refrigerated casserole.
The day before the meal is a time when you can accomplish a lot, with proper planning.
Check all your dishes and eating utensils, press your tablecloth and napkins. Then go ahead and set your table for the holiday meal if you aren't using it. Also, set up your serving area and check all utensils needed.
If your menu includes salads, cranberry sauce, relish, or vegetable trays, those can also be prepared ahead of time. Be sure there is room in the refrigerator to store them to maintain food safety and quality.
Set up the coffee bar area the day before. Set out the cups and saucers, sugar, put creamer in serving containers and refrigerate (if using fresh cream). Then as guests arrive all you must do is turn on the coffee pot and fresh coffee will be ready with little trouble.
Don't forget to enlist the help of children or others in the house.
With a little pre-planning, you can make your Thanksgiving meal less stressful on you and have more time to enjoy the holiday. Start today.
Here's a dinner roll recipe to help get you started. Freeze and Bake Dinner Rolls are great to make ahead and freeze. These can be frozen for up to four weeks.
Freeze and Bake Dinner Rolls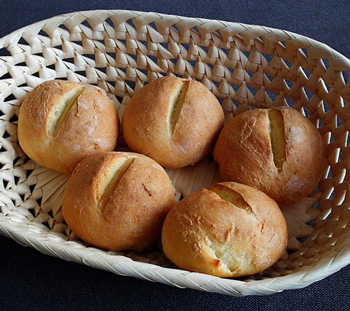 5 and one-half (5 1/2) to 6 and one-half (6 1/2) cups unsifted flour
One-half (1/2) cup sugar
One and one-half (1 1/2) teaspoon salt
2 packages active dry yeast
One and one fourth (1 1/4) cups water
One half (1/2) cup milk
One third (1/3) cup margarine
2 eggs at room temperature
In large mixing bowl, thoroughly mix 2 cups flour, sugar, salt, and undissolved active yeast.
Combine water, milk, and margarine in saucepan.
Heat over low heat until liquids are very warm (120 – 130 degrees F.) but not boiling. Margarine does not need to melt.
Gradually add to the dry ingredients and beat 2 minutes at medium speed, scraping bowl occasionally.
Add eggs and one half-cup flour.
Beat at high speed for 2 minutes, scraping bowl occasionally. Stir in enough flour to make soft dough.
Turn onto lightly floured board; knead until smooth and elastic. About 8 to 10 minutes.
Cover with waxed paper, then a towel; let rest 20 minutes.
Punch down dough.
Shape into desired shapes for dinner rolls.
Place on greased baking sheets.
*Cover with plastic wrap and foil; seal well; freeze until firm.
Transfer to freezer bags. Freeze up to 4 weeks.
Remove from freezer, place on greased baking sheets. Cover; let rise in warm place until double in size, about one and one half (1 1/2) hours. Bake at 350 degrees for 15 minutes, or until golden brown and done. Remove from baking sheets and serve.
*These can also be baked immediately if desired.
If you would like to receive a timetable to help you plan ahead for a safe holiday meal, contact Katie Cullum at the University of Arkansas Cooperative Extension Service in White County at 2400 Old Searcy Landing Road in Searcy, call 501-268-5394, or e-mail me at kcullum@uada.edu.