Water Sustainability in Arkansas
Sustainability creates and maintains the conditions under which humans and nature can exist in productive harmony, that permit fulfilling the social, economic and other requirements of present and future generations.
The "three pillars" theory (or "Triple Bottom Line") of sustainability accounts for social, environmental, and economic demands, balancing the importance of People, the Planet and Profit.
Featured Webinars
Low Impact Development for Water Quality and Conservation in Our Communities.
Better understand the benefits of using low impact development in our communities and how it can help prevent common stormwater problems associated with the mid 20th century approach to stormwater management.
Sustainable Solutions to Stormwater Management: Green Infrastructure Design, Construction, and Maintenance
Farm and Ranch Water Sustainability
Home & Garden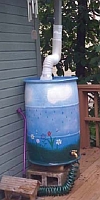 A rain barrel on your property can be a fun and rewarding opportunity!
Rain barrels are storage containers placed in areas where runoff flows from impervious surfaces during a rainfall event, such as a roof gutter outflow point.
The stored water in the rain barrel can then serve specific purposes. For example, you can use rain barrel water to irrigate your home garden and flower beds or wash your car..
Rain barrels can be purchased relatively inexpensively (less than $100) from home improvement stores, or you can even construct your own.
Learn how to build a rain barrel.
Stormwater
PUB
Title
FSA-5029
Forests and Urban Stormwater
stormwater problems related to forest ecosystems and how trees can be incorporated into urban areas to improve stormwater management.
ETB259
Assessment of Storm Water Runoff Issues in Pine Bluff, White Hall, the University of Arkansas at Pine Bluff and Jefferson County
survey of outdoor home water use and its effect on local water quality with results and overview of the EPA's Phase II Final Rule.
Stormwater Education webpage
Water Quality | Environment and Nature | Arkansas Extension
Northwest Arkansas Stormwater Education
Partnership between Cooperative Extension Service and city and county governments in Benton and Washington Counties to carry out education, outreach, participation, pollution prevention and good housekeeping.
Protecting Water Quality from Stormwater Runoff
with John Pennington, Washington County Extension Agent

Sustainable Solutions for Stormwater Mngmt: Green Infrastructure Design, Construction, and Maintenance Webinar
with Anthony Kendrick of Construction EcoServices, Jefferson LA, and John Pennington of the University of Arkansas System Division of Agriculture.
Conservation Resources