Water Quality Resources
Each of the designated uses for water - drinking, recreation, agriculture, etc. - has different defined chemical, physical and biological standards necessary to support that use. For example, we expect higher standards for water we drink and swim in compared to that used in agriculture and industry.
Water Quality standards include criteria for minerals, bacteria, clarity, temperature, oil and grease, acidity or alkalinity, dissolved oxygen, nutrients, and toxic substances to name a few. The federal Clean Water Act requires each state to develop standards to protect its lakes, reservoirs, rivers, streams, creeks, and ditches.
The Arkansas Pollution Control and Ecology Commission (APCEC) is the environmental policy-making body for Arkansas. With guidance from the Governor, the Legislature, the EPA and others, the Commission determines the Water Quality standards for the state and the Arkansas Department of Environmental Quality (ADEQ) implements those standards.
Download our fact sheet -What is Water Quality?
Watershed Information
ARExtension YouTube | What is a Watershed? by John Pennington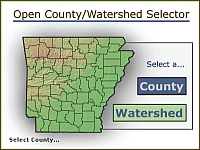 Arkansas Watershed Map
View watershed and surface water boundaries, and add or subtract various layers of data including roads, drainage ditches, natural and scenic rivers, and more.

Surf Your Watershed
Locate involved organizations, websites, health assessments, and water quality monitoring data about a particular watershed.
Drinking Water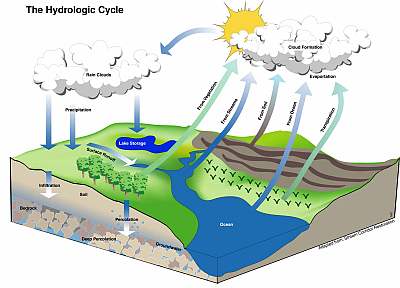 Most likely your drinking water comes from some type of surface reservoir or well.
You may also wonder whether or not your drinking water is safe. Municipalities generally release annual water quality reports that describe what is present in the water and in what quantities.
Wastewater treatment facilities receive the water that you put down the drain. Once there, the wastewater undergoes effective cleaning and purification techniques that remove contaminants and make the water safe to consume once again.
Arkansas Water and Wastewater Systems
Water Quality Assessment
ADEQ Surface Water Quality Monitoring Data Search Page – Searchable database to view water quality data from over 160 stations across the state over the past 22 years. If you don't know which stations to look for, you can search to view all stations within a county.


ADEQ Water Quality Standards Review – The federal government requires that each state review its Standards every three years to study how water is used and to consider whether limits on pollutants should be tightened. Water Quality Standards are essentially numerical limits on pollutants which affect how we use water. The Standards include limitations on minerals, bacteria, clarity, temperature, oiliness, acidity or alkalinity, oxygen, nutrients and toxic substances.