Livestock Nutrient Management in Arkansas
All crops need nutrients to survive, flourish, and grow enough product to feed a growing human population. Nutrients come in the form of fertilizers and include such products as chicken litter. Too many nutrients, or incorrect application timing, may have negative impacts on both the crop and the environment.
For this reason, it is important to practice nutrient management so that suitable amounts of nutrients can be applied that will benefit the crop and have minimal environmental impacts.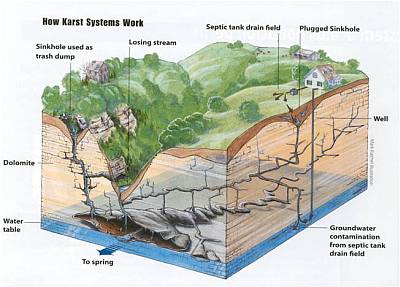 The primary goal of nutrient management is to properly utilize nutrients for agronomic gain
while protecting natural resources
FSA-29
New Arkansas Laws Regulate Use and Management of Poultry Litter and Other Nutrients
FSA-3004
Regulation No. 5: Liquid Animal Waste Management Systems
FSA-9523
An Overview of Regulations for Nutrient Management on Livestock Farms in Arkansas
overview of Title XX, Title XXI, and Title XXII
FSA-9523SP
Un Resumen de las Regulaciones para el Manejo de Nutrientes en las Fincas Ganaderas en Arkansas
Spanish version of FSA-9523

Current Arkansas Rules in Nutrient Surplus Areas | Arkansas Natural Resources Commission (ANRC)

1990 Arkansas Water Plan - Eight basin reports covering the entire State have been prepared. These reports inventory the water resources of the basins, identify current and future water problems within the basins, and recommend the actions.

2014 Arkansas Water Plan Update - The update will bring data, science, and public input together to define water demands, water supplies, issues, and potential solutions to meet our needs for the next 40 years through 2050. The update will be presented to the ANRC in November 2014.

Non-Stormwater NPDES General Permits | Arkansas Department of Environmental Quality (ADEQ)

The purpose of the general permit is to provide a streamlined National Pollutant Discharge Elimination System (NPDES) permitting process for certain classes or categories of industrial point source discharges. Coverage under a NPDES general permit is unique in that a facility operates and discharges under the requirements of the applicable general permit rule rather than the requirements of an individual permit.

CAFO General Permit ARG590000 - Fact Sheet

CAFO Permit Requirements Flow Chart and CAFO Definitions and Sizes

Regulation 5 - Liquid Animal Waste Management Systems effective June 22, 2012

Concentrated Animal Feeding Operations (CAFO) | Environmental Protection Agency (EPA)

The Federal Water Pollution Control Act, commonly referred to as the Clean Water Act (CWA), created a federal permitting program – the National Pollutant Discharge Elimination System (NPDES) – that requires a permit of any person discharging pollutants into a surface water body.

Concentrated, confined animal operations which are covered by EPA regulations defining "concentrated animal feeding operation" (CAFO) are subject to the NPDES program. The EPA requires all CAFOs to apply for an
individual NPDES permit or submit a notice of intent for coverage under an NPDES general permit. The Arkansas Department of Environmental Quality (ADEQ) is the NPDES permitting authority in Arkansas.

Excerpts taken from CAFO Opinion of the Arkansas Attorney General 2013-102 released 11/13/2013