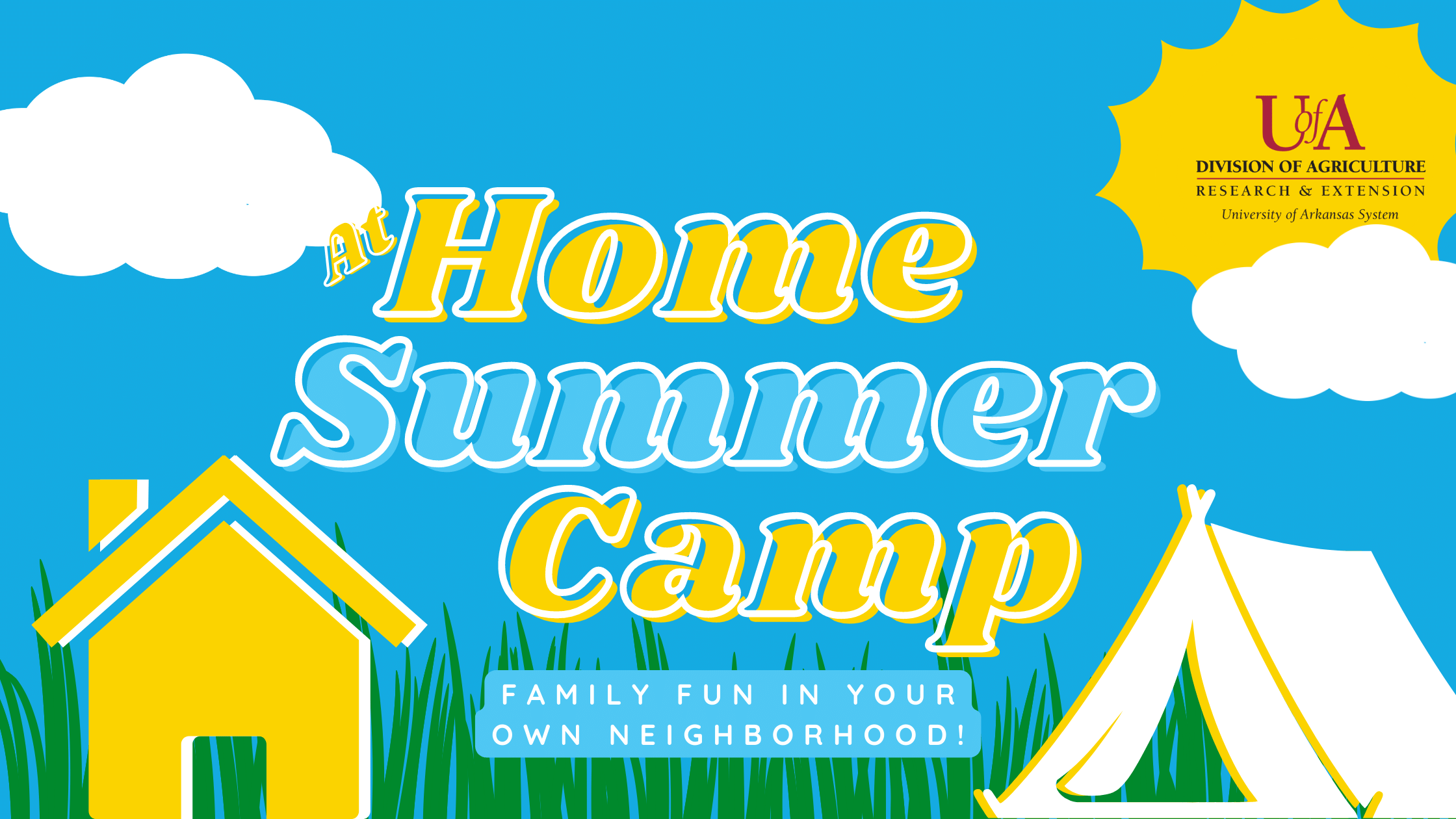 At Home Summer Camp: 5 Days of Family Fun
The last bit of the summer can be hard for families. Kids are bored, it's VERY hot outside, going places is expensive, and you may be starting to think about the new school year. Instead of planning a vacation that may be too expensive or time-consuming, how about having summer camp at home?
Below, you will find five days of themed activities, craft ideas, media, and snacks! All of the decisions are made, so all you have to do is have fun! There are activities and media for all ages. You can choose to do these all in one week, over a couple of weekends, or even each Saturday until school begins again! Your family, your rules!
Here is a printable schedule, a printable supply list, and each day will have a post on our Facebook page @UAEXFamilyLife with more pictures and content. If you want to share your fun times with us, use the hashtag #CampingwithUAEX and share the badges we post each day.
Let's get this party started!
Theme Days

Day 1 - Camp Out!
Day 2 - Wet & Wild
Day 3 - Growing Things
Day 4 - Let's Cook
Day 5 - Home Sweet Home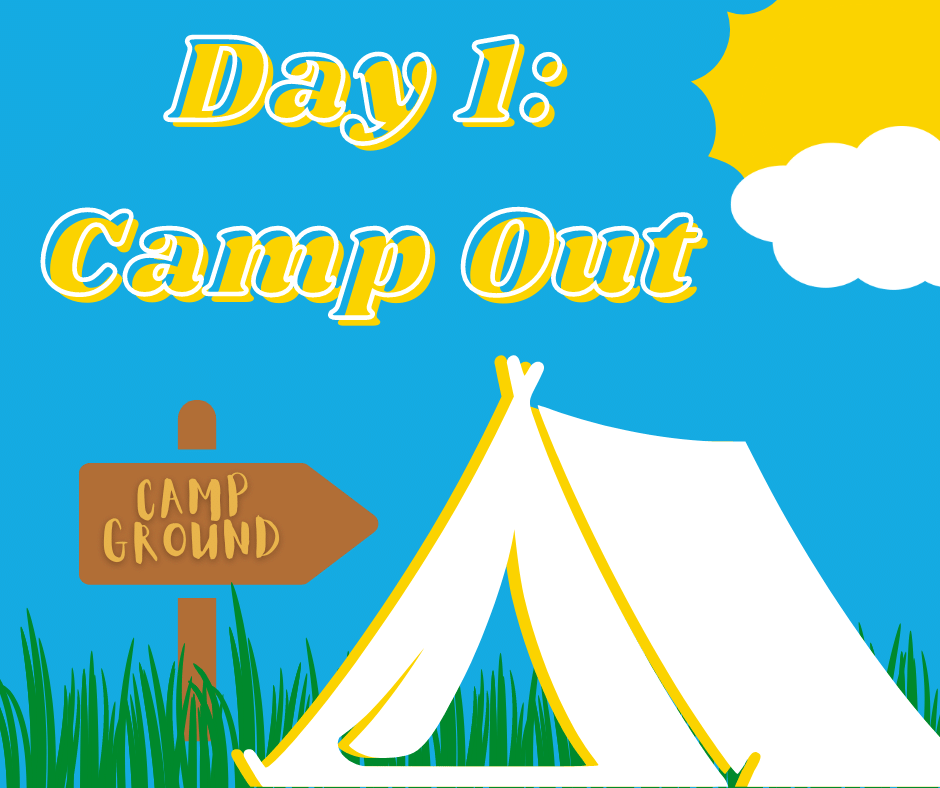 Day 1: Welcome to Camp!
Day 1 is all about getting excited for camp!
For activities, build a fort or a tent with things you find around the house. One fun way to do this is to use a folding table and an old, flat bedsheet. Lay the sheet over the table, cut a flap in one side as an entrance, and decorate the sheet however you like! This can be folded and put away to reuse whenever you like. After you build your fort, take a walk around the neighborhood and use our scavenger hunt list. We have lists for rural and urban neighborhoods!

Make friendship bracelets, beaded bracelets or necklaces, or keychains with embroidery thread or beads and string. You may have some of these things available already, but if not, they are easily found at craft and big box stores and are low cost. A simple pattern is linked in the table below. You can also create camp bandanas or tshirts with tie dye or fabric markers. These can be worn throughout your camp week!

While you do your camp activities and crafts, listen to the "Camping" playlist on Spotify. You can access it for free if you do not have a paid account. Do some yoga with "Campout Yoga" or "Going on a Bear Hunt" yoga to stretch and move your body.

When it's snack time, make some s'mores! No campfire is needed, but that can be fun too! S'mores can be made in the oven or using a can of clean burning Sterno (the one with the wick instead of gel works best). Make sure an adult is present for all activities with an open flame. Another great camp snack is trail mix! Buy it already made or make your own with some nuts and seeds, dried fruit, and a few chocolate candies.
Activities:
Crafts:
Make a friendship bracelet
Tie dye bandana or tshirt
Media:
Snacks:
---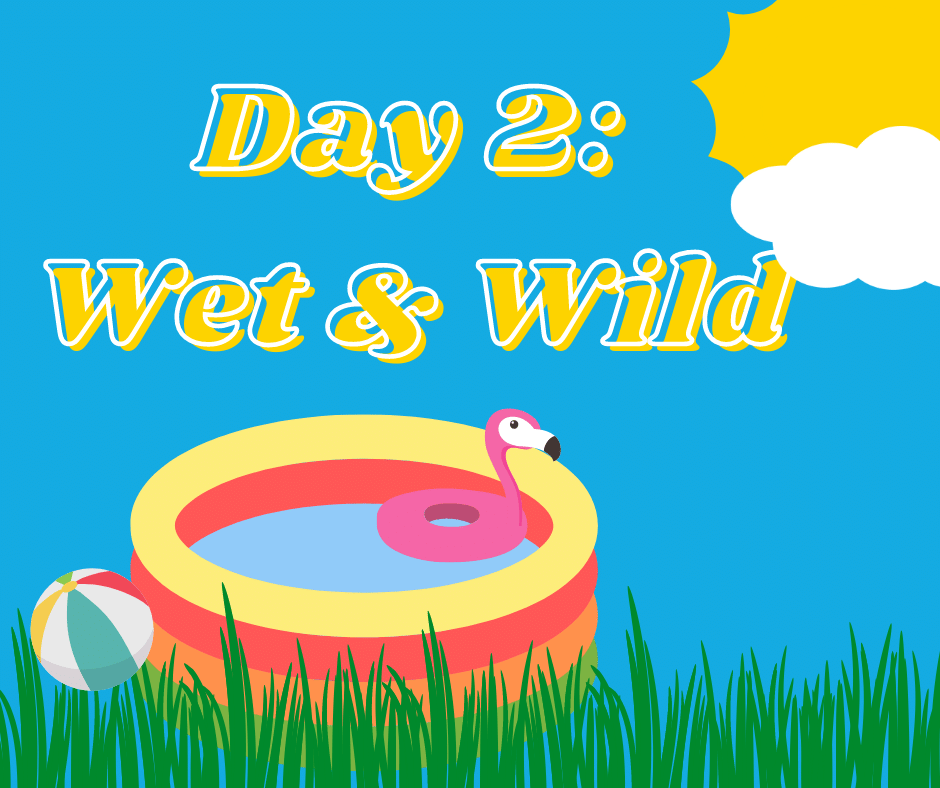 Day 2: Wet & Wild
Let's beat the heat with some water play!
Set up a sprinkler, water slide, water table, or whatever you have around to stay cool and learn about water!
For craft time, make some bubble art! Add some food coloring to bubbles, and have your child blow bubbles onto a piece of paper to pop. An easy way to do this is with small bottles of bubbles that come in a 6 or 8-pack or by pouring bubbles from a large jug into cups. Use heavy-stock paper or watercolor paper, and hang it on an easel, clothesline, or outside wall. Another great water-based craft is an ocean in a bottle. Using a bottle or jar with a lid, fill about half to 2/3 full with water mixed with blue food coloring, and then add cooking or baby oil to fill the rest. Put the lid on tight, and rock the bottle back and forth (gently) to see the waves!
When you need a break to come inside, use the videos linked below to explore our oceans from the comfort of you home campsite! Learn about the water cycle and why the oceans are salty, and listen to some beachy tunes.
For snacks, try some goldfish or whales crackers, eat popsicles (or make your own!), or make a blue jello "ocean" with graham cracker sand on top. For some extra fun, add a gummy shark or Swedish fish to the ocean!
Activities:
Outdoor water play
Visit a local pool or splash pad
Crafts:
Media:
Snacks:
Goldfish or Whales Crackers
Popsicles
Jello Oceans
---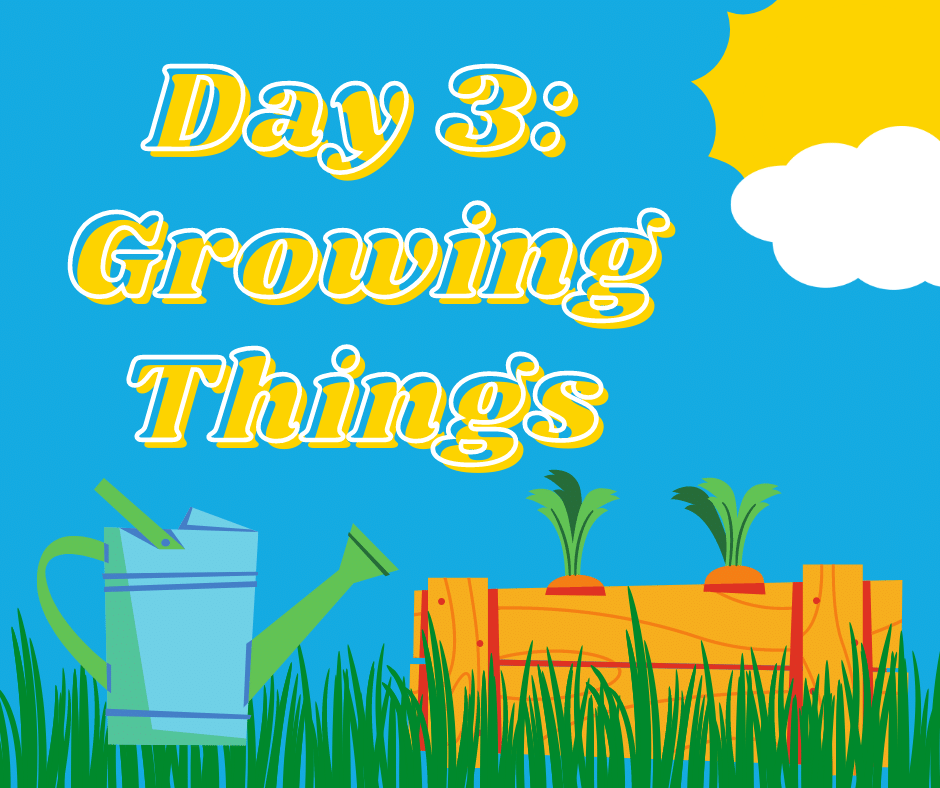 Day 3: Growing Things
Let's explore our green thumbs!
Today is all about growing things.
Using a wet paper towel and a plastic zipper bag, try growing a bean sprout! Dampen a paper towel and place it inside the zipper bag. Add 2 or 3 dry beans (kidney beans, pinto beans, etc.), and zip the bag shut. Use some tape and hang the bag in a sunny (but not super hot) window to watch what happens over the next few days! For older kids, offer a piece of paper for them to draw a picture of the bean today and each day as it grows.
Another easy-growing seed is chia seeds. You'll need a package of new, plain sponges like those you might wash dishes with. Dampen a sponge with water (it shouldn't be soaking wet), and sprinkle dry chia seeds on top of the sponge. Use a spray bottle over the next few days to keep the sponge damp, and watch the seeds grow! It is also fun to let your child cut the sponge into a shape like a heart or even a face (remember Chia Pets?) and place your seeds in places you want them to grow. Be creative! If you're really feeling that green thumb, make an herb garden with jars, pots, or even in the ground!
In the morning, head outside to a sidewalk, driveway, or other safe concrete area, and have your child stand facing the sun. Outline their shadow in chalk on the ground, and mark the time on your drawing. Around lunchtime, go out again. Have your child stand in the same place facing the same way, and outline their shadow again, marking the time. Just before supper, go out again and see how much your shadow has moved and changed throughout the day! For extra fun, have them outline yours too!
In one of the links below, learn how to make "seed balls" to share with family and friends. It's a great way to play in the dirt. Then get some glue and paper and use the leftover seeds to make an art piece.
The videos linked below offer great info on how seeds become plants, the importance of bees and other pollinators, and how to start a garden.
Finally, snacks should include lots of growing things. If you have a garden or a nearby farmer's market, fresh veggies are a great choice. Make a rainbow roll-up by using ROY G BIV color veggies, cream cheese, and a tortilla. Bell peppers, cucumbers, carrots, purple cabbage, beets...the sky is the limit! Create a trail mix using sunflower seeds and other things that grow.
Activities:
Bean sprout
Chia Seed Sponge Tent
Crafts:
Sidewalk chalk silhouettes
Seed Art
Media:
Snacks:
Veggie Rainbow Roll-Up
Sunflower Seed Mix
---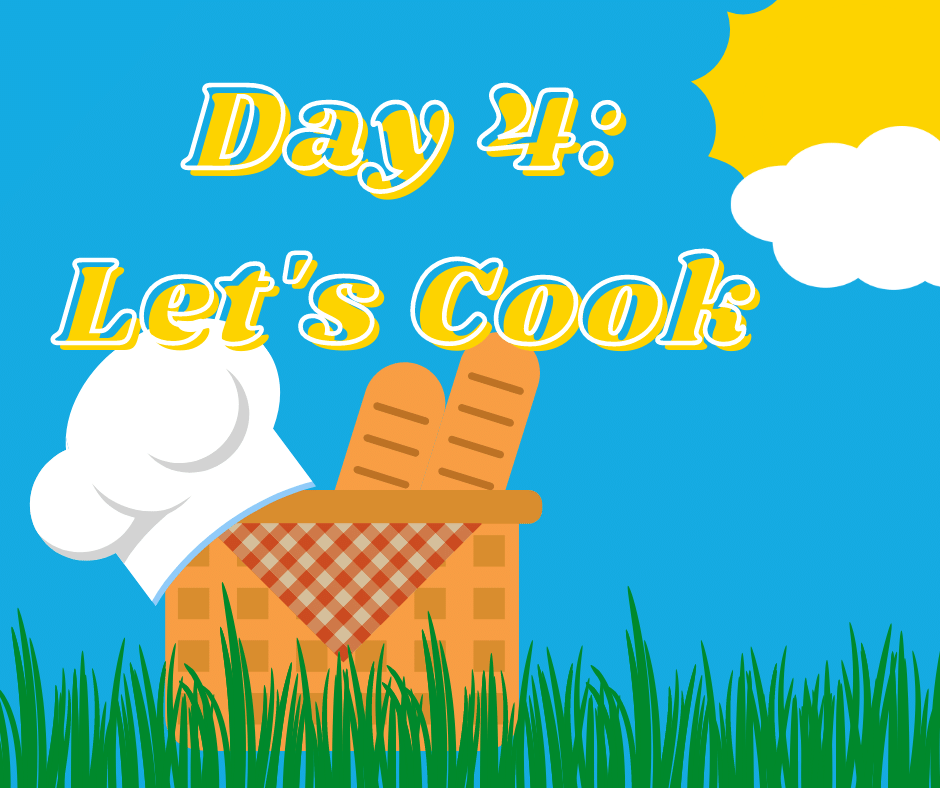 Day 4: Let's Cook
Time to cook!
Food preparation is a great life skill, and it's fun too!
Spend today planning and making yummy dishes together, learning about the science behind why foods are made the way they are, and sharing your creations with family, friends, and neighbors! There are several easy, low-cost recipes listed below that you can use, but if you have special recipes of your own, go for it!
Start the day making a shopping list together. You may want to use a grocery store app so you can see prices and availability while you're planning. For an extra teaching moment, set a budget of $10 - $20 and use a calculator as you pick up items to show your little shopper how much things cost and how to stick to a spending limit. Especially if you are shopping with little ones, you may want to use the grocery store bingo card to give your child things to look for as you shop.
If you would rather skip the shopping trip, look for recipes that use ingredients you have on hand.
While your bread is rising or something is baking, exercise your crafty side by decorating an apron or kitchen towel to keep or to give away! Find a blank apron or kitchen towel at a local craft store, Walmart, or online. Use fabric paint to decorate however you like! For younger kids, grown-ups may want to draw an outline for them to color, write the child's name for them to trace or color, or allow the child to use their fingers to paint. Be sure to clean up well and allow the apron or towel to dry before you wash it.
You may also want to make a paper chef's hat! All you need is tissue paper (like you would put in a gift bag), card stock or construction paper, and tape or a stapler.
There are some wonderful videos linked below to teach you all about why bread rises, how the digestive system works, and to show examples of some of your favorite characters making treats.
Have a great day testing and sharing all your goodies and learning about how much fun it is to cook for those you love!
Activities:
Make a shopping list and shop for your recipes together
Make a simple recipe together like these:
Crafts:
Decorate an apron or kitchen towel
Media:
Snacks:
The treats you make together!
---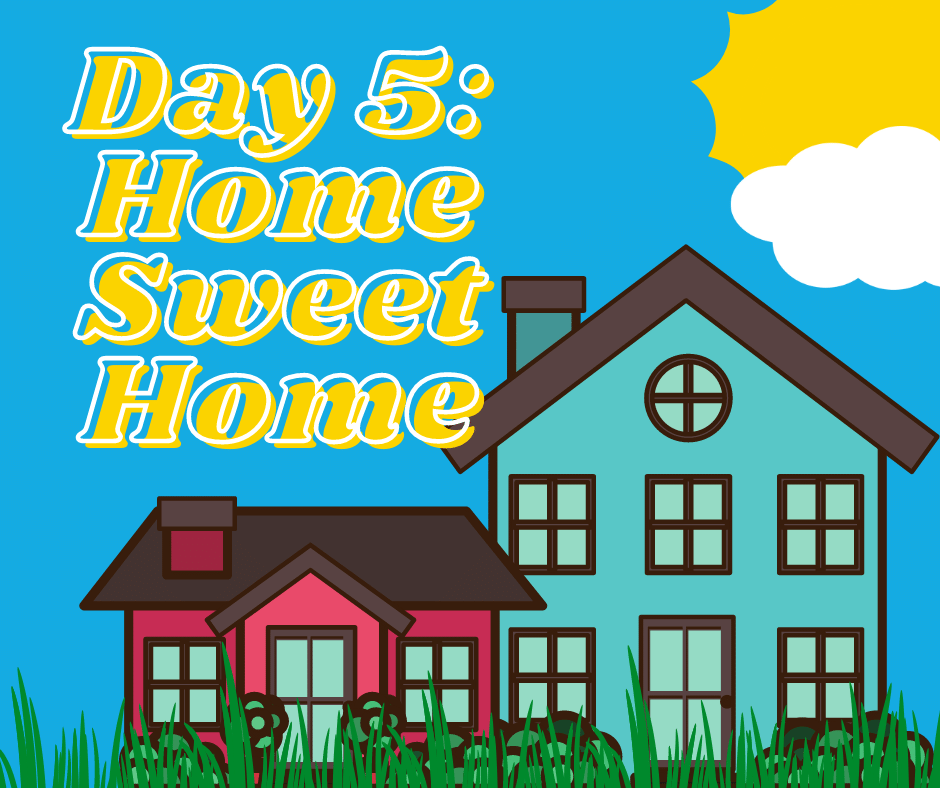 Day 5: Home Sweet Home

It's time to go home and celebrate our communities.
The last day of camp is a celebration of our homes and communities. How do we fit into our community? How can we make it better? How can we touch the lives of those around us in positive ways?
Does your child know how to write, address, and send a letter or postcard? Choose a friend or family member (or several!!) and write to them all about your summer camp experience. Use the opportunity to teach your child how to address an envelope, where to put the stamp, and how to use the mailbox. It may even be a great time to go to the post office or meet your letter carrier! Think about how happy your penpal will be to get a card all about your adventures! You may also want to call or visit an older friend or family member.
How can you serve others in your community? Grab a garbage bag and some gloves and take a walk around the neighborhood to pick up trash. If your neighborhood is too busy to do that safely, take a walk or drive to a local park, school grounds, or other area in need of helping hands. If it's hot outside, be sure to carry a water bottle and wear sunscreen and a hat!
Do you have a neighbor who needs help with yard work? Pick up sticks or weed their flower bed. Or maybe they would love some company or a sweet treat! Do you have any of those no-bake cookies left from yesterday? Share them!
A fun way to share the love with your neighborhood is to write kind messages in sidewalk chalk on your driveway or along the sidewalk or road. Be careful and stay aware of cars.
Another way to celebrate your community is to visit the community members who help keep you safe and who take care of you. Consider visiting the hospital, fire station, local EMTs, police department, post office, or library to learn what they do, take them a special treat or gift, or just to say thank you for what they do in your community.
Create a piece of yarn art to put on your wall by using a canvas or cardstock, glue, and pieces of yarn. Draw an outline of your home, your street, or whatever you like. Outline it in glue, and place yarn pieces on the glue. Be careful not to use too much glue, or it will be a mess. Fill in the picture using the pieces of yarn like you might use a marker or crayon. Allow it to dry, and hang it up to remind you of your camp adventures!
Other crafty ways to celebrate your home are to build a birdhouse out of craft sticks using hot glue or masking tape to hold the pieces together. Or, use cardboard boxes or shoe boxes to build a cardboard box town. Decorate each piece like a building in town such as the hospital, library, school, fire station, etc.
In the videos linked below, there are several ways to explore communities, different types of homes, different habitats, and other parts of the world. The Dollar Street website is especially interesting. It shows how families live in different parts of the world and with different levels of income.
Are you hungry yet after all this work? Build a structure out of pretzel sticks and cheese cubes or using graham crackers and peanut or other nut butter as your glue! It's engineering AND snacking!
Activities:
Write postcards to friends or family

Pick up trash in the neighborhood or community

Help a neighbor with yard work or take them a treat

Use sidewalk chalk to write kind messages on the sidewalk or driveway

Call or visit an older family member or friend
Crafts:
Create a yarn art piece to hang on the wall

Craft stick birdhouse

Cardboard box town
Media:
Snacks:
Build a house or structure with pretzel sticks and cheese cubes
We sure hope you had fun and made your at home summer camp your own! Please feel free to share your adventures on our Facebook posts and using the hashtag #CampingwithUAEX.