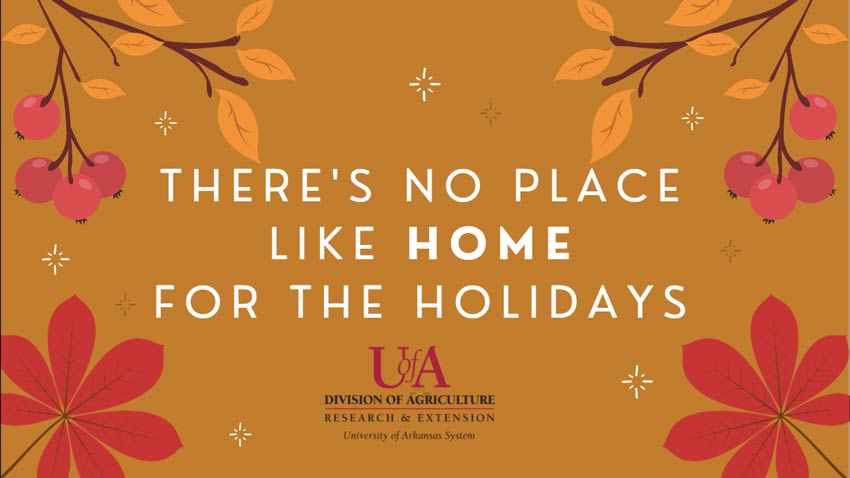 There's No Place Like Home for the Holidays
This year is weird. There, I said it. Nothing has been normal, and as the numbers of COVID cases continue to climb, normal doesn't seem to be coming back in the near future. Many of us had hoped the pandemic would be under control by the fall and winter holidays so we could see family and friends in a normal-ish way. Unfortunately, that's simply not the case. All recommendations from the CDC and the Arkansas Department of Health have been clear: Just stay home.
Although this is disappointing, it doesn't change the nature of the holidays. We have adjusted and readjusted our work, home, school, family, and social lives all year long, and we can do it again to insure our own safety and the safety of those we love (and those we don't even know).
Recent statistics have highlighted the lag time between exposures, hospitalizations, and deaths related to COVID-19. Based on how the time frames work on average, those who are exposed on Thanksgiving could greatly increase death tolls around Christmas time. At the very least, those exposed and sickened would likely be sick at Christmas.
The CDC and the Arkansas Department of Health are STRONGLY urging people not to travel for Thanksgiving to avoid spreading COVID-19 across the country. With this in mind, it is important to consider that staying home and away from those you love this Thanksgiving could be the kindest thing you ever do for them, and they for you.
How can I stay safe this holiday season?
The following people SHOULD NOT participate in any in-person holiday events to avoid the risk of exposing others:
Anyone who has test positive for the coronavirus and should be isolating even if they do not have symptoms.
Anyone recently exposed to someone diagnosed with coronavirus/COVID-19 and is in their quarantine period, even if they have tested negative during that time.
Anyone experiencing symptoms of COVID-19 which may include: fever, chills, cough, shortness of breath or difficulty breathing, fatigue, muscle or body aches, headache, new loss of taste or smell, sore throat, congestion or runny nose, nausea or vomiting, diarrhea, or otherwise feeling unwell.
What can I do instead of a big extended family dinner?
There are lots of ways to have a safe and happy Thanksgiving this year like:
Having a small dinner with your own household. You can decorate and play games or make it very low-key.
Hosting a virtual dinner with extended family and friends through Zoom or other video technology. Zoom is even waiving their 40 minute limit for free users on Thanksgiving!
If Thanksgiving and Black Friday shopping are part of your traditions, online shop instead! You can even combine online shopping and Zooming by sharing your screen with a friend or family member to shop together.
Some "medium risk" activities include:
Having a small group (less than 10 people) outdoor dinner with family and friends while maintaining physical distance of at least 6 feet and wearing cloth face coverings (masks). If you are meeting with ANYONE outside your household, masking and physical distancing are very important precautions to take.
Going to an outdoor holiday activity such as a pumpkin patch, Christmas tree lot/farm, walk-through holiday light display, or other similar large outdoor venue where mask use is enforced and people can maintain physical distance.
In-person shopping at times when stores are not busy, masking is enforced, and physical distance can be maintained.
The Arkansas Department of Health recommends that we AVOID these high risk activities:
Taking an elderly relative out of a nursing facility, hospital, or retirement community
Traveling outside the local area
In-person shopping during any peak times like Black Friday sales
Large indoor gatherings with people outside your household, including with other family or friends
Attending other indoor events like parties, movies, etc. where many people from many households are likely to attend.
It's not just about this year
Even though it can be difficult to think about doing the holidays differently this year, it only takes one sick person at a gathering where precautions are not taken or are lax to spread the virus among your entire family, friend group, church, neighborhood, or whomever is present. It may help to think about it this way: It's not just about this one Thanksgiving, it's about all the Thanksgivings, Christmases, and birthdays to come. If even one person dies or their quality of life is severely impacted by this year's gathering, you will be reminded of it every year to come.
Stay safe. Stay home.
Where can I get more information about safer Thanksgiving?