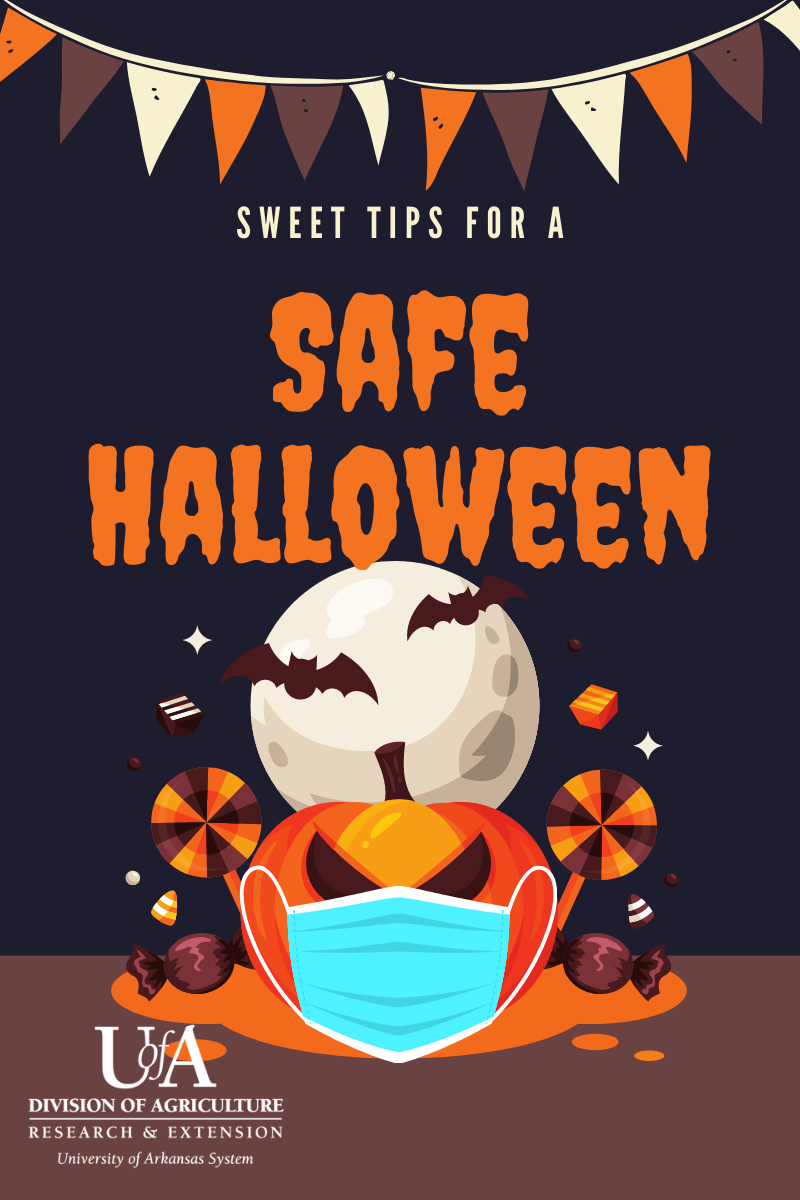 Sweet Tips for a Safe Halloween
How can I have fun this Halloween while staying safe? What are some things I can do with my family to celebrate Halloween? 2020 has been a difficult year. We have had to adapt over and over to new public health guidelines, safety regulations, and changes in our usual lifestyles. Halloween is no different. But just because this year requires some adjustment doesn't mean it can't be fun!
It is easy to look at Halloween as just one more thing that kids have to "give up" in 2020. Instead, look at it as an opportunity for creativity and starting some new traditions.
Keep this in mind: If you plan to trick-or-treat, give out candy, or go to a party just like you normally would, you will be opening yourself up to interact with lots of people. You may end up around someone with COVID or even have it yourself without knowing. Insisting on a traditional Halloween is not in anyone's best interest, and it can continue to prolong the pandemic. Contact tracing will be almost impossible, so the fewer people you interact with the better.
How can I trick-or-treat safely?
1. Use a themed cloth mask as part of yours or your child's costume. Don't substitute a thin fabric or plastic costume mask for a protective cloth mask. Instead, use a cloth one the same color or dress up in a costume where a mask is part of the look!
Examples: Ninja, doctor/nurse/vet/EMT, ghost, Spiderman. Or if dressing up as a princess or superhero, find a mask with the same color or theme like snowflakes for Elsa or a star for Captain America.
2. Limit the number of houses you visit. Go only to houses you know, and keep a distance from other trick-or-treaters and from those handing out candy. Look for people who are wearing masks while handing out candy too!
3. Only allow your child to eat factory-wrapped candy, and be sure to wipe it down before they open it. You should all wash hands after returning from trick-or-treating.
Try these lower risk activities:
1. Have a Halloween party with your family at home. Decorate, watch a movie, have snacks and candy, carve pumpkins, even dress up!
2. Weather-permitting, have an outdoor cookout or small gathering with your family or a small group of friends who can maintain physical distance while enjoying each other's company.
3. Do a Halloween scavenger hunt where your child hunts for Halloween-themed things like different types of decorations. There are lots of examples online.
4. Set up a candy hunt (think Easter egg hunt) around your house or neighborhood.
Avoid

these high risk activities:

1. Traditional trick-or-treating where people from different households are mixed together and go from house to house.

2. Trunk-or-treat where cars are lined up and social distancing is not possible.

3. Indoor events like haunted houses or parties where people are crowded together and talking or may even be screaming.

4. Hayrides or other similar rides where people are not from your household.

*All of these activities are high risk because you are interacting with people you don't live with and likely don't know. If someone has COVID (even if you do and don't know), it would be almost impossible to track down everyone who may have been exposed.
What is the safest way for me to give out candy to trick-or-treaters?
1. Put together treat bags that you set out on the porch for kids to take.
2. "Plant" your candy in the yard for kids to "harvest" by taping each piece on a stick and poking them into the ground. (Be sure to bring in any leftovers so that animals don't eat it.)
3. Make a "candy chute" to send candy down your front steps or out your door straight to children's goody bags.
4. If you want to do "traditional" trick-or-treat, wear a mask while handing out candy to children. You should be the only one to touch the candy rather than letting kids take their own. **This is high risk. Sitting outdoors on your porch rather than standing in the open doorway lowers the risk, but you are still inviting lots of kids to come physically close. The lowest risk way to hand candy out individually is to use a grabber (like you might use to pick up pine cones or litter) and keep the kids at a distance. (They'll think it's funny too.)
Halloween can still be fun even without the traditional gatherings. Think outside the jack-o-lantern!