Wheat Production in Arkansas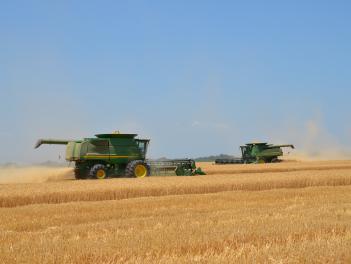 Arkansas is a top-ten producer of soft red winter wheat in the United States. In recent years, acreage has averaged 600,000 acres and yields have averaged 58 bushels per acre. Most wheat acres are double-cropped with soybeans following wheat harvest. The majority is grown in:
• Mississippi River Delta region of Eastern Arkansas
• Arkansas River Valley region of Western Arkansas
• Red River Valley region of Southwest Arkansas
Wheat in Arkansas is planted in October - November and harvested in early June.
Wheat Production Practices
The Cooperative Extension Service, part of the University of Arkansas System's Division of Agriculture, is dedicated to providing up-to-date educational programs consisting of research-based information for profitable wheat production.
2022 Arkansas Wheat Research Verification Program Report
Additional Resources
Arkansas Row Crops Blog
The latest news and recommendations from Extension specialists across all row crops.
Water Management
Irrigation methods and water conservation research from Extension specialists.