Drought Effects on Livestock
Animal agriculture accounts for some 52,000 jobs in Arkansas and when value added is tallied, is an industry worth about $2.8 billion to Arkansas' economy. When drought hits, Arkansas' cattle industry is hardest hit. Very few acres of pasture are irrigated, leaving forage supplies vulnerable to drought .
The University of Arkansas System Division of Agriculture has been working closely with those in the cattle industry to develop practical means to manage herds during intense drought.
Publications
One highly successful program to add drought resiliency to a ranching operation is the 300 Days Grazing initiative.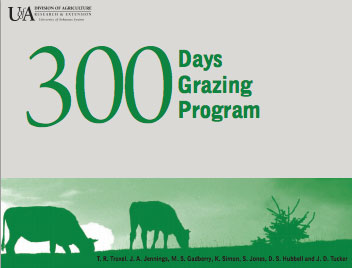 The Cooperative Extension Service has many other resources available for solid decision making in difficult times, with other tools available from your county extension office.


Arkansas Animal and Forages Resources