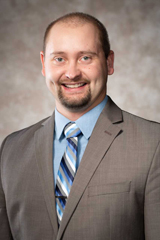 Tommy Butts, Extension Weed Scientist
The newest University of Arkansas System Division of Agriculture weed scientist said he expects to rack up more than a few miles of field walking as he learns more about the issues faced by farmers in the Mid-South.
Hailing from southern Wisconsin, weed scientist Thomas Butts took his new position as extension weed scientist on Nov. 26. He brings a diverse background, having received his Master of Science from the University of Wisconsin-Madison then his Ph.D. from University of Nebraska-Lincoln.
"I believe it is necessary to get your boots dirty to find weed management solutions. I look forward to walking my fair share of Arkansas rice and soybean fields in the upcoming season," he said. "Weeds truly are a community problem and working together is an absolute must to reduce their negative impacts."