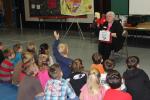 Family and Consumer Science - Raising Kids, Eating Right, Spending Smart, Living Well
The Family and Consumer Sciences (FCS) program in Lonoke County offers instruction in healthy living practices, financial management, family relationships, child care, and community involvement. Contact Dianna Bowen, FCS agent at the Lonoke County office for more information about any of these programs.
Photo: Students at Ward Central Elementary School learn proper hand washing while participating in the Germ City interactive program.