Supplemental Nutrition Assistance Program - Education (SNAP-Ed)
Nutrition and physical activity can improve your well-being.
The typical Arkansas diet is high in fat and low in fruits, vegetables, and whole-grains. Poor diet in conjunction with too little physical activity can contribute to the development of serious health problems.
Fortunately, the Arkansas SNAP-Ed program is available to help consumers make better choices about what to eat in order to stay active and live better.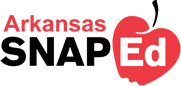 What is Arkansas SNAP-Ed?
Arkansas SNAP-Ed provides nutrition education to food stamp recipients and those individuals and families who are eligible to receive nutrition assistance. As a result of a partnership between the University of Arkansas Division of Agriculture, the Arkansas Department of Human Services, the USDA Food and Nutrition Service, and county governments, SNAP-Ed is helping Arkansans eat better in order to live better.
Find a SNAP-Ed Program Near You
Contact your local county Extension agent for more details on how you or your school can participate.
Want to save money while preparing healthy meals?
Visit our Arkansas Foods Blog for budget-friendly recipes and tips, as well as tried and true nutrition information to help you make better choices when deciding what to feed your family.
Follow Us on Facebook and Pinterest