Online Beekeeping Course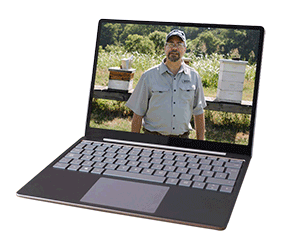 Have you ever thought about keeping honey bees, but can't decide if you are ready to make that commitment? Our popular educational series, the Complete Beekeeping Short Course, is now available for you to watch online -- for free! All lectures are presented by UA Extension apiculture specialist Dr. Jon Zawislak, an entomologist and EAS-certified Master Beekeeper.
Watch the whole series online to learn everything you need to know to get started, with no prior experience required. The course is broken down into smaller units, to view at your convenience. Each section builds on previously covered material, to give the new beekeeper a good foundation of knowledge.
The series will introduce viewers to the structure and function of each component of a modern bee hive, the basic tools and equipment needed, and how to choose the right protective clothing. Basic honey bee biology and behaviors are also explained. Seasonal colony management tasks are presented, along with laws and regulations, and the basics of honey production and harvesting. Honey bee health is also covered, including recognizing and treating honey bee diseases, parasites and hive pests.

---
Printable Handouts
Download and print out a summary of the slideshows used in this short course to help you take notes:
---