Beekeeper Education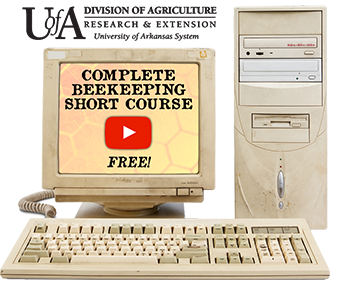 Want to learn more about honey bees or beekeeping? Watch our comprehensive online lecture series for free!
The Complete Beekeeping Short Course covers everything you need to know to get started, with no prior experience required. The information is broken down into short units, to view at your convenience. Each section builds on previously covered material, to give the new beekeeper a good foundation of knowledge, or to provide an experienced beekeeper with a solid refresher course. All lectures are presented by UA Extension apiculture specialist Dr. Jon Zawislak, an EAS-certified Master Beekeeper.
Because the beekeeping industry is always changing to adapt to new challenges, this video series can be a great refresher course for experienced beekeepers, who may learn some new techniques or better understand the behavior of their bees.
Beekeepers are encouraged to meet and socialize with others who share their interest in the amazing honey bee. Numerous beekeeping clubs and associations meet regularly throughout Arkansas, providing members with continuing opportunities to socialize, share, and learn. If you are looking for information on local area beekeeper club meetings, visit the website of the Arkansas Beekeepers Association to find a group near you.


---
Beekeeping Basics Podcast Series
Whether you are brand new to beekeeping or looking for a refresher course, these informative podcasts will help get you up to speed and help improve your knowledge and understanding of the honey bee and essential beekeeping practices. Listen to each lesson online or download them to your device and listen anywhere.
---
Other options for Online Beekeeping Instruction:
Penn State Extension Beekeeping 101
North Carolina State Beekeeper Education & Engagement System (BEES)
University of Florida Extension Online Master Beekeeper Program
Cornell Master Beekeeping Program Online
University of Montana Online Beekeeping Courses
University of California Cooperative Extension Online Beekeeping Course