Edamame Production in Arkansas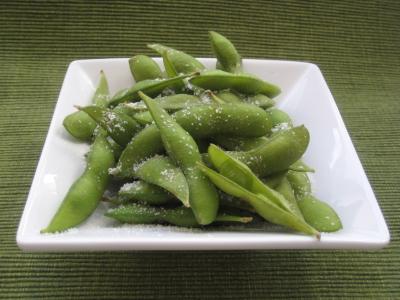 Large-scale production of edamame was introduced into Arkansas in 2012.
Edamame (pronounced eh-dah-MAH-may
) is translated as "beans on a branch" in its native country of Japan. Green vegetable soybeans are the same species (Glycine max) as field soybeans but for over 2,000 years have been specifically bred for larger seeds, sweeter flavors, creamier texture, and easier digestibility.
Edamame are harvested at the fresh green stage, for use as a vegetable, slightly before they mature and dry. The beans can be cooked and served in or out of the pods.
Edamame Production Practices
The Cooperative Extension Service, part of the University of Arkansas System's Division of Agriculture, is dedicated to providing up-to-date educational programs consisting of research-based information for profitable edamame production.
Edamame production goes from Asia to Arkansas
"UA Kirksey" variety helps launch first commercial-scale U.S. edamame crop in Arkansas
Related Information
Arkansas Row Crops Blog
The latest news and recommendations from Extension specialists across all row crops.
Water Management
Irrigation methods and water conservation research from Extension specialists.