Welcome to the White County Office, Arkansas Cooperative Extension Service
We are part of the University of Arkansas System Cooperative Extension Service's statewide network and the U of A System's Division of Agriculture. Our mission is to provide research-based information through non-formal education to help all Arkansans improve their economics well-being and the quality of lives. Whether it's agriculture, 4-H, family and consumer science, or community development, our White County office is at your service.
---
Upcoming Training
Feb 20th & March 16th - Private Pesticide Applicator Training 6PM - 9PM

Feb 22nd - March 22 - White County Master Gardener Training
Join us at the White County Extension office every Wednesday from Feb 22nd - March 22nd. For more info on this training or about the Master Gardeners Program, contact us at 501-268-5394.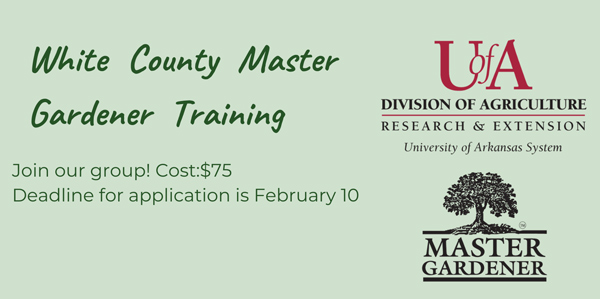 ---
Who We Serve
Our agents and staff serve the people of Searcy and other White County towns by providing free non-biased, research-based advice for farmers and families.
They can help you with 4-H youth development, soil testing, insecticide recommendations, weed id, produce safety, animals and forages, money management, parenting, food safety and preservation, nutrition and so much more!
Local Programs