Arkansas Extension Homemakers Council
Breathe Life Into Arkansas
Wednesday, April 21st at Wyndham Riverfront North Little Rock, Ar at 9:30 am.
AEHC Spring Workshop Information
Meeting registration is from 8:30 am - 9:15am, meeting starts at 9:30 am and ends at 2:30 pm.
What to Bring:
Starting April 1, collect non- perishable goods and bring with you to on 4/21. A representative from the Arkansas Food Bank will be at the meeting to collect our donations.
Two Silent Auction Gifts- Per County. Valued at $15.
$10 to $15 Gift Card- Per County. Used for door prizes.
Book your own lodging. Room rate is $84, plus tax, for two people, breakfast included at the Wyndham Riverfront.
For more infomation or questions contact Melody Curtis at mcurtis@uada.edu
Sign up for our mailing list to receive updates!
Food Insecurity Statewide Community Service Project
Food insecurity in Arkansas is on the rise. We are trying to bring awareness to this issue and be an ally to those in need.
What will we be doing to help?
Addressing food insecurity is our statewide project.
What are our goals?
Provide one million meals by 2021. By focusing on food insecurity, we hope to make a difference by working together and lowering the number of people who do not have access to food.
Partner with state food banks and local food pantries.
Pledge and donate to a food bank.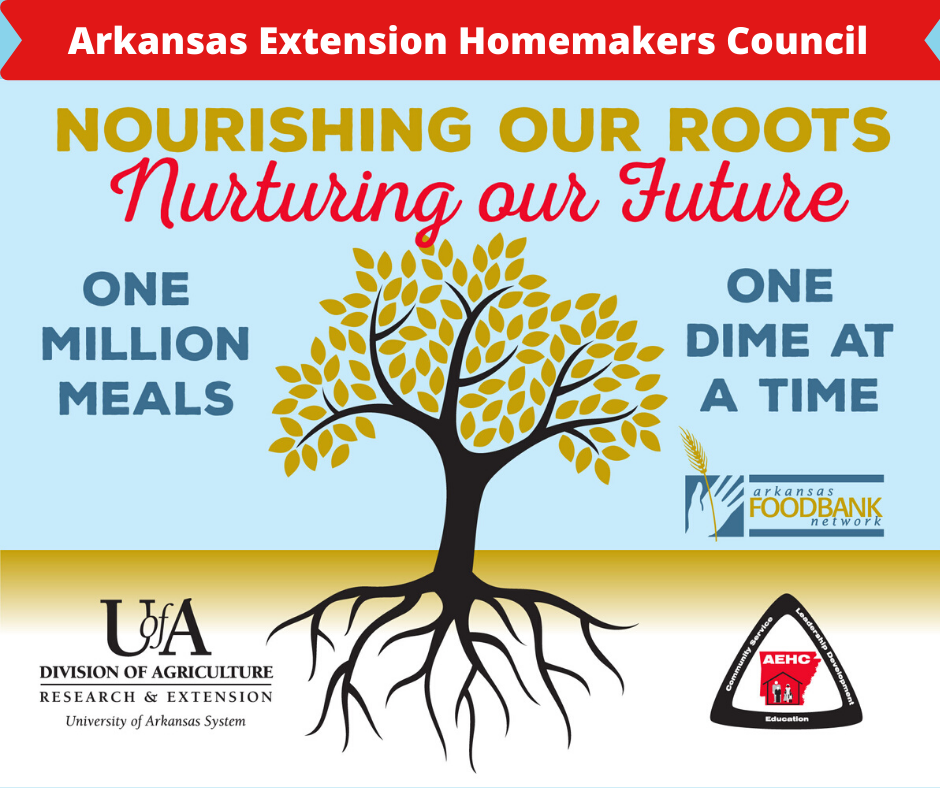 Statewide Food Insecurity Info
Roberta Shankle, Chairperson State AEHC Project
870-243-8108
Reduce your risk of getting sick.
Follow CDC and Arkansas Department of Health recommendations:
Stay home if you are sick.
Wear a face mask.
Use social distancing (stay at least 6 feet away from others).
Wash your hands with soap and water for at least 20 seconds.
Face Masks Community Service Project
As supplies of commercially produced medical face masks run low, many essential workers are in need of cloth face masks. EHC members have sewn and donated more than 7,000 face masks for local healthcare and other essential workers.
Where are face masks needed?
Child and adult sized face masks are needed by Arkansas Children's Hospital.
Arkansas Department of Corrections, UAMS in Little Rock, UAMS Oncology for Women in Little Rock, Briarwood Nursing and Rehabilitation Center, and Our House Shelter in Little Rock have requested homemade face masks. If you are interested in donating to theses facilities contact Rachael Price at rprice@uada.edu. She will be able to give you more information regarding drop off, who to contact and more.
Arkansas Pharmacists Association has reached out to AEHC for masks. Pharmacist are essential workers along with doctors and nurses during COVID19. Check with a local pharmacy to see if they need face masks or contact your local FCS agent to find a pharmacy near you.
If you or your members have made and donated masks please email Rachael and let her know. She will need to know your name, club name, number of masks made and where they were donated.
How can I find a pattern?
Local medical facilities may have preferences for the types of homemade masks they will accept. Please contact your local facility if you would like to donate. Or join Let's Sew Face Masks. Let's Sew Face Masks is coordinating supply of mask making volunteers with requests from facilities around Arkansas.
Click here for a pattern recommended by the Arkansas Department of Health.
Click here for more information about using homemade face masks from the Arkansas Department of Health.
Click here for more information from the CDC on face masks.
Here's a really easy pattern from Let's Sew Face Masks
AEHC National and International Affiliate Organizations:

Contact
Office:
University of Arkansas System Division of Agriculture
Cooperative Extension Service
2301 S. University Avenue
Little Rock, AR 72204