4 Easy Reduce, Reuse, Upcycle Kitchen Hacks
JoAnn Vann
Once a month, I go around the house and refill all my storage containers and cleaning supplies. This month, I thought I would share some handy kitchen ideas that have improved our self-sufficiency, saved us money, and reduced the amount of non-biodegradable waste we produce in the kitchen.
1. Invest in reusable scrubbers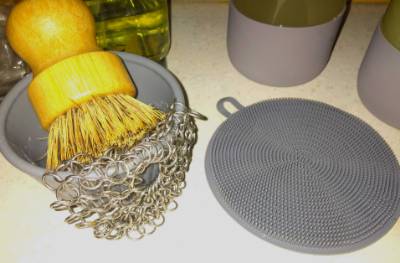 Ditch the disposable sponges and concerns over bacteria buildup by switching to a silicone scrubbing pad for general purpose and non-stick surfaces. A stainless-steel chainmail scrubber and a natural fiber brush (see photo above) for cleaning cast iron works great. Using these is also pocketbook friendly because they are long lasting and inexpensive. The chainmail I use on my cast iron is well over two years old now and still in perfect condition for a cost of less than $5. I recently added the $3 silicone scrubber (also pictured) but anticipate it will last several years before needing replacement.
2. Store in bulk using half gallon jar food storage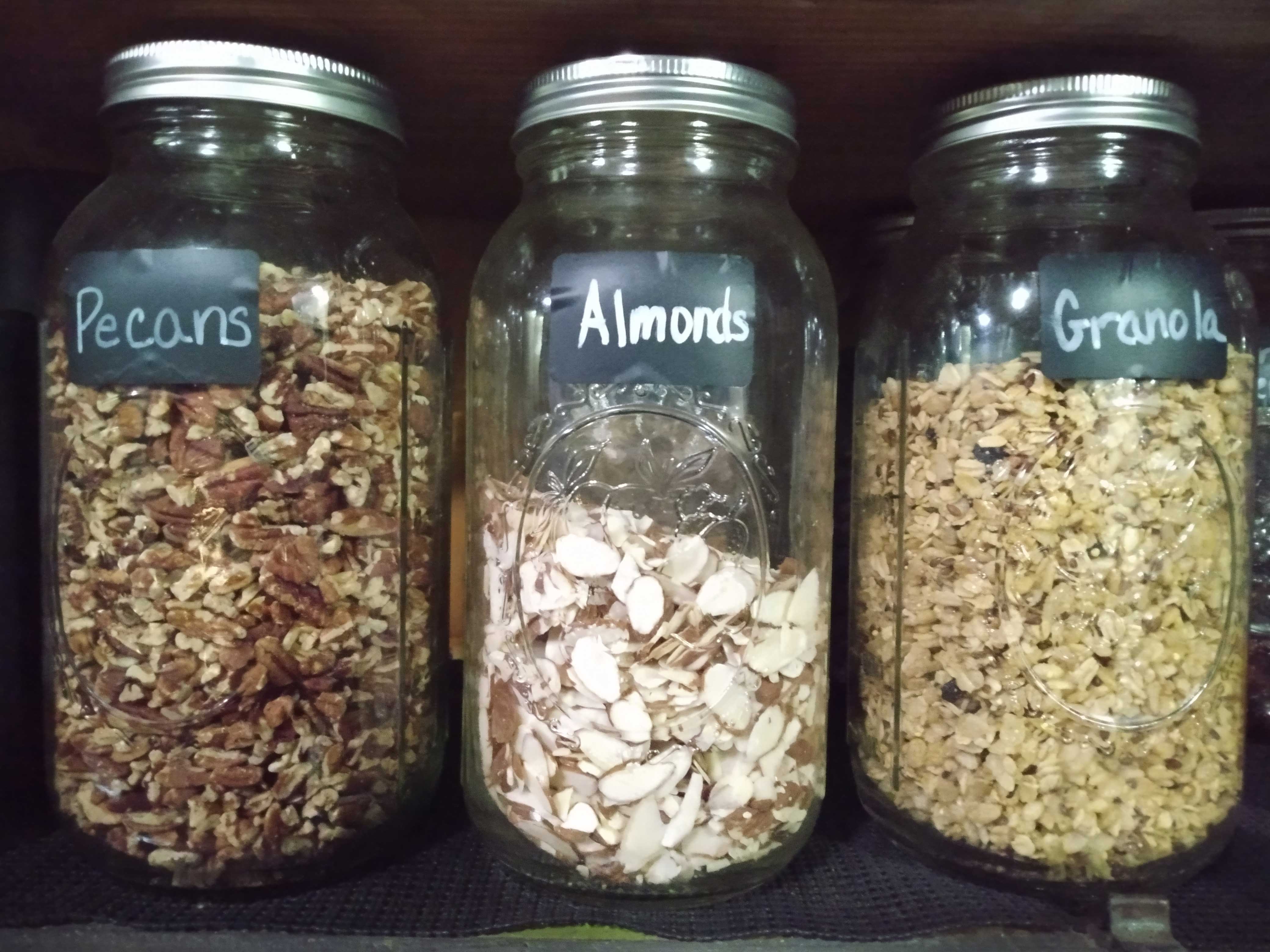 Keep food easy to access and fresh longer by storing bulk ingredients in half gallon canning jars like the ones storing pecans, almonds and granola pictured above. I purchase basic ingredients in bulk and refill by jars as needed eliminating a large amount of packaging waste and the decrease in foods going stale saves money as well. Interested in long-term food storage? Make plans to attend our Spring Self-Sufficient U Workshop on April 30th.
3. Make your own DIY dishwasher pods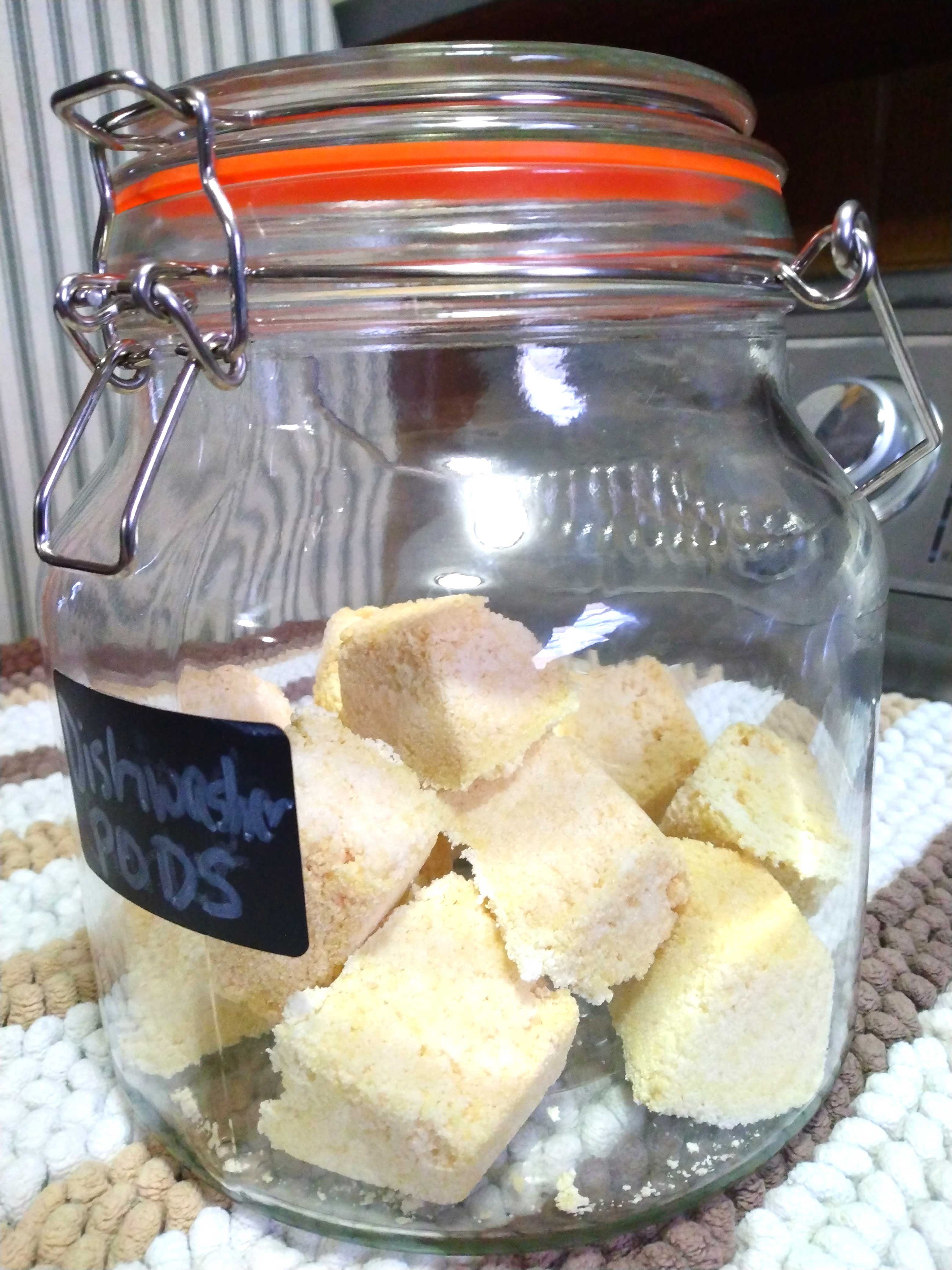 Homemade dishwasher cubes (shown above) are the newest addition to my DIY cleaning lineup. These were easy to make, cheap, and work well in my electric dishwasher. I like that there isn't a plastic package to dissolve or extra packaging from buying refills. Best of all, the ingredients are basics I keep in my green cleaning kit so no need to buy additional supplies. I make them up a month at a time and store them in a sealed jar to keep moisture from causing them to crumble. There are many recipes available on the web, like this DIY dishwasher detergent recipe which I used.
4. Use refillable dispensers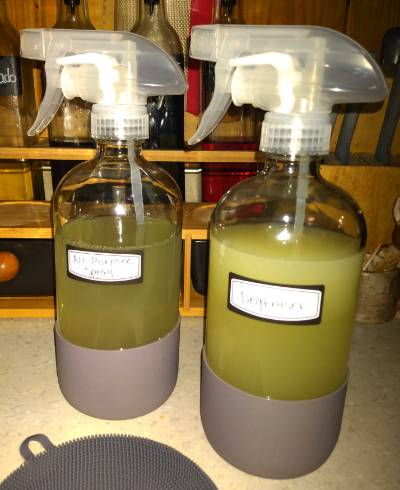 Switching to refillable containers (as shown above) and making at least some of your household cleaning products is a fantastic way to reduce dependence on the store supply chain, eliminate harsh chemicals and packaging waster, and save money. I love having an effective all-purpose cleaner for freshening up counter tops, tables, and appliances. My degreaser recipe takes science and puts it into practical application with oil dissolving oil. Add the all-purpose cleaner and degreaser to the hand-soap recipe I shared last time and you are well on your way to green cleaning! Ready to start your own "Green and Clean" homemade cleaning kit? Need recipes? Link to the full article on green cleaning. Please note: DIY green cleaners are not recommended for disinfecting against the SARS-CoV-2 virus, the virus that causes COVID-19 infection. Get the full list of EPA approved disinfectants.
JoAnn's Super Simple Degreaser Recipe
4 Tablespoons of oil-based soap (like Murphy's Oil Soap)
1 Cup of water
5 drops of essential oil (I like citrus oils)
Mix together in a spray bottle and shake well.
To use, spray surface and allow to sit for 5 minutes or longer to begin dissolving the buildup. Wipe clean. Remaining mixture is shelf-stable and can be saved for later use.
Alternative: Use warm water and at 1 tablespoon of lemon juice instead of essential oils. This mixture is not shelf stable so discard any leftovers.
Tip: For larger or smaller batches, mix in a 1:8 ratio of oil-based soap to water.
Related resources
Grow Your Own Groceries:
Gardening from the Ground UP:
Beekeeping - Apiculture in Arkansas
Take the Hobby and Small Flock Poultry in Arkansas course
Arkansas Food Freedom Act for homemade food sales
Arkansas Emergency Preparedness
Food Preservation:
Podcasts:
Around the Homestead Podcast:
Beekeeping Basics Podcast