Too much packaging! I'm tired of taking out the trash! Four Home Hacks for Less Trash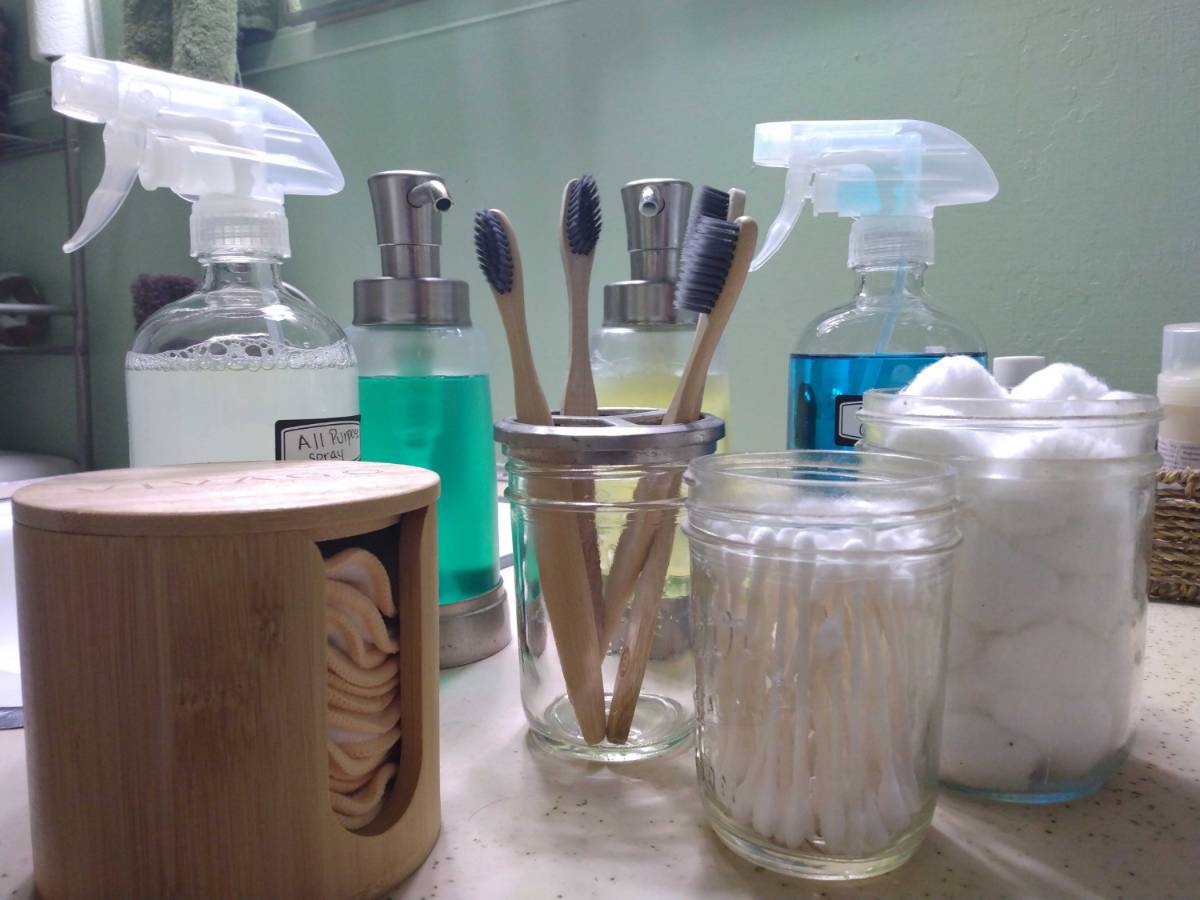 by JoAnn Vann
Today I did a small pick-up order for groceries and household supplies. Once again, some of the items I requested were unavailable, so I was grateful that I was replenishing my stockpile and not truly out of anything.
When I was done unloading and putting up, I had ANOTHER bag of trash to take out; the third one this week for a household of only two.
Thinking about how much trash just my small community must generate and then compound that across the county and honestly, I do not know where it all goes. I admit, I felt guilty for contributing to the piles of un-recycled items and decided to do a quick household inventory to see where I could further reduce waste and my dependence on store bought items with all that packaging.
After walking room to room, I could see that we have already made some big strides by using homemade cleaning products, beauty products, and many of our favorite items are stored in glass containers or compostable cardboard boxes. However, one area stuck out as needing improvement- the bathroom!
Here are a few ideas on reducing waste, using natural products, and saving money:
Use refillable containers. This is a change I made a few years ago and love! We use refillable dispensers for mouthwash, hand soap, face wash, make-up remover and cotton balls and swabs. For store bought items, I can buy items in bulk reducing package waste and saving money. For homemade items, I can buy the ingredients in bulk and concentrates to mix as needed. Options for refillable containers are endless including upcycling store bought product dispensers, aluminum spray bottles, and glass.

For things such as cotton balls that do not need pump lids, I like to reuse jars from store bought food products such as pickle relish. Another tip is to save the spray nozzle off single use products to replace nozzles on spray bottles as they wear out. Be sure to separate nozzles from cleaning products from those appropriate for food. For example, do not use a cleaning product nozzle to replace a cooking oil spritzer.
Avoid disposable cotton make-up removing pads. I go through 2-3 of these a day to remove makeup using my homemade makeup remover. That doesn't seem like a lot, but it adds up over a year's time. I did a little searching and found washable pads that store in a small bamboo container. Prices for a pack of 18-22 ranged from $5.00- $18.00. It is estimated that these will last for at least 1000 uses and I can simply throw them in the laundry with the bath towels to clean them. I ordered a small batch to try. If they work well, I will make more reusable make-up pads using leftover fabric scraps when my originals wear out.


Repurpose your plastic toothbrushes. I can only imagine how many of these are ending up in landfills each day! Dental hygiene is important to overall health, and I will not be giving up brushing my teeth, but I will be switching to a compostable bamboo toothbrush that is packaged in recycled cardboard. Another idea for using these when they need replaced (recommended every 3 months) is repurposing as plant markers. Stick the head of the brush in the ground and label the handle with the seed or plant name.


Make your own personal hygiene items. These products-shampoos, conditioners, body wash, deodorant- are almost always packed in plastic bottles that I do not have a place to recycle. Admittedly, our consumption and dependence on these products is likely less than the average household because I make my own liquid hand soap, bar soap, shampoo bar, and face wash, but we can still do better. Need a place to start? Check out my homemade hand soap instructions below. Watch for my blog on shampoo/conditioner bars and making old fashioned cold press lye bar soaps soon.
As with all journeys, self-sufficiency takes time and each step in the right direction adds up to big improvements over time. I will be working on implementing a few more of these ideas myself and hope you will try a few as well. Let me know how they work for you!
Questions? Contact me at clark-county@uada.edu, and on Facebook
We are located at the Clark County Extension Office is located at 640 S. 6th St, Suite B, in Arkadelphia if you want to visit us in person. Call us at 870-246-2281.
Make your own liquid hand soap
Making liquid hand soap is super easy and cheap! I like to use a foaming pump type dispenser but recycling a store-bought soap dispenser or purchasing a regular soap dispenser lid for a canning jar all work. I mix this right in the refillable container so each batch is fresh and the amount matches the container. Please note, this soap does not contain disinfectants. It is designed to wash away grime and germs during handwashing.
Homemade Liquid Hand Soap Recipe (12 oz container)
¼ cup castile soap (I like the citrus version)
¾ cup Water
Essential oils (optional) (Rosemary and Tea Tree are my go-to)
Soap dispensing pump
Pour water into dispenser first, then add castile soap and essential oils.
Replace soap pump on container, shake well to mix.
Find more DIY cleaner recipes!
Related resources
Grow Your Own Groceries:
Gardening from the Ground UP:
Beekeeping - Apiculture in Arkansas
Take the Hobby and Small Flock Poultry in Arkansas course
Arkansas Food Freedom Act for homemade food sales
Arkansas Emergency Preparedness
Food Preservation:
Podcasts:
Around the Homestead Podcast
Beekeeping Basics Podcast