Social Distancing Activities
by Torrie Smith and Julian Carpenter
While we are all stuck at home, Julian Carpenter and I thought it would be fun to put together a 4 week activity list so self-isolation wouldn't feel so lonely.
Hey y'all! My good friend Julian Carpenter and I are now working from home practicing our social distancing skills! We are on day 1 and are both already bored out of our wits. We thought that if you're also practicing social distancing you might be as bored as we are.
For the next four weeks, we have a daily activity planned each day. We will be sending out daily emails reminding you about that day's activity along with ways to participate on Facebook, so you feel you are apart of a community even while you are stuck at home. Some days might require additional information so we will be sending out information in emails and posting on our Facebook pages. The best way for you to remain involved is by liking our Facebook pages and subscribing to my blog.
We have put together some fun activities for you to do! We will be getting you to stay active, try new foods, exercise your brain, and keep your social life active in the limited ways available.
4 Week Social Distancing Calendar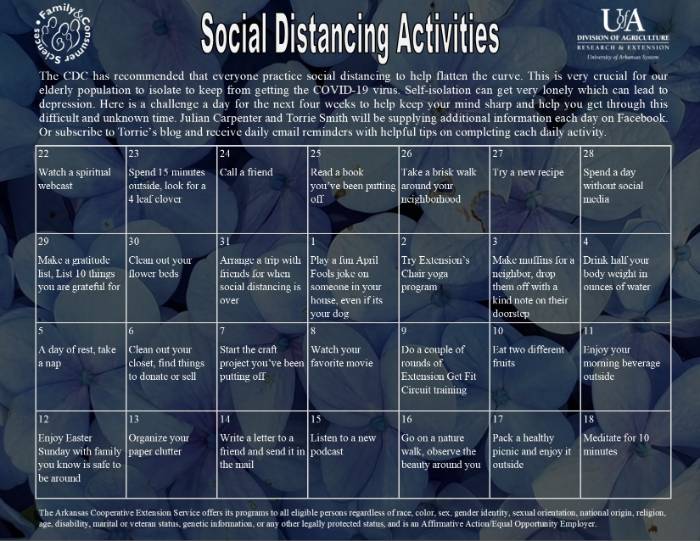 You can like Julian's Facebook page by clicking here. You can like my Facebook page by clicking here. You can also subscribe to my blog by clicking here.
Share a picture with us each day of Facebook! Tag us in your posts and use the hashtag #keepyadistance.
If you have any questions, you can email Julian at jmcarpenter@uada.edu and me at tcaston@uada.edu. We are both excited to have something to keep us from going crazy during this time at home.