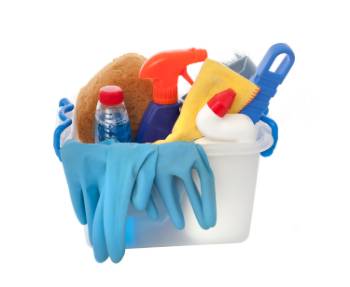 Spring Cleaning Tips
Spring time has finally arrived here in the Ozarks. With spring comes my least favorite part, Spring Cleaning. I am not a cleaner by any means but I always enjoy buying my new cleaning products to help motivate me to get my house in tip top shape. The problem with some of the cleaners you buy at the store, is that they can be hazardous. Ingredients in the products can be corrosive, flammable, and toxic which can impact our health and our environment.
Issues with traditional cleaners
The fumes from these products can contaminate our air and cause irritation to our eyes, lungs, and skin. Did you know it takes 26 seconds for chemicals to show up in our organs? These can cause lasting effects. One hundred fifty of the chemicals found in our homes have been linked to birth defects, allergies, cancer, and psychological abnormalities.
Not only do these chemicals effect our health, they can also impact our environment. Using these products on a daily basis can allow hazards to get into our soil, septic system, ground water, and surface waters, which eventually effects fish and other animals and ends back up in our homes.
So what can you do?
You can start by reading the labels. If a product says, "Caution" that means hazardous chemicals are present and you should reduce your use. "Warning" means hazardous chemicals are present, stronger than those in caution, and you should reduce use drastically. "Poison" products are highly toxic and should NOT be used. "Danger" ingredients are corrosive, flammable, or highly toxic and you should NOT use. Check your cabinets and rid your home of these products safely.
Now what?
We've talked about why you shouldn't use products with hazardous chemicals but you might be wondering how you are going to get your house clean. There are products out there that you can get that do not have these hazardous chemicals and most are labeled as being a "green" product. These green products are safer for your health and the environment, biodegradable, and reduce use of energy and other resources.
Green products do have their downsides.
Green products tend to be expensive, oftentimes more expensive than conventional products. There is no standard definition of what is safe and although there may be safer ingredients in the product, by law, products do NOT have to label all the ingredients that are in the product. Although these products are SAFER, there is no guarantee they are completely safe. It is still important to keep them away from children and pets. Also, beware of "greenwashing" and paying more for a product that isn't actually safer. Don't get sucked in by unsubstantiated buzzwords; all natural, 100% vegan, eco-safe. Look for the third party seal; EPA, Greenseal, CFPA, etc.
I know what you're thinking, "I would love to use greener products but they are so much more costly." Believe me, I am on the same budget struggle you might be finding yourself in. That's why I am here, to teach you how to make your own green cleaning products in your home. But before we get into the recipes, let's talk about how and why they work.
Active ingredients in natural cleaners
Base, or alkaline, products such as baking soda (mild), borax (moderate), and washing soda (strong) are great for removing fat and oil stains and can also lift dirt. Acid products break down things like rust and mineral deposits. They are also good to use on organic stains like grass or blood. The safe acid products are lemon juice and vinegar; both are very mild. Abrasives found in scouring pads and powders are needed to help rub dirt off surfaces but these can be damaging. A natural, gentler abrasive you can use in place of these items is salt.
For sanitizing and disinfectants, you can use citrus, hydrogen peroxide, and vinegar (don't worry, the smell goes away quickly). These products are also good for freshening the air. Smells happen because of bacteria, so by spraying surfaces with vinegar or another product listed above, you can kill the bacteria and get rid of the odor. Some essential oils (tea tree, lavender, and pine) are powerful disinfectants that will also make the air smell fresh. The best part of all of these products is they are non-hazardous.
Now that I have finished telling you all about why to clean green and how to clean green, you are probably ready for some recipes for some great safe cleaners. Below you will find four recipes that will help get you started with stocking your supply closet to keep your house nice and clean. And I guess it is time for me to quit procrastinating my spring cleaning and get to work.
Follow me on Facebook to see a video showing how to make each cleaner!
Download a copy of recipes here.
Enjoy!
Sources: Environmental Health Association from Nova Scotia
EPA
Consumer Product Safety Commission
DIY Cleaning Recipes
Toilet Cleaner:
Ingredients:
1 Cup Baking Soda
10 Drops Essential Oil, for scent
½ Cup Citric Acid
Supplies:
Large Mixing Bowl
Measuring Cups
Whisk
Funnel
Storage Container
Label
In a large bowl, whisk together baking soda with essential oil. You can use any essential oil for scent purposes but for an added disinfectant use tea tree, lavender, or pine.
After there are no clumps, add in citric acid and whisk until evenly incorporated. Citric Acid is used to disinfect and also causes the mixture to fizz in the toilet assisting with cleaning.
Transfer powder into another container to store in the bathroom. Don't forget to label your bottle to know it is toilet cleaner. I used a cheap oil bottle I found at the local dollar store to make it look cute and easy to pour. (For kids bathrooms, try a funky decorated water bottle so they will want to help cleaning.)
For use: Sprinkle about 2 teaspoons of the powder around the bowl. Allow it to fizz then scrub away build up with a toilet brush. Flush when finished.
Makes enough to clean your toilet 36 times.
Dish Washing Powder:
Ingredients:
1 Cup Baking Soda
1 Cup Washing Soda
10 Drops Essential Oil (Optional)
¼ Cup Citric Acid
¼ Cup Vinegar
Supplies:
Large Mixing Bowl
Funnel
Measuring Cups
Whisk
Storage Container
Label
In a large bowl, whisk together baking soda, washing soda, and optional essential oil.
After there are no more clumps add in citric acid. Whisk until evenly mixed.
Transfer powder into a container for storage. I used an oil bottle for easy pouring. Label container.
For use: Add 2 tablespoons of powder in the slot for cleaner in your dish washer. Pour Vinegar into the rinse aid compartment to use as a natural rinse aid.
Makes enough for 18 loads.
Floor Cleaner:
Ingredients:
½ Cup Water
½ Cup Vinegar
½ Cup Rubbing Alcohol
2-3 Drops of Dish Liquid
10 Drops Essential Oil (Optional)
Supplies:
Liquid Measuring Cup
Funnel
Spray Bottle
Label
Microfiber Cloth
Using a funnel, pour water, vinegar, and rubbing alcohol into a spray bottle. Use a 1:1:1 ratio of these three ingredients for bigger or smaller bottles.
Add dish soap and essential oil (optional). Screw on spray nozzle tightly and shake mixture.
Label container.
For use: Spay floors with cleaner and use a microfiber clothe to wipe down the floors.
Pro Tip: If you have an old floor duster, use rubber bands to secure the microfiber cloth onto it.
Powder Laundry Detergent:
Ingredients:
2 Cups Laundry Soap Bar, Grated
1 Cup Baking Soda
1 Cup Washing Soda
Supplies:
Grater
Large Mixing Bowl
Measuring Cups
Whisk
Storage Container
Label
In a large mixing bowl, mix all ingredients together.
Transfer to an airtight container.
Shake if ingredients need more mixing.
Label container.
For use: Add 2 Tablespoons of Detergent to laundry. For front load washers, add directly in with clothes as you would a top load washer.
Makes enough for 35 loads of laundry.