Canning Made Easy
The art of food preservation may seem like a job for a professional but I have two recipes that anyone can handle.
The art of food preservation is a deep rooted tradition here in Arkansas. Many of us can remember our grandmothers and great grandmothers working to preserve the bounty harvested from the garden to last all year long. Two of my favorite canned products are jam and pickles. I love to spread homemade jam over a fresh biscuit in the morning, or anytime for that matter. I am also well known for my love of pickles. It is my favorite healthy ballgame snack.
But canning these foods, or any foods, can be a daunting process. Food preservation is a particular science that might seem scary to some because of the dangers that can come with improper canning methods. Botulism and other food borne illness can occur when things are not canned properly. BUT have no fear, I am here to give you a way to make these two tasty treats without the fear of incorrect canning methods.
Refrigerator Pickles
Refrigerator pickles are an easy treat that can be tailored to your taste. These pickles must be stored in the fridge and can be kept for up to 3 months.
Ingredients:
Cucumbers
Onion, quartered (Sweet or yellow)
Garlic, peeled whole
Dry Dill
Celery Seed
Crushed Red Pepper
Other Spices (Whatever you like)
3 Cups water
1 Cup of White Distilled Vinegar
2 ½ Tablespoon Salt
Start by cutting your cucumbers in whatever shape you like, chips or spears, but make them uniformed in size.
In clean containers, I used mason jars, put your spices, garlic, and onion in first.
Pack your jars full with cucumbers leaving ½ inch headspace.
Prepare your brine by bringing the water, vinegar, and salt to a boil on medium-high heat and let it boil for 5 minutes.
After the 5 minutes, pour the brine over the cucumbers until the liquid covers the product while brine is still hot.
Put lids on and after they cool shake jars to distribute spices.
Brine is enough for 3 pint jars. Pickles will be full of flavor after one week. Keep in refrigerator for up to three months.
Download the Refrigerator Pickles Recipe
Reduced Sugar Strawberry Freezer Jam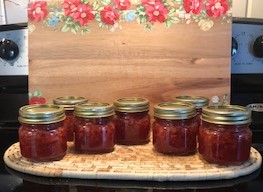 Freezer jam is a great alternative to processing your jam in the water bath canner. This recipe is for reduced sugar freezer jam so it's a little healthier than normal jam. Freezer jam can be kept in the freezer for up to a year and when you're ready for more simply take it out of the freezer and let it thaw. Jam will keep in the fridge for 3 weeks so you might want to store your jam in small containers.
Ingredients:
3 cups sugar
Reduced sugar pectin
1 cup water
4 cups Strawberries, crushed
Wash and crush strawberries to your jam consistency preference.
Next measure the exact amount of sugar into a large sauce pan and stir in one box of reduced sugar pectin.
Add one cup of water and bring to a boil over medium-high heat stirring constantly. Let boil for 1 minute while continually stirring.
Remove from heat and quickly add exactly 4 cups crushed strawberries.
Stir for 1 minute until thoroughly mixed.
Pour into prepared containers, I used half pint canning jars, leaving a half inch headspace to allow for expansion during freezing. Let the jam sit for 24 hours or until jam has set. Store in the freezer for up to a year. Let thaw in the fridge when ready to use and jam will keep for 3 weeks.
Download the Reduced Sugar Strawberry Freezer Jam
To watch a video on how to make these two great recipes, follow this link to my Facebook page. These are not recipes that are to be preserved with a pressure canner or water bath canner to keep in the cupboard. Keep these products in the fridge or freezer for safe keeping. For more information about food preservation, go here.
Reduced Sugar Strawberry Freezer Jam recipe provided by Sure-Jell Less Sugar Pectin package.
Refrigerator pickle recipe is adapted from Master Pickle Recipe – USDA-ARS