Arkansas Small Business: Big Rural Impact Podcast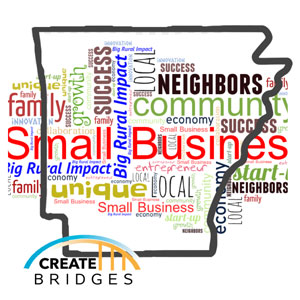 The Create Bridges Arkansas Small Business Big Rural Impact podcast highlights products and services of businesses in their respective regions. We discuss ways business owners address workforce development, technology, infrastructure, and more.
The purpose of our podcast is to foster collaboration between local business owners through the sharing of ideas and best practices.
You can also listen to our podcast on Spotify, Buzzsprout, and iTunes through our partner Spring River Innovation Hub. Episodes will be posted every other Thursday.
Read more on the Community, Professional, and Economic Development blog.
We want to hear from rural business owners!
If you're a business owner in the Ozark Foothills (Izard, Sharp, and Fulton counties) or the 3Cs (Little River, Howard, and Sevier counties) reach out to Julianne Dunn at jbdunn@uada.edu or (501) 671-2158.