Redistricting in Arkansas: Legislators File Maps To Divvy Up Arkansas Congressional Districts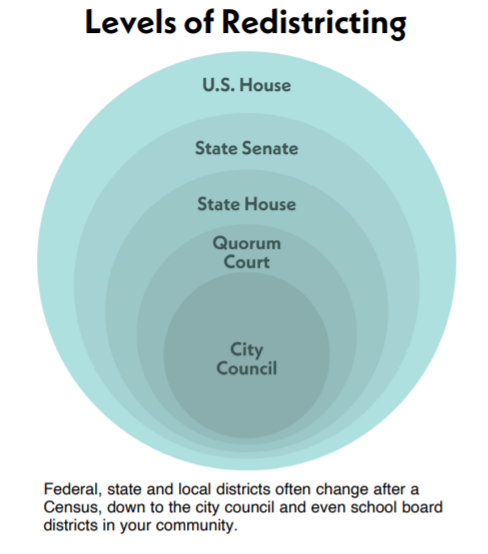 Arkansas legislators are expected back into session Sept. 29 in part to discuss how to redivide the state's four U.S. House of Representative districts now that more 2020 Census data is available.
State senators and representatives are tasked with redistricting congressional seats while the governor, attorney general and secretary state as the Board of Apportionment are responsible for determining districts for the state legislature.
Congressional boundaries will have to shift to accommodate for population gains and losses across the state. State officials say they need to work toward 753,439 people in each of the four districts.
To accomplish this goal, there are people living in the Third District today who won't be at this time next year. Several of the proposals already submitted by legislators would change which counties are included in the Third District, which needs to shed about 51,000 people to another district.
As of 11 a.m., Wednesday, Oct. 6, Arkansas representatives and senators had filed a combined 33 proposed maps to consider. They are:
At the state Capitol, the House and Senate State Agencies and Governmental Affairs committees review proposed congressional maps. The Arkansas Democrat-Gazette has a graphic showing what the filed proposals look like.
State-Level Redistricting Efforts
The Board of Apportionment held a series of public meetings over the summer to get a sense of the public's thoughts on how to accommodate massive growth in Northwest Arkansas and a population decline to the south and east. You can watch those meetings here: https://arkansasredistricting.org/events-calendar/
Have an opinion about how the districts should be drawn for Arkansas House and Senate seats? Public comment is now being taken online.
Local-Level Redistricting Efforts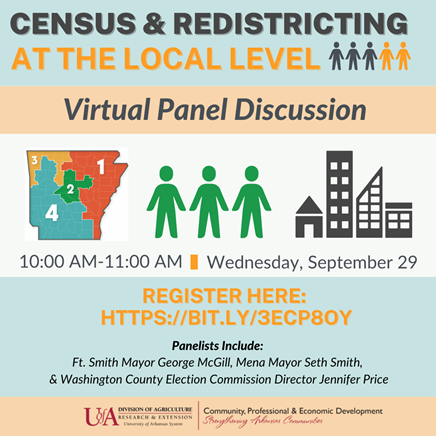 The boundaries for the person who represents you in all levels of government may change depending on whether your community grew in Census population or lost.
Join us 10 a.m., Sept. 29 on Zoom to learn what "redistricting" looks like at the YOU level.
Local officials will share what the redistricting process looks like and how you can get involved or follow along with proposed changes.