Working with Gen Z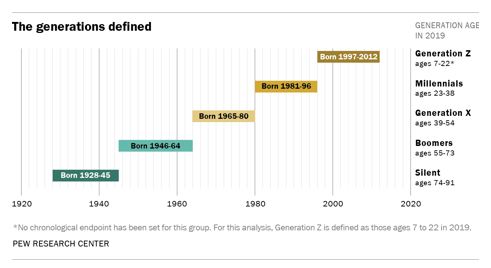 Born between 1997 and 2012, Generation Z is the newest generation to enter the workforce.
Hanan Douglas, a 4-H Extension Agent in Miller County, provided insight into characteristics of Gen Z — what their expectations are in the workplace, and what they bring to the workplace — during the latest Leadership Lunch and Learn webinar.
Gen Zers are the most diverse generation yet as one in four members are Hispanic. White people make up 52% of the group as compared to 70% of Gen Xers. Older Gen Zers are more likely to be enrolled in college and to have a college-educated parent than Millennials or Gen Xers at a comparable age. (The youngest Gen Zers are still in elementary school.)
Key Characteristics
Douglas said the key characteristics of older Gen Z are:
Desire to prioritize financial stability

They are children of the 2008 recession.
They watched Millennials go into crushing debt for higher education.

Authentic

They are willing to work together, even if they disagree.
They are community builders.

Diverse

They are the most diverse generation.
Leadership roles are becoming more accessible.
Workplace Expectations
Gen Zers of working age expect companies to walk the walk.
"As a pragmatic, realistic generation, Gen Z seeks out companies to support based on their stand or position on whatever topic," Douglas said.
This generation expects to continue to integrate technology in their lives – one Newsweek article reported that 32% of Gen Z expect for virtual reality to be used at work within the next five years. More technology won't be a concern from them as they have been digital natives all their lives.
Carrying on from their Millennial elders will be the expectation of flexibility of their job. They're a hardworking generation willing to put the time in even on the weekends, but they expect that to be reciprocated as they seek work/life balance.
Workplace Preferences
It's also important to remember their preferences. Though digital natives, they're still partial to in-person meetings. Accenture found that 42% of their Gen Z respondents still prefer them. Gen Z also wants feedback and check-ins from their managers.
Meetings can be a mixture of platform types or in-person, but they do need to happen. It allows them to feel connected to the organization as a whole and ensure they're working in the direction intended. It's important to remember efficiency and connection here with our community builders.
How should employers respond to this new generation in the workplace? Douglas suggested that are three main categories to consider as organizations move forward with Gen Z.
Coach

Employee development
Cross training
Mentorship

Plan

Collaboration and cooperation
Continued use of technology
Competitive compensation

Anticipate

Accountability
Willingness to have dialogue
A changing workplace
One final thought shared by Douglas on working with Gen Z, "TL;DR which stands for too long; didn't read." She suggested that Gen Zers want personal connection but be efficient.
The next session in the Leadership Lunch and Learn series will be at 12:15 p.m., Oct. 27. The topic is "Diversity, Belonging, Equity, and Inclusion," presented by Julianne Dunn, an instructor in economic development at the University of Arkansas System Division of Agriculture and Dr. Malcolm Glover, a diversity, equity, and inclusion program manager with Booz Allen Hamilton.