Bilingual in Business: Highlighting The Contributions of Spanish-Speaking Residents in Sevier County, Arkansas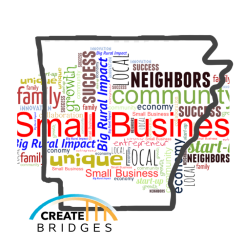 During Hispanic Heritage month, CREATE BRIDGES of Arkansas visited with local leaders Lorena Esquivel and Nelson Ramirez in De Queen for a conversation about the contributions Spanish-speaking business owners have made in Sevier County over the past few decades.
The chat was captured in both Spanish and English versions for the newest episodes of the "Arkansas Small Business: Big Rural Impact" podcast series.
Affectionately nicknamed "Little Mexico," the small town in Southwest Arkansas features many businesses with bilingual staff, several church services in Spanish, stores with Mexican products, and its own Spanish radio station found on KDQN AM 1390.
CREATE BRIDGES Program Coordinator Murriel Wiley hosted the conversation and for the Spanish edition, KDQN AM Host Diego Martinez conducts the interview. The result is an authentic, humorous and valuable conversation from a direct point-of-view.
Both Esquivel and Ramirez grew up in De Queen and have observed the town's growth while living and working as bilingual members of the community. As the interview unfolds, a deeper understanding of Hispanic culture in Southwest Arkansas emerges and an unfiltered truth from the locals who lived it is told. The episode runs nearly 30 minutes long and a wide range of questions are answered, including highlighting ways having Spanish-speaking staff helps businesses and community, and how materials can be translated correctly, since not every version of the Spanish language is the same.
These interviewees were asked to participate in the episode because of their dedication to the community in De Queen and surrounding areas. Esquivel is a mother of four, a licensed insurance agent, an active member of Iglesia El Centro Cristiana de De Queen, the owner of a Spanish translation services company, and a regular favorite on the popular KDQN AM morning show alongside Martinez. When important radio interviews and information needs to be translated from English to Spanish, Esquivel often volunteers her time and skill to help relay resources to the town's Hispanic residents.
Ramierz is a father, the store manager at Cricket Wireless in De Queen, a board member on the Sevier Chamber of Commerce, a rental property manager, and community organizer with the Minority Affairs Council of Southwest Arkansas. By featuring bilingual staff, Ramirez and his team eliminate a language barrier and reach a customer base that extends an hour's drive away by offering a needed service at the phone store in De Queen.
Throughout their experiences with speaking both Spanish and English in De Queen, both Esquivel and Ramirez concur that offering programs and services in both languages "creates a bridge" between people and information to help connect the community as a whole.
This interview aims to provide an understanding of the benefits that come with embracing the Spanish language and bring a positive perspective on Hispanic culture in Southwest Arkansas. Beyond business, the episode also highlights the impact that soccer (fútbol) has on the community and the gem of having Spanish radio in De Queen.
The CREATE BRIDGES "Arkansas Small Business: Big Rural Impact" podcast series features 27 episodes of free information, advice, and resources for entrepreneurs and community supporters. Currently, the series boasts over 1,100 downloads and counting, and is available on Spotify, Apple Podcasts, and BuzzSprout.
For more information about CREATE BRIDGES, visit www.uaex.uada.edu/createbridges.
Create Bridges aims to strengthen economies in rural Arkansas by building capacity in retail, tourism, accommodations, and entertainment sectors. The initiative was launched in 2018 to promote and strengthen these industries within the Ozark Foothills (Sharp, Izard and Fulton counties) and 3Cs (Howard, Little River and Sevier counties) regions of Arkansas.