CREATE BRIDGES: Strengthening Business Through Chamber Support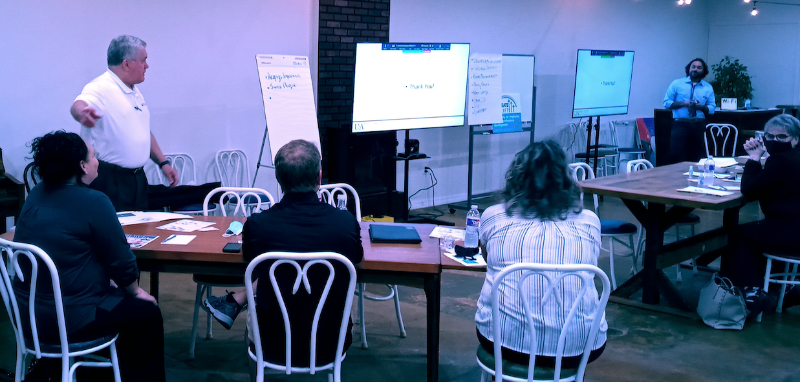 The CREATE BRIDGES team recently wrapped up two workshops for chambers of commerce in the Ozark Foothills (Fulton, Izard and Sharp counties) and 3Cs (Little River, Howard and Sevier counties) as part of a chamber development program called CREATE FORCE (Celebration Retail, Accommodations, Tourism, and Entertainment by Fostering Opportunities for Rural Chamber Excellence).
CREATE FORCE includes three components:
Data collection from chambers and their members,
Two after-hour workshops with chamber staff and directors, and
Opportunities for on-going support and training.
Shelley Short, vice president of programs and partnerships at the Arkansas State Chamber of Commerce and executive director of Arkansas Economic Developers and Chamber Executives (AEDCE), and Jim Fram, founder/owner of Community Growth Strategies, provided consultation on the creation of the program and delivered presentations at both workshops.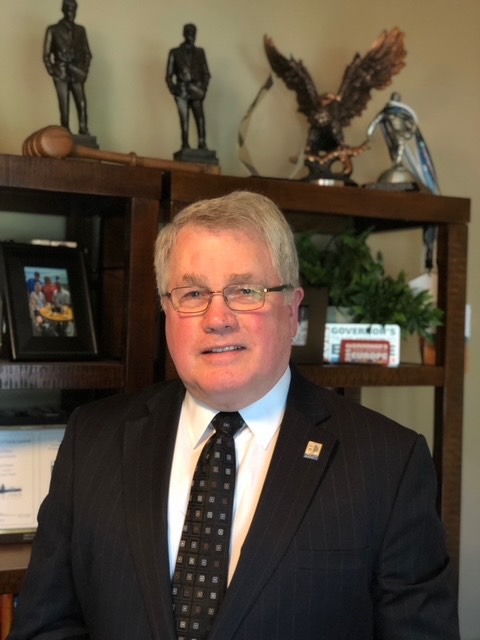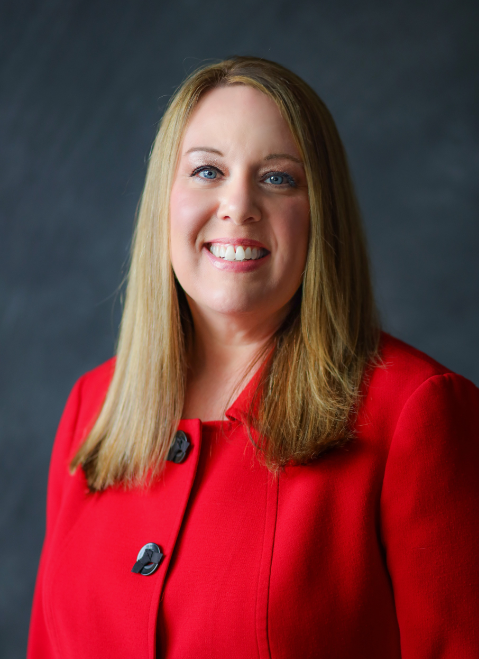 Why Chambers of Commerce?
During the data collection part of CREATE BRIDGES, business owners in both regions expressed a mixed range of responses related what the role of the chamber, how the chamber benefited their business, or the quality of relationship between the chambers and its members.
As a result, the CREATE BRIDGES team capitalized on the opportunity to support those local chambers of commerce with the goal of providing knowledge, support, and opportunities for collaboration between chambers in each region. This collaboration would directly benefit its members, specifically those in retail, accommodation, tourism, and entertainment sectors. Directors and staff across the two regions were invited to participate and represent their organizations throughout the process.
Looking in the Mirror
Staff from each participating chamber completed a survey that resulted in a chamber profile snapshot that was combined with data from their peers to form regional snapshots comparing organizational structure, program and services, membership engagement, revenue sources, and more.
Additionally, each chamber had the opportunity to participate in a membership survey asking three questions:
What is the most important issue or challenge facing your business today?
How can the chamber be most helpful to you and your business?
What is the chamber not doing that it should be doing?
Brandon L. Mathews, CREATE BRIDGES regional program coordinator, presented the data resulting from surveys and snapshots. Mathews gleaned key insights from the data that would directly tie into Fram and Short's presentations.
Looking to Outsiders
CREATE BRIDGES garnered support from two additional chambers of commerce: the Lawrence County Chamber of Commerce and Greenbrier Chamber of Commerce.
These two chambers were selected because they shared similar obstacles, cultural and demographical profiles, and real opportunities to learn from. For example, many of the chambers located in the 3Cs support multi-city, even county-wide service areas; the Lawrence County Chamber of Commerce serves multiple cities in one county and recently held a strategic planning workshop that invited key stakeholders from the different communities.
The Greenbrier Chamber of Commerce recently transitioned from an all-volunteers organization, just like many of the Ozark Foothills chambers, to one powered by a part-time executive director.
Regional Workshops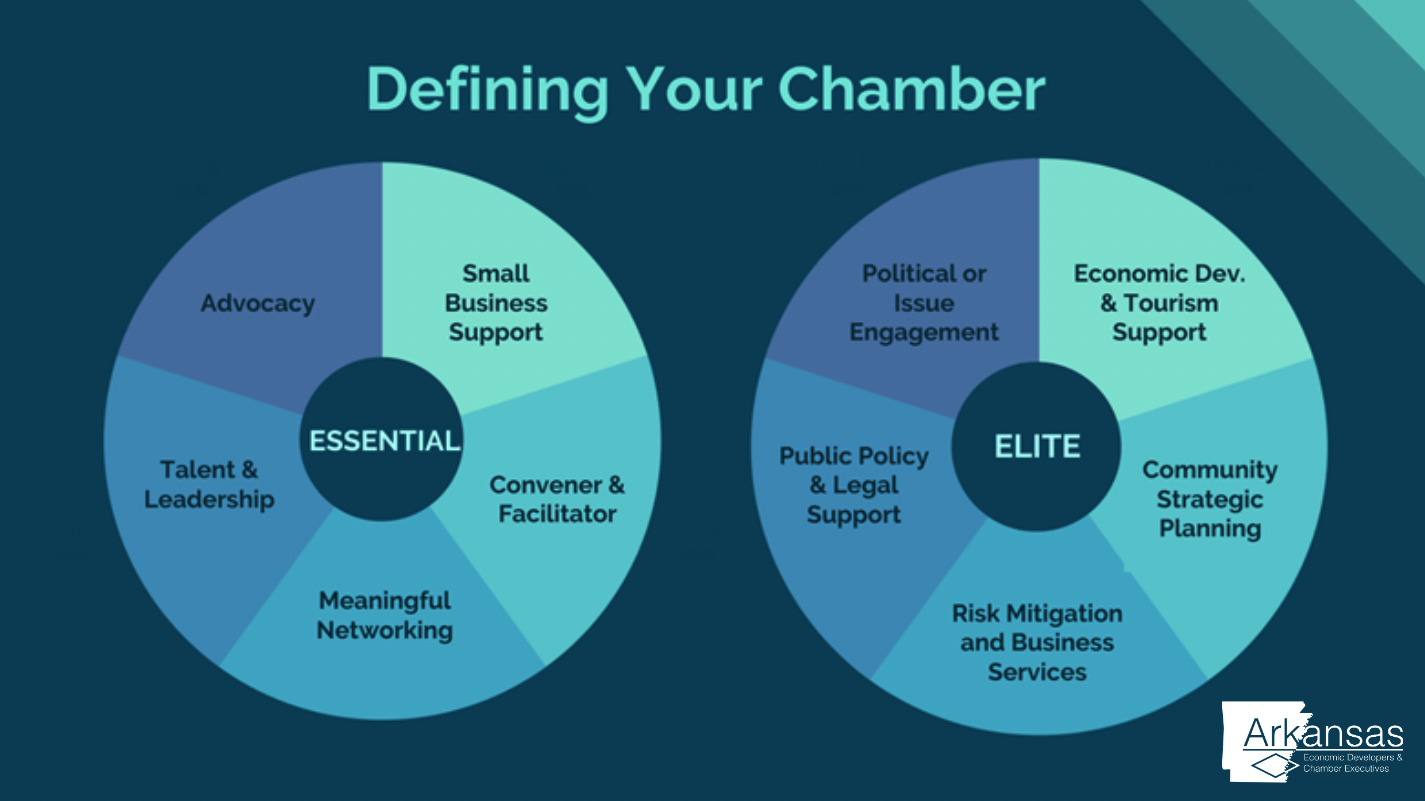 In addition to Mathew's presentation, Short unveiled a new presentation called Chamber + Tomorrow, which focused on topics such as rural chamber risks, essential services vs. elite services, and what the future of chamber work looks like.
Essential services include advocacy, small business support, convener & facilitator, meaningful networking, and talent & leadership. Elite services include economic development and tourism support, community strategic planning, risk mitigation and business services, public policy & legal support, and political or issue engagement.
Rural chamber risks include regional disconnect, economic & technological changes, systemic challenges, rural brain drain, changing cultural ideology, overcoming stereotypes, and shifting demographics.
The presentation went so well that the CREATE BRIDGES team and Short are slated to record a conversational version of the presentation later this fall. The recording will be available to chambers of commerce across Arkansas with a focus towards small to medium-sized, rural chambers.
Fram also made a presentation with an emphasis on roles and responsibilities of chamber board of directors and executive directors, and he also shared the top five governing challenges of boards and shared best practices for board members.
During his presentation, chambers were encouraged to think about obstacles or perpetual frustrations their chambers experience to tailor the workshop content to their needs. The Ozark foothills workshop took place in person at the Spring River Innovation Hub, a key partner of CREATE BRIDGES in the region. The 3Cs' workshop occurred via Zoom due to unforeseen circumstances; however, those that were able to attend were engaged.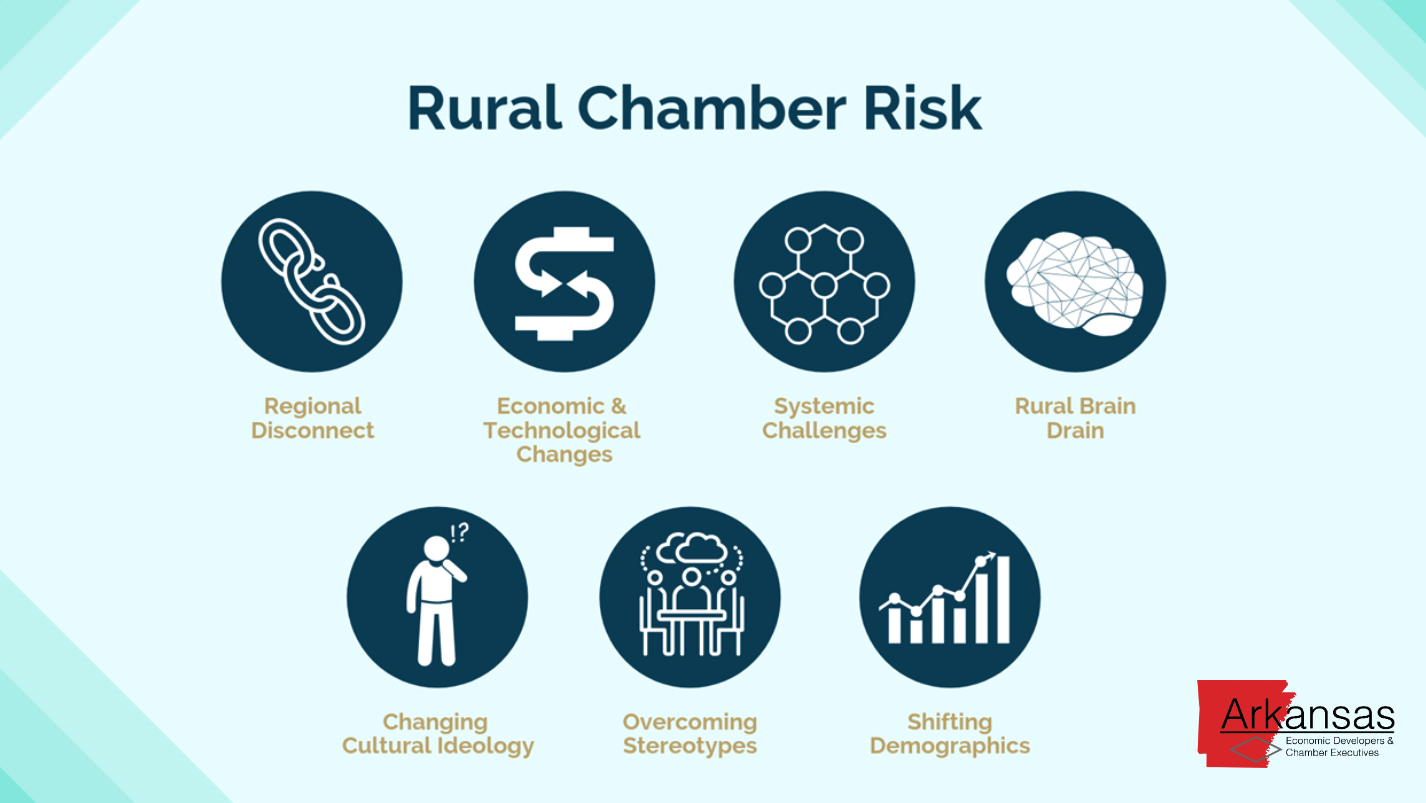 Professional Development and Support
CREATE FORCE offered two opportunities for chamber staff or board members to attend professional development trainings like the AEDCE's annual convention that was hosted earlier this year in August or New Chamber Professional Boot Camp coming October 27-28, 2021.
For chambers that attended the workshops, CREATE BRIDGES is providing three, one-hour follow up consultations with Fram as they take the information from CREATE FORCE and reflect on their own organizations. Chambers can utilize Fram's expertise and decades of experience as a chamber executive to review and revamp their bylaws, assess membership services and communication, or start creating a strategic planning document.
To quote Short at the beginning of her conversation, "If you've seen one chamber, you've seen one chamber," and the outcomes and priorities for each chamber will reflect that as CREATE FORCE wraps up.