iLEAD Cohort 1 has Field Day in Northeast Arkansas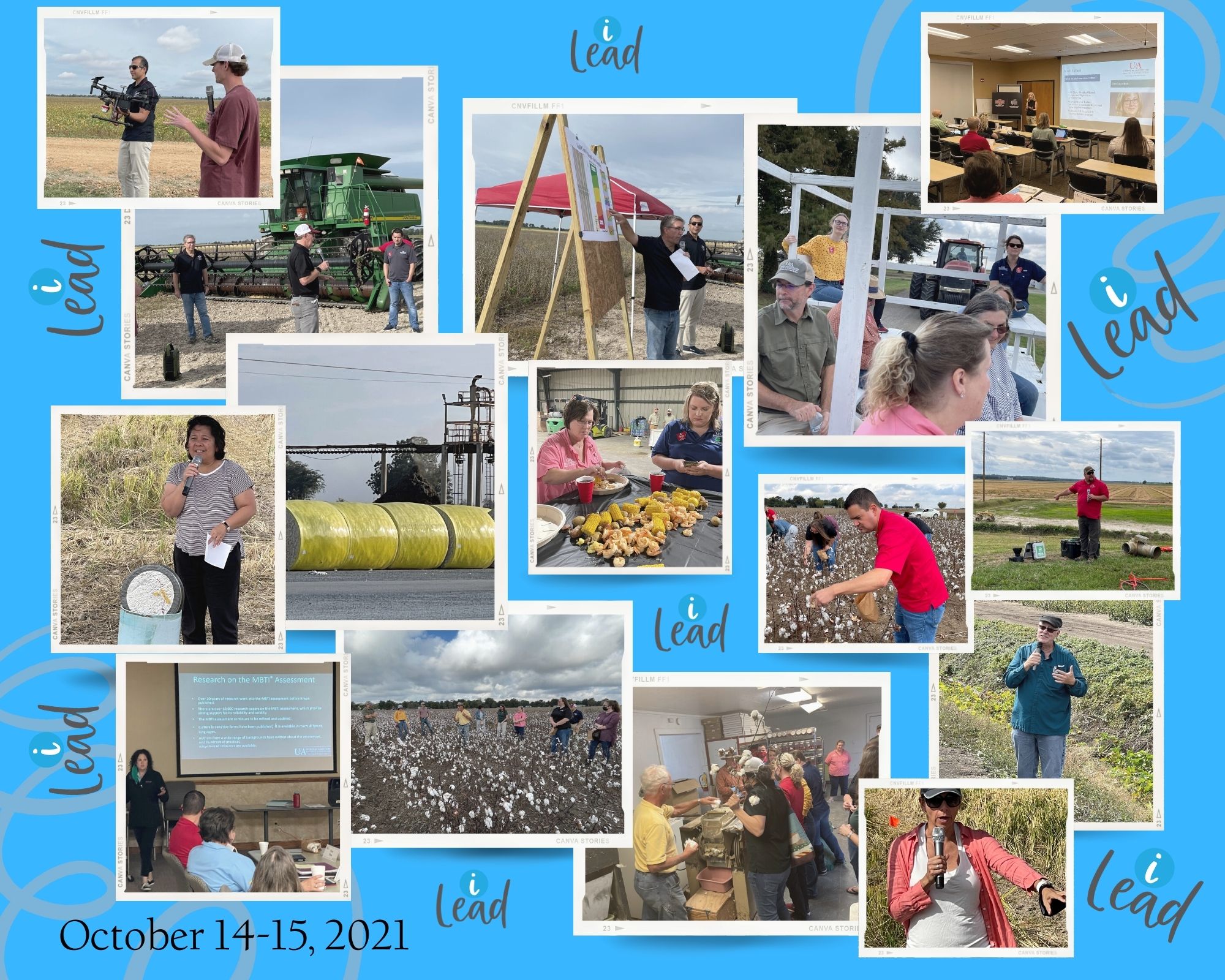 Field days are special events that introduce new and exciting developments in agriculture.
Participants in the University of Arkansas System Division of Agriculture (UADA) Internal Leadership Education And Development (iLEAD) traveled to northeast Arkansas to visit the Northeast Rice Research and Extension Center (NERREC) in Greenfield and the Northeast Research and Extension Center (NEREC) in Keiser.
"iLEAD is a one-year intensive leadership development program for UADA employees. The program provides participants with the unique opportunity to enhance their personal leadership skills and explore first-hand UADA's research and education endeavors across the state," said Dr. Julie Robinson, associate professor and iLEAD director.
An overview of the iLEAD field day experience is outlined below: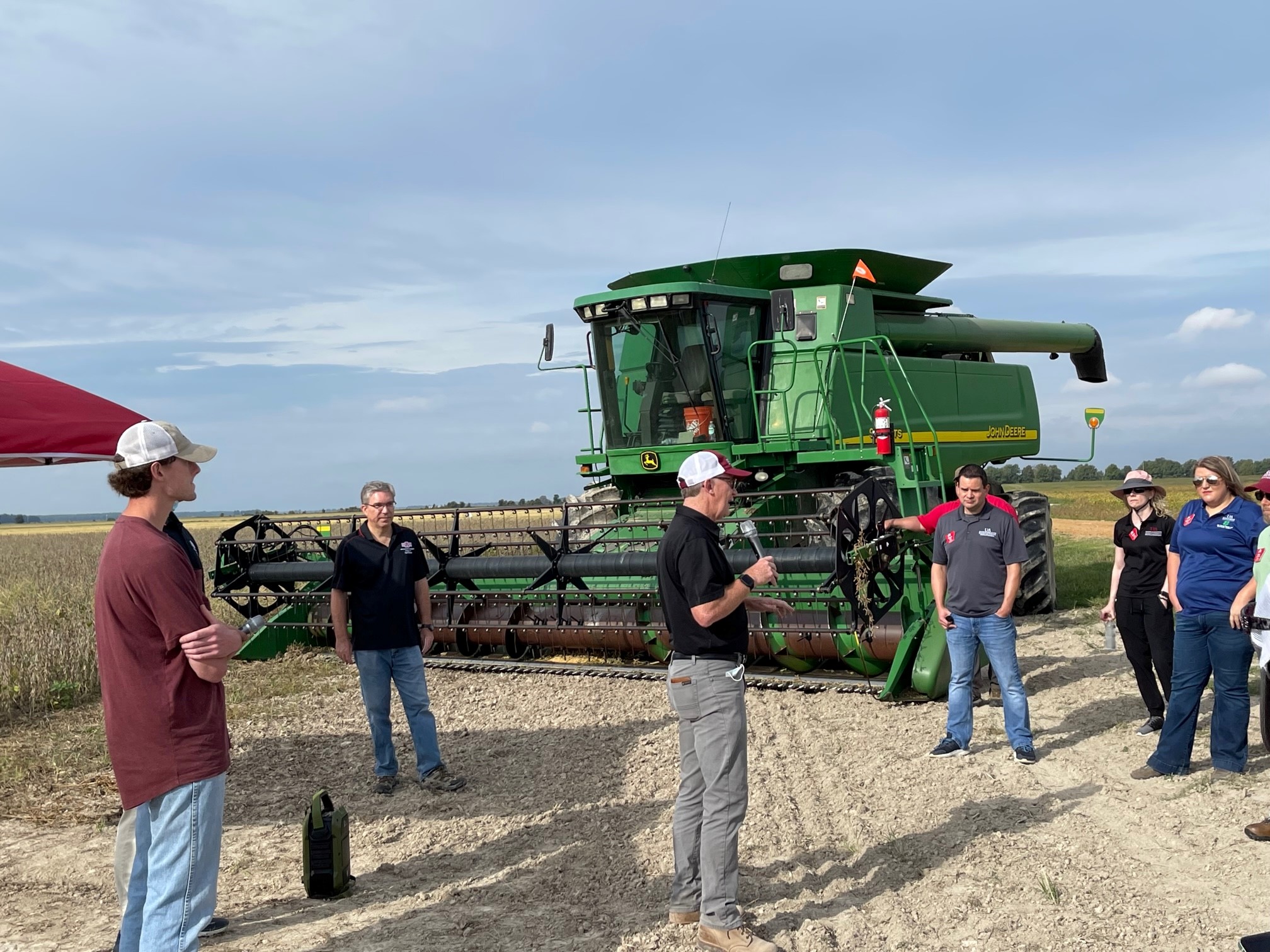 Day One: Northeast Rice Research and Extension Center (NERREC)
Dr. Tim Burcham, NERREC director, provided an overview of the center's farm.
Dr. Steve Green, Arkansas State University (ASU) professor of soil and water conservation, and Dr. Ahmed Hashem, ASU assistant professor of agricultural systems technology, discussed their cover crop research while a drone outfitted with technologically advanced sensors flew overhead.
Nolan Evans, NERREC lease tenant farmer, discussed his experience at the center this cropping season.
Dr. Arlene Adviento-Borbe, research agronomist, and Dr. Michele Reba, research hydrologist, shared their research on greenhouse gas emissions and water conservation efforts in row rice production.
Mike Hamilton, irrigation educator, relayed information about irrigation design and implementation at the NERREC farm.
The cohort stopped briefly at the NERREC shop building, and Dr. Burcham and Ashlyn Ussery, ANR educator, shared plans for the completion of the NERREC.
Spring Sneed, regional accountant, coordinated an awesome shrimp boil lunch with the best bread pudding around.
iLEAD participants traveled to the Arkansas Bioscience Institute at ASU for their afternoon sessions.
Dr. Karen Ballard, program and staff development professor, continued her previous virtual session on ethical leadership.
Local County Extension Agents Craig Allen, Staff Chair - Poinsett County, and Chris Grimes, Agriculture and Natural Resources agent - Craighead County, shared a profile of their counties. Both discussed area demographics, employers, economic challenges, and revitalization efforts.
The day culminated with a group dinner.
Day Two: Northeast Research and Extension Center (NEREC)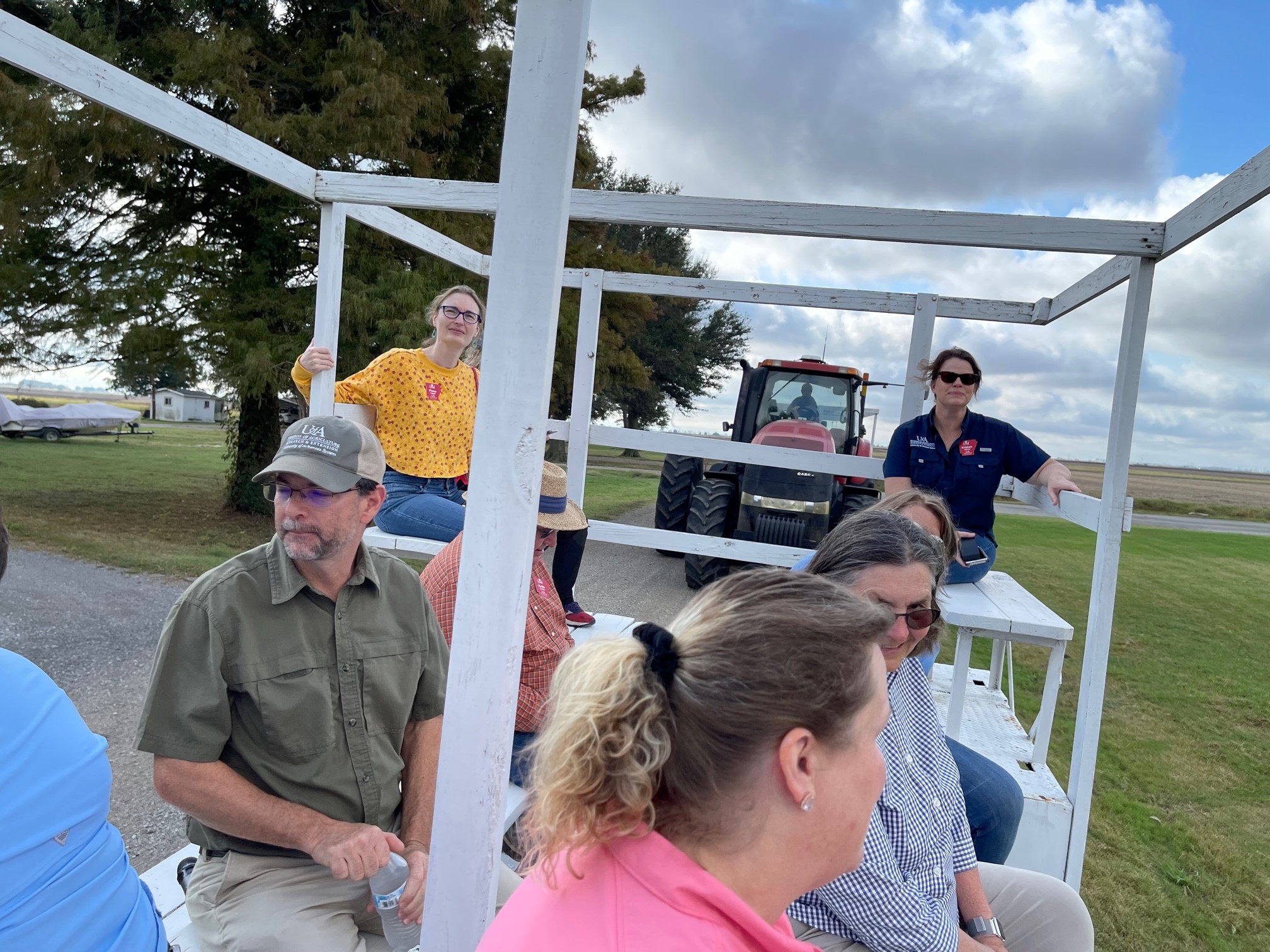 Sneed invited the group to stop by the cotton gin in Black Oak on their way to Keiser. As cotton bales were transported to and from the facility, she explained the ginning process. The group then traveled to Keiser.
Ray Benson, Mississippi County Extension staff chair, along with Kamella Neeley, 4-H agent, welcomed the group to Mississippi County and shared county profile information and discussed demographics, economic challenges, and opportunities.
iLEAD participants boarded two custom-designed trailers pulled by tractors for a farm tour of NEREC organized by Mike Duren, the Center's director.
Dr. Fred Bourland, renowned cotton breeding professor and fastest cotton picker around, described details of the cotton breeding process. He shared throughout his career he has developed several cotton measurements that are being used to describe variation in cotton lines. In addition, he has developed, described, and released nearly 100 cotton lines and cultivars.
Dr. Glenn Studebaker, entomologist, discussed current and past insect control projects and how those are implemented. Dr. Studebaker also discussed the importance of the state-wide Integrated Pest Management (IPM) program facilitated through many County Extension Offices across the state.
Dr. Tina Gray Teague, entomologist, shared information about Judd Hill projects and the collaborative efforts that occurred in the eradication of the boll weevil in most of the United States.
A Friday staple, fried catfish and all the fixings, was enjoyed by all.
Dr. Bourland demonstrated how cotton is ginned. There are two kinds of gins. A saw gin has teeth that pull the seeds apart from the cotton, and a roller gin. This machine has two rollers which pull the cotton through, leaving the seeds behind.
After dodging the rain, Robinson provided the class an overview of the Myers-Briggs Type Indicator personality assessment that participants had completed prior to the session. She shared the meaning of the four pairs of preferences measured by the assessment.
One participant shared in the evaluation that they valued the opportunity to network with new colleagues. The individual stated, "Connecting the research and extension aspects shows us how our contributions help them. In addition, speaking with the county extension agents showed me their struggle between county governments and UADA."
The next iLEAD session will be virtual on Nov. 19, 2021. To learn more about the iLEAD program contact Julie Robinson, jrobinson@uada.edu or Lisa Davis, ldavis@uada.edu.