LeadAR Session Designed to Strengthen Organizational Strategy Used in Legislature to 4-H Clubs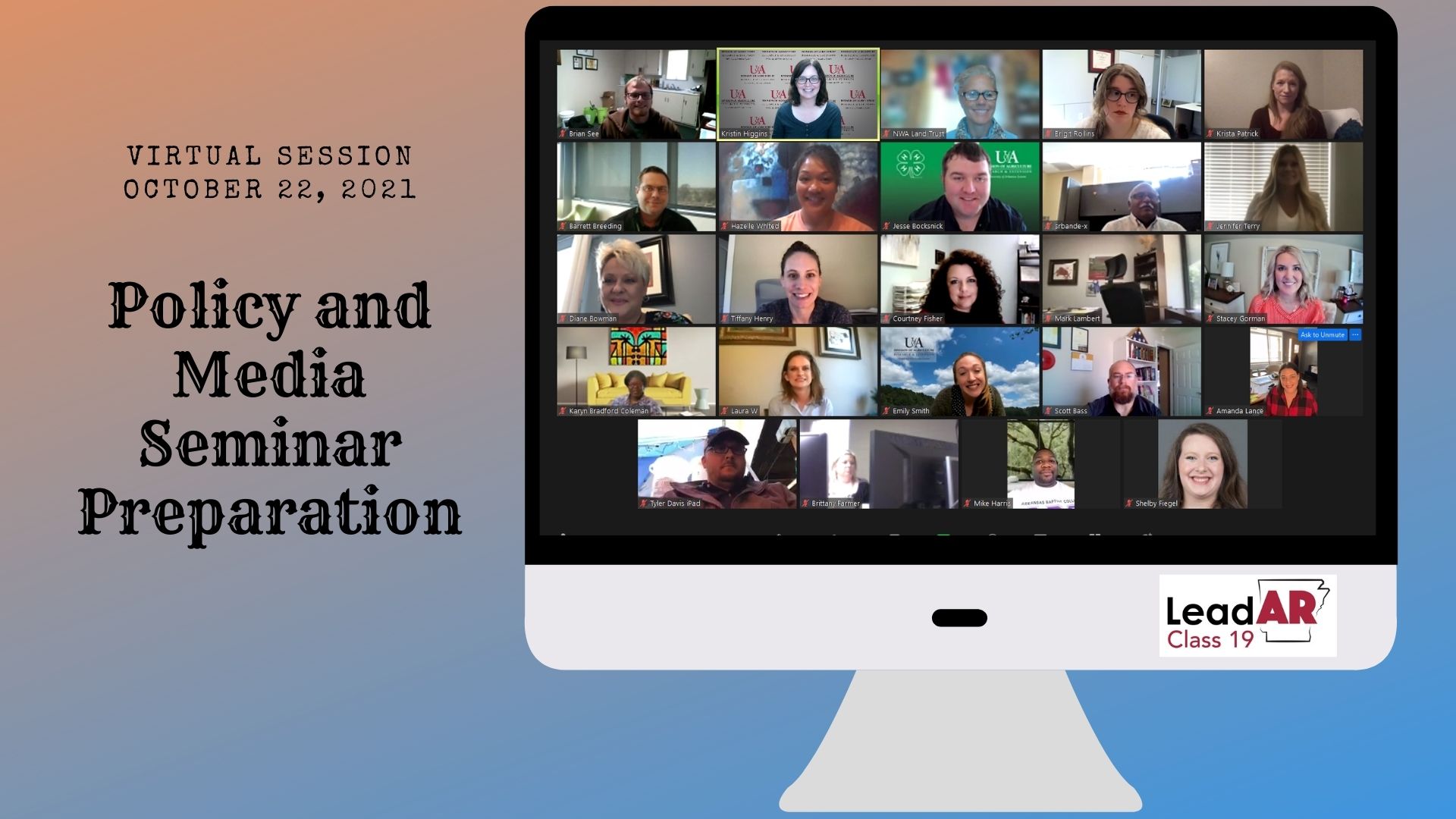 In the virtual session on Oct. 22, 2021, LeadAR Class 19 members learned about writing bills, identifying community priorities, and how to use parliamentary procedure in preparation for their mock legislative session in January.
Emily Smith, a program associate in the University of Arkansas System Division of Agriculture's Community, Professional and Economic Development unit, facilitated the virtual discussion.
Kristin Higgins, from the Division's Public Policy Center, led the discussion about the skills needed to be active, informed citizens and leaders who can make a difference in their communities. She shared why parliamentary procedure (Parli Pro) matters and how they will be using the rules to move bills through their mock legislative session.
"Any group can use Parli Pro. It is simply a way for everyone to be heard in an orderly fashion, and it's a vital tool used by societies to enact change or encourage action," she said.
Parliamentary procedure is a set of rules that help organize a group's meeting so everyone has a say, and helps move meetings along. Robert's Rules of Order is a well-known version of parliamentary procedure, though groups such as the legislature may use a different version of parliamentary procedure adapted for their needs.
Higgins mentioned how 4-H Clubs use the rules in their meetings and how she even received a call for help from a high school reunion association needing advice on parliamentary procedure. Visit Extension's website for more information about parliamentary procedure.
Sen. Greg Leding of Fayetteville talked to the class about how he and others in the legislature identify community priorities and engage Arkansans to share what's happening in the General Assembly.
Also, a National Study Tour carry-over guest, Mike Myers, chief financial officer for Winrock International, provided information about the organization's portfolio of more than 100 agriculture, environment, and social development projects in over 40 countries. In addition, he briefly described some of the specialized international volunteer opportunities at Winrock.
LeadAR is a program designed to help Arkansans broaden their understanding of issues and opportunities facing our state and strengthen their ability to make a difference. For more information about LeadAR, visit the website or contact Julie Robinson, jrobinson@uada.edu, or Lisa Davis, ldavis@uada.edu.