Panel Discussion: Redistricting at the Local Level in Arkansas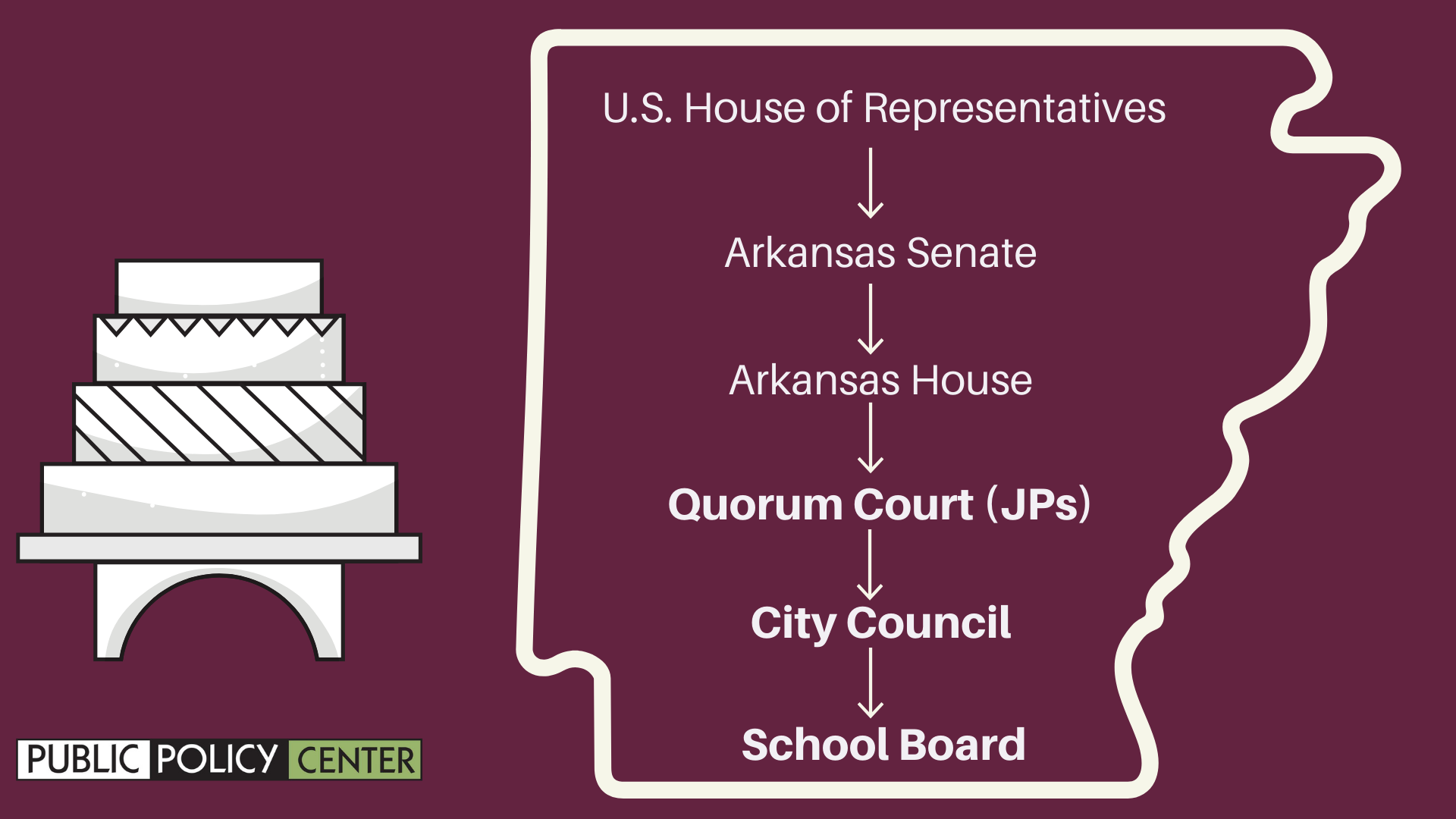 County, city and school district leaders in Arkansas are figuring out how new census numbers will affect election districts for quorum courts, city councils and school boards.
After several months of delay, the U.S. Census Bureau released local level population data that communities use for business decisions, obtaining grants and deciding priorities.
One of the most visible ways population data is used in communities is the redistricting process. New voting districts are established to ensure that representatives of local, state and federal government contain the same number of people. This is often called the "one person, one vote" principle of equal representation.
Fort Smith Mayor George McGill, Mena Mayor Seth Smith, and Jennifer Price of the Washington County Election Commission office recently participated in a University of Arkansas System Division of Agriculture panel discussion about the 2020 Census and its impact on redistricting at the local level. Emily Smith of the Community, Professional and Economic Development unit at the Cooperative Extension Service, along with Kristin Higgins of the Public Policy Center, hosted the hour-long discussion.
Watch the Panel Discussion: Census & Redistricting at the Local Level
Who is responsible for redistricting at the local level?
Redistricting at the local level in Arkansas typically involves three levels of local government.
Quorum Court - Every county in Arkansas has a three-member election commission whose duties include overseeing elections as well as deciding the boundaries of representation at the county level after each federal census. Election commissions propose and adopt county maps showing the boundaries of each Justice of the Peace district. Justices of the Peace serve on the Quorum Court. Depending on a county's population, the Quorum Court may have nine, 11 or 13 justices of the peace.
City Council or City Board - In cities where voters elect their city council or city board member by ward, the council or board sets the ward boundaries. In smaller cities where voters elect their representatives city wide, there are no ward boundaries.
This is the first redistricting effort where city directors have an official say in redrawing boundaries in communities using the city manager/administrator form of government. Previously, election commissions were responsible for approving maps for board of directors. Act 314 of 2013 removed the election commission from the redistricting process.
School Board - In school districts where voters elect their school board members by zone, the boundaries for the zones are determined by the school board. The election commission also votes to adopt the map. In smaller school districts where voters elect their board member district wide, there are no school board zone boundaries.)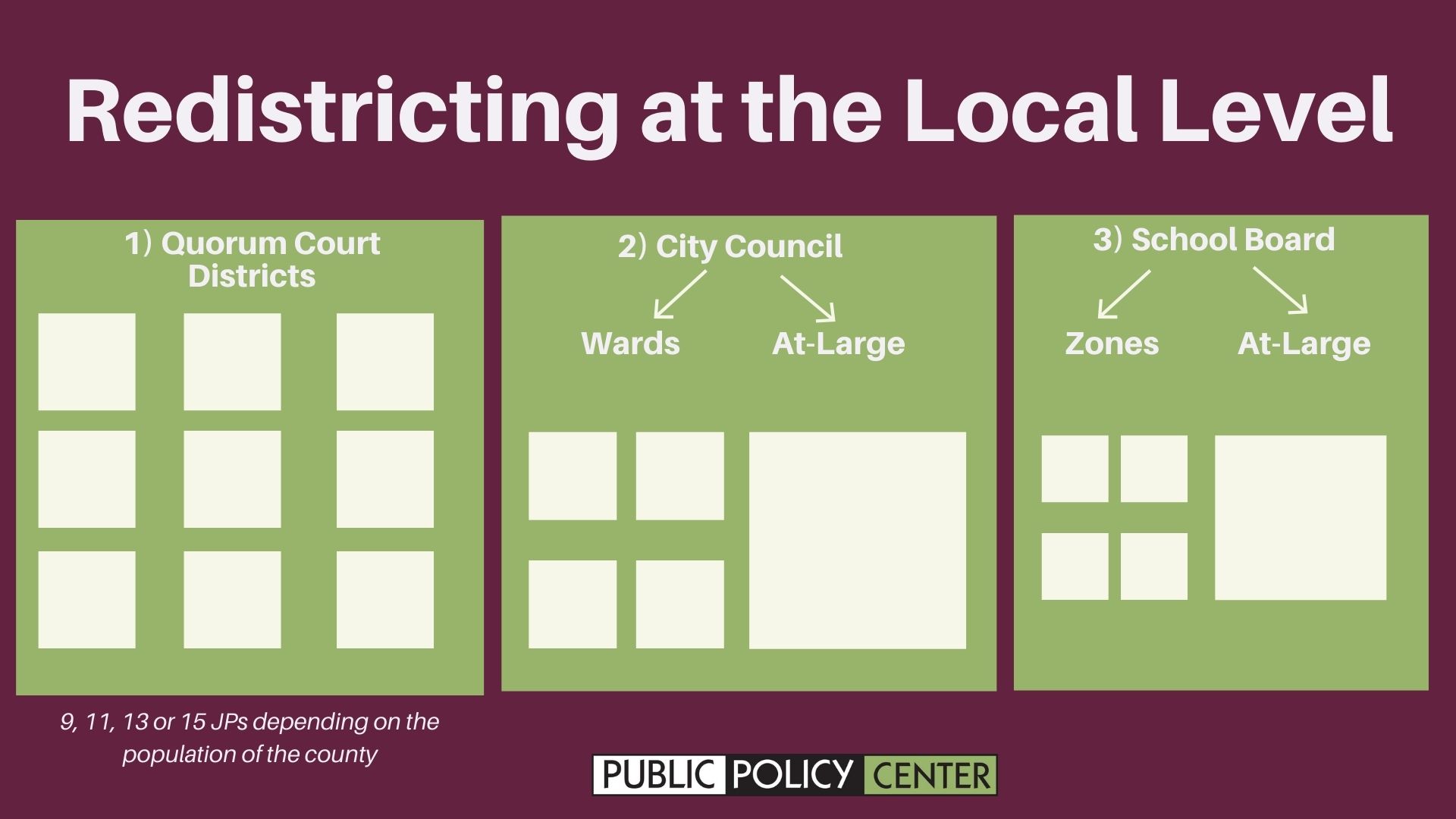 Now is the time to find out when your county election commissions, city councils and school boards will be discussing changes to their districts, wards and zones. These meetings are open to the public. Use the links below to identify your community leaders and find their contact information to ask about redistricting work in your county, city or school district.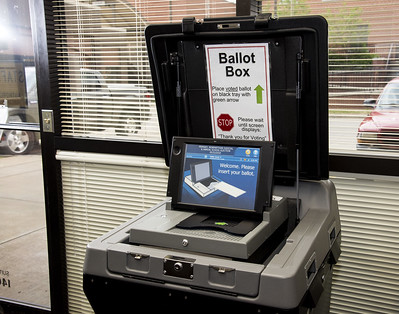 County Election Commissions are responsible for drawing voting districts for justices of the peace.

Many cities post public meeting notices online. Councils are in charge of drawing their own election boundaries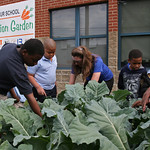 Many school districts post public meeting information for their school boards online.