Arkansas Procurement Technical Assistance Center Success Story: On the Fly Moving, LLC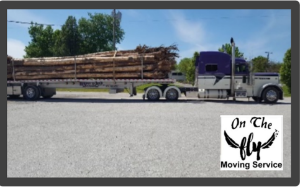 On the Fly Moving, Inc. is a Native American, woman-owned business located in Monticello in a "Historically Underutilized Business Zone" or HUBZone. Lindsay and Jeff Rawls started OTF in 2015 as a moving service company. In 2016, while still offering some limited moving services, they shifted to logging and timber services, IT equipment services, and custom milled lumber services.
As OTF made the shift in business offerings, the firm began pursuing government contracts. Jeff Rawls heard about Arkansas PTAC Counselor Debra Garcia and the services offered by PTAC through a friend of a friend.
Chief Operating Officer William Deeb used his contracting background and persistence in a quest for government contracts. OTF was awarded their first of many government contracts in 2020 including providing custom milled lumber for a hospital restoration at Fort Davis in Texas and wireless routers in classrooms for Bureau of Indian Education (BIE).
Arkansas PTAC congratulates OTF on their persistence and success in securing government contracts. We also wish them luck in their upcoming 8(a) Certification journey. The U.S. Small Business Administration oversees the 8(a) program, which is a nine-year business development program for businesses owned by socially and economically disadvantaged individuals. Our counselors are ready and willing to assist to make it a smooth journey.
"Debra helped us get started and understand the government contracting process. She walked us through our first bid opportunity. Debra and Counselor Max Franks have also assisted us with our capabilities narrative/statement, Woman-Owned Small Business (WOSB) certification process, North American Industry Classification System (NAICS), and getting HUBZone certified," said Deeb.
To learn more about the Arkansas Procurement Technical Assistance Center and the many ways mentioned in this article that our counselors can help secure government contracts, connect with us by calling 501-671-2390.