Extension Impact In Our Communities: Prairie County Agents Increase Food Access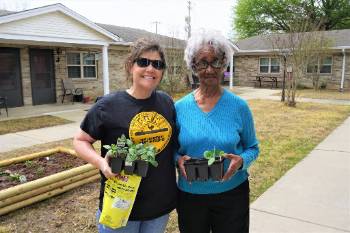 Source: Amy Greenwalt Tallent UADA-Prairie Co. Ag Facebook page
In 2019, the Prairie County Extension Office partnered with Christopher Homes Housing Authority in DeValls Bluff, Arkansas to increase residents' access to fresh food by installing tabletop and raised-bed gardens, and by educating residents about growing and preparing vegetables. The project is expected to continue, and the garden beds may be expanded.
DeValls Bluff is a food desert, according to U.S. Department of Agriculture standards. As such, residents must drive more than 10 miles to access fresh food, which is especially burdensome for the low-income, elderly occupants of supportive housing programs like Christopher Homes.
On top of that, low income, elderly people have an increased risk for health problems, which makes access to fresh food even more important. On-site garden beds help improve food security and lower food costs for these individuals. Caring for the plants gives them a reason to go outside and get some exercise. They also have an opportunity to socialize while watering crops and digging around in the dirt together.
Extension Agents Amy Tallent and Shea Wilson held classes for residents of Christopher Homes once a month from March to September, 2019. Tallent taught the ins and outs of gardening. She also checked in weekly during June and July to weigh produce and monitor plants. Wilson taught residents how to cook with seasonal vegetables from the garden. Residents took care of the day-to-day garden tasks like watering and harvesting, and in return they got garden-fresh vegetables and sun kissed cheeks.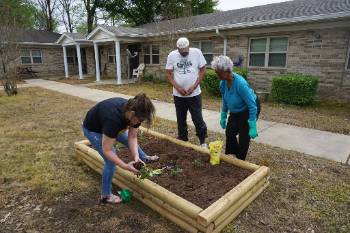 Source: Amy Greenwalt Tallent UADA-Prairie Co. Ag Facebook page
The gardening and nutrition program "has truly had an impact on the residents of this complex. It has made their participation in all activities soar," said Antoinette Mitchum, the Christopher Homes Housing Authority site coordinator.
Since the onset of the COVID-19 pandemic in 2020, the project has made adjustments. Tallent initiated the garden and residents tended and maintained throughout the summer. She visited regularly and provided on-the-spot training and feedback. She also sent weekly gardening tips that were emailed and posted on the local community board. Everyone involved is excited to launch the garden next month, with the first planting on April 15, 2021, and regular meetings scheduled to share and practice gardening best practices.
For more information about food deserts, visit the documentation for the Food Access Research Atlas. The Food Access Research Atlas is a project by the USDA which displays food access data in interactive map form. For more information about the Prairie County Extension Service and for links to their social media accounts, visit their website.